Inside Gaming: Industry Buzzing Over Caesars-MGM Merger Talk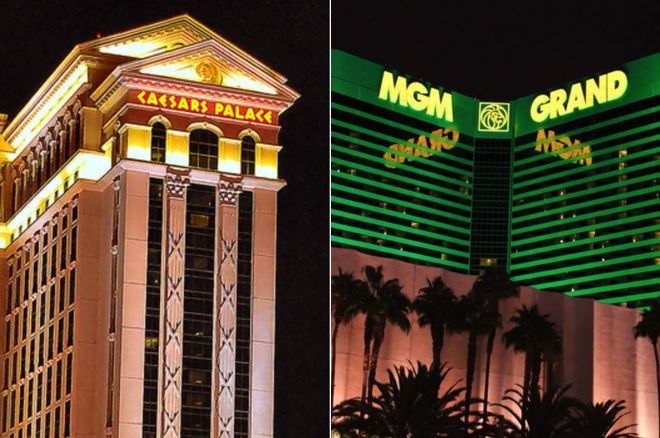 This week's Inside Gaming once again reports on speculation regarding the future of Caesars Entertainment, this time sharing news of a possible merger between Caesars and another industry giant. Also included is an update on which states now offer sports betting, as well as a note about this week's gambling-related vote in Florida.
MGM, Caesars Exploring Merger Possibility, Per Reports
Speculation about the future of Caesars Entertainment Inc. has become something of a running theme here at "Inside Gaming" of late.
Three weeks ago we were sharing reports of a merger offer made to Caesars by Golden Nugget Casinos, one ultimately turned down. Then came talk of another potential partnership between Caesars and Jack Entertainment, a deal which could still come to fruition although has apparently met with tax-related obstacles.
Last week's news that Caesars CEO Mark Frissora will be stepping down early next year helped keep the rumor mill turning regarding other possible deals involving Caesars.
In recent days talk has arisen of even bigger partnership between Caesars and another industry giant, MGM Resorts International. The first reports of such a possibility came via The New York Post who on Monday related that according to "a gaming source close to the situation" MGM had hired an investment bank and a law firm to explore the idea of a merger with Caesars.
Neither MGM nor Caesars have commented on such speculation.
Worldwide, MGM Resorts was the second-largest casino company (by revenue) behind Las Vegas Sands, and Caesars Entertainment eighth, according to Statista. In the United States, MGM was also the second-largest casino company last year (behind Las Vegas Sands), with Caesars the fourth-largest.
The article also noted how "MGM may not be the only game in town, though, for Caesars," adding that either Wynn Resorts or the Genting Group "could also be in the mix" for Caesars, as could other private firms representing other casinos.
While no offer is on the table, if MGM and Caesars were to merge the resulting company would be massive, relatively speaking, and "own about half the hotel rooms in Las Vegas and Atlantic City."
The size of the merger would unsurprisingly invite significant scrutiny by regulators, as The Press of Atlantic City points out. "A merger... would face regulatory hurdles in Atlantic City and at the federal level... to ensure it would not create a casino monopoly," according to industry observers.
MGM and Caesars operate four of the nine casino properties in Atlantic City at present. As economist Jim Kennedy told the Press of Atlantic City, the New Jersey Division of Gaming Enforcement, the Federal Trade Commission, and the Securities and Exchange Commission would all necessarily "look at the potential merger with great interest."
Nevada regulators would also no doubt have to be involved for such a partnership to occur. Speaking to Las Vegas Now, David G. Schwartz, director of the Center for Gaming Research at the University of Nevada Las Vegas, further speculated about what an MGM-Caesars union might mean for other Vegas properties.
"If this merger did happen," said Schwartz, "then probably there would be pressure on other companies to merge, so we'll probably see something of a ripple effect through the rest of the industry."
Six States Now Offer Legal Sports Betting, More to Come
While Caesars has dominated industry talk over recent weeks, it has been awhile since we last mentioned in this space the ongoing spread of sports betting in the United States in the wake of the May ruling by the U.S. Supreme Court that the federal prohibition on sports betting was unconstitutional.
Since then Delaware, New Jersey, West Virginia, Mississippi, and New Mexico have all joined Nevada to offer sports betting to residents, with New Mexico the latest to join the game in October. The Santa Ana Star Casino in Bernalillo (just north of Albuquerque) was the first casino in the state to offer sports betting, where Las Vegas-based USBookmaking is the sportsbook operator.
In addition to those six states, four others have passed sports betting bills, with nearly 20 other states currently exploring sports betting legislation to varying degrees.
New York passed a sports betting bill back in 2013, although an attempt to expand its provisions failed over the summer, leaving the immediate future for sports betting in the Empire State in limbo. Meanwhile Pennsylvania, Rhode Island, and Arkansas have all passed new bills this year, with Arkansas voters approving a constitutional amendment earlier this week to bring expanded gambling to the state.
Speaking of this week's elections and votes on gambling-related issues, voters in Florida overwhelmingly voted in favor of "Amendment 3" on Tuesday "to provide voters... the exclusive right to decide whether to authorize casino gambling in Florida." About 70 percent voted in favor of the amendment, meaning that Florida citizens and not the state's legislature will be deciding on any new casinos or the possibility of sports betting coming to the state.
As The Miami Herald explains, even though "the amendment, in theory, gives voters the power to expand gambling, it could actually make the process more difficult." That's because instead of allowing lawmakers to make decisions about casino gambling, requiring voters to do so will require a lengthy process, with one likely consequence being the curtailment of gambling expansion in the state.
Thus did both the Seminole Tribe (not desirous of added competition) and Disney (against gambling expansion, generally) spend heavily to finance a political committee in support of the amendment.
Photos: "The Strip - Caesars Palace - Las Vegas, Nevada" (adapted), Tomás Del Coro, CC BY-SA 2.0; "MGM Grand Hotel & Casino" (adapted), Håkan Dahlström, CC BY 2.0.