Joey Ingram Hosts Poker Life Podcast with Bill Perkins Live from the PCA
Thursday morning at the PokerStars Caribbean Adventure in the Bahamas, Joey Ingram ran a almost three-hour long live Poker Life Podcast session with guest Bill Perkins. Those are words that many never would have guessed they'd hear, given Ingram's contentious history with the online poker giant.
Before the podcast got underway, we talked with Ingram about what lead up to him showing up at PokerStars' flagship event.
Ingram and PokerStars Bury the Hatchet, Sort Of
PokerStars says they value Ingram for speaking his mind as a respected voice in the poker world, and in that spirit, extended a Platinum Pass to the Poker Life Podcast host. While plenty of internet haters emerged to criticize Ingram for accepting the pass, Ingram saw it an opportunity to make a moment out of it with his counter-offer to get a pass for Tennessee amateur Jeremy Hilsercop, who got the poker trip of a lifetime as a result.
When asked about burying the hatchet with PokerStars, Ingram explained that his coming to the PCA doesn't necessarily signify a change in terms of his views.
"You can't stay mad at someone forever."
"From a live perspective, it seems like they're doing things better," Ingram said. "I don't have much personal experience with their live events outside of coming to the PCA once before. But in terms of online, it's separate. The online world and who's coming up with ideas for online is going to be a little bit different than who's coming up and trying to manage these live events. So in terms of the direction of what they've done with cash games online… I mean, I think it could be worse.
"I feel like for me right now, they did some fucked up things in the past. But right now, it could be worse. When you compare it to other sites out there and other operations, and how shitty some of these companies are with their approach – security, marketing, customer service, everything like that – it could be a lot worse, put it like that.
While his views remain the same as far as disagreeing with some changes PokerStars has made in regards to online games, Ingram is just ready to move on and control what he can control.
"I'm trying to maximize the dream of poker and poker players to make money at the game."
"Does it change my being upset about what happened in the past? No. But you gotta figure out a way to get over it; You gotta figure out a way to try to, from my perspective, maybe make some influence a little bit in terms of some positivity for the players. And it's an uphill battle, but you know, you can't stay mad at someone forever. And I feel like that's what (some) people wanted me to do – just stay upset at Stars forever and never do anything with them."
They may not be on the exact same page, but sometimes you just have to hug it out. And for Ingram to advocate for the players as he describes one of his main roles in poker, having open lines of communication to the biggest online poker site can be a positive, if approached in that manner.
"I think it's healthy to have conversations with the people that work with the company and see where their head's at, see where it's not at. They understand where I'm coming from; they might not like it or agree with my voice or what I say about things, but they understand where I come from. It's not a malicious place… They know I fight for poker players and they fight for the company. They're trying to maximize profits; I'm trying to maximize the dream of poker and poker players to make money at the game. So it's a battle I guess."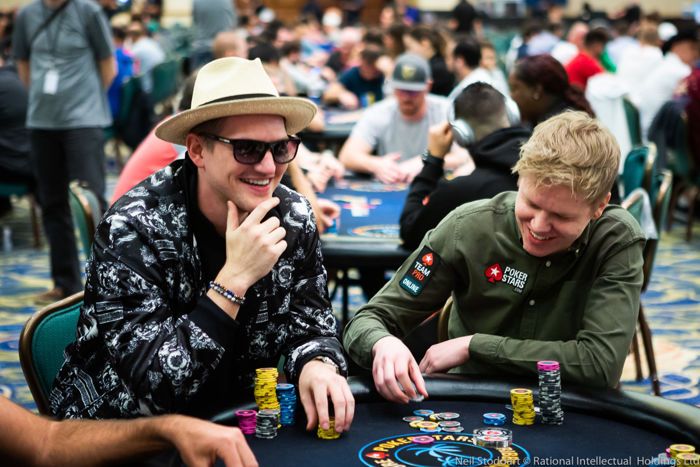 Bill Perkins Drops Wisdom
On to the positivity for the players goal, Ingram decided to do a live filming of a new interview with the always-inspiring Bill Perkins – streamed live on his YouTube channel. To say they covered a wide range of topics would be a gross understatement, Ingram picking the brain of the wealthy stock trader with loads of wisdom he is happy to share. It turned into a bit of a therapy session, which anyone involved in this game could likely use.
In Perkins' eyes, a potential mistake or non-optimal behavior of many poker pros is the opportunity cost that comes from not making their off-the-felt behavior more of a priority. Specifically, he talked about the importance of things like integrity and demeanor, and how reputation in these two factors can have a major ripple effect, for good or bad.
Another theme of the pod was the idea that "Life is discovery." Perkins talked about having a plan but taking things as they come, embracing the random. He simplified an approach to trial and error. "Figure out what works, what doesn't work," he said. He emphasized the importance of forgiving yourself, not shaming yourself - just try to not keep doing what didn't work.
Another major topic they discussed is the focus of Perkins' upcoming book, which he announced is scheduled for release Oct. 19. The theme sounds fascinating – a mix of economics and psychology. He hinted at some of the content – maximizing life experiences based on money and your life curve. Apparently, he's even coming up with a model to demonstrate the concepts.
He talked passionately and at length about what a waste it is to grind your life away to make money for retirement or death-bed expenses, rather than spending money on life experiences that you can only do before your body deteriorates. If you're thinking this all sounds a bit morbid – the conversation did get a bit dark, but the key ideas are optimistic – and candid.
Along with the demeanor conversation, Perkins talked about the importance for him of impacting other people's lives in a positive manner – the ripple effect from sharing wisdom or from having random conversations that could have an impact. The book he's writing is consistent with this objective.
You Get $10,000 and You Get $10,000 - The Bill Perkins Ripple Effect
Another form of impact that Perkins is quite famous for is running giveaways for various life experiences, from PCA packages to Main Event entries. In the PSPC, Perkins ran a $10,000 WSOP Main Event entry giveaway for guessing the exact hand he'd bust with from the event. He announced the winner on Twitter after busting with A♦K♠. When Ana Marquez replied saying she also guessed the correct hand, Perkins found her email submission in the spam folder and extended another $10K entry for her, rather than do a random drawing to break the tie as planned.
Asked about his motivations for the giveaway, Perkins explained he does it to maximize entertainment and value exchange. Rather than spend the same money on things like advertisements to try to get more eyeballs, he opts to drive engagement with simple contests like guessing a bust-out hand that takes one quick email. As a result, two people have a chance to freeroll one of the biggest tournaments on the poker calendar in Las Vegas.
Another opportunity that Perkins has made happen is the result of a competition that he asked Jeff Gross and Jaime Staples to run. The Next Thirst Lounge Host competition called for video submissions from those interested in streaming on the Thirst Lounge Twitch channel – from his yacht in the Virgin Islands.
They got dozens of submissions and ended up going with a team of ten hosts, who will do some combination of hosting on the boat and hosting from their home Twitch set-ups. While the logistics are yet to be ironed out, fans can expect the Thirst Lounge channel to be up and running soon, hosted by an array of entertaining characters – all of whom will receive a $10,000 stake for their poker pursuits on the stream.
They announced the Thirst Lounge 10 Team live on stream, with the video posted on the Thirst Lounge twitter page. The hosts include Ebony Kenney, Adam Klein, Cat Valdes, "BetOnDrew", Voislav Ivanosky, Jon Pardy, Justin Kelly, Matt Forsythe, Kelley Minkin, and Priestly Lang, all appearing in the following video.
.@bp22 announces the new #TeamThirstLounge hosts LIVE on the @Joeingram1 podcast. 10 hosts will get a $10K stake.… https://t.co/jCAm4vNEr2

— PokerNews (@PokerNews)
PLO Prop Bet Alert
Before they wrapped the podcast filming, a prop bet brewed between Perkins and Ingram. The topic of PLO came up and Perkins suggested a heads-up match. "You and me!?" Ingram had to contain his laughter.
Ingram is known for his PLO prowess, but Perkins loves a challenge - and entertainment value. They decided on a $10,000 bet with Ingram laying 1.25:1 or $12,500 to win $10,000 – winner of five freezeout PLO matches, structure to be determined.
Knowing all the characters involved, fans may be on the lookout for some kind of must-see gathering involving a Thirst Lounge 10 launch – and possibly some heads-up four-card poker action.
You can watch the podcast replay here:
The Stars Group owns a majority shareholding in iBus Media.