Best Poker Rooms in the World: Rest of World Edition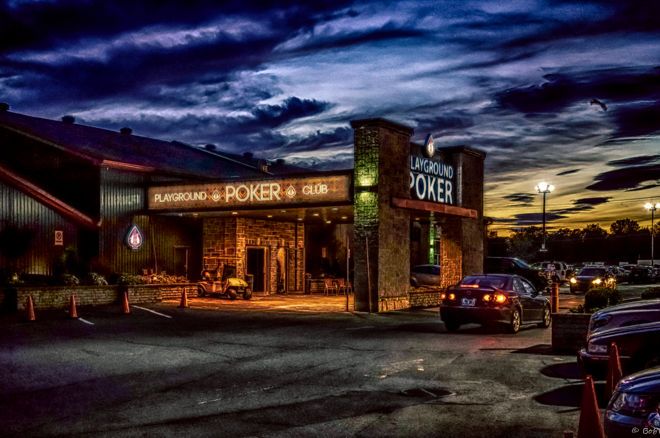 Poker is a global game. While it's usually heralded as a true American pastime, poker is in fact played all over the world and by no means any longer just a thing for cowboys in saloons in Texas. From Vegas to Nottingham and from Macau to Melbourne, the game this website is dedicated to crosses boundaries like few others.
But where to play? What makes for the best poker room? As long as the competition is good (or bad, if you will), players will come. But there's more to it when deciding what makes for the best poker rooms in the world right now. It's the service, the games on offer, the rake charged, and in some cases even the parking.
Getting to one final answer to the question "which poker room is the world's best?" is tough. But PokerNews has a staff of writers who work and play all over the world, giving them as good a perspective as any. Having seen a long list of rooms, they know what to look for and what stands out. These selections are by no means meant as an exhaustive list of the best, but it's a start for anyone traveling around, looking for the next good game around the world.
If you are looking for some of the best places to play stateside, check out our best poker rooms U.S. edition here.
Matthew Pitt: Dusk Till Dawn
Back when I first discovered poker, I remember reading an article in a now defunct poker magazine that a poker-focused casino was set to open in Nottingham, United Kingdom.
Dusk Till Dawn was the name given to the casino by the then little known Rob Yong and his friend Nick Whiten. The story goes that Yong and Whiten were turned away from a poker tournament at a casino in Nottingham so they decided to open their own poker room, as you do!
Yong and Whiten had to jump through hoops and cut their way through red tape as local casinos fought to prevent them from opening Dusk Till Dawn. The two businessmen wanted to open a casino that was a haven for people who wanted to play poker, but casinos around Nottingham pushed for Dusk Till Dawn needing a full casino license, which are expensive in the U.K. and Yong and Whiten had already invested millions into this project.
The story goes that Yong and Whiten were turned away from a poker tournament at a casino in Nottingham so they decided to open their own poker room, as you do!
Eventually, after years of fighting and legal battles, Dusk Till Dawn opened its doors to the poker-loving public in 2007 and it has never looked back.
Boasting 45 poker tables and a capacity to accommodate 450 players in one sitting, Dusk Till Dawn became the biggest poker room in the U.K. and one of the biggest in the world. Yong and his management team have built temporary marquees in recent years to increase the capacity further when DTD hosts major live poker festivals.
It's amazing how far DTD has come. Yong famously described DTD as "a shed on a retail park in Nottingham" but it is far more than that. From humble beginnings of £30 to £100 buy-in tournaments, Dusk Till Dawn has become the premier poker venue in the UK and now hosts some of the biggest events around.
DTD became famous for running £300 and £500 buy-in Deepstack tournaments that attracted the best of British poker. Yong and company then hosted a couple of PokerStars UKIPT events in Nottingham. The first saw 1,625 entries smash the £1 million guarantee Yong had insisted on; the second also surpassed its guarantee by almost a quarter of a million pounds.
The "shed on a retail park" has since housed World Poker Tour events, the WPT500, Sky Poker Tours, the UK Poker Championships, and perhaps its biggest feat yet, the partypoker MILLIONS UK festival.
There were those who thought Yong had lost the plot when, after signing a partnership with partypoker, said he was to run a £6 million guaranteed tournament at DTD that would pay the eventual champion £1 million. Build it and they shall come, so the saying goes, and Yong did build it, the MILLIONS UK Main Event attracting 1,204 entries of £5,300 each to create a £6,017,395 prize pool. Maria Lampropulos emerged victorious to collect the promised £1 million.
What I love the most about DTD is the fact it has never lost sight of who its core customers are and where it all started. Sure, it's cool and exciting to have multi-million-pound guarantees and events that us mere mortals can only dream of playing, but every night you'll find cash games starting from £1/£1 up to however high you wish to play and tournaments starting as low as £15. Dusk Till Dawn may have only been on the scene for 11 years, but it has become the home of British poker and long may that fact be true.
Dusk Till Dawn Poker Room Summary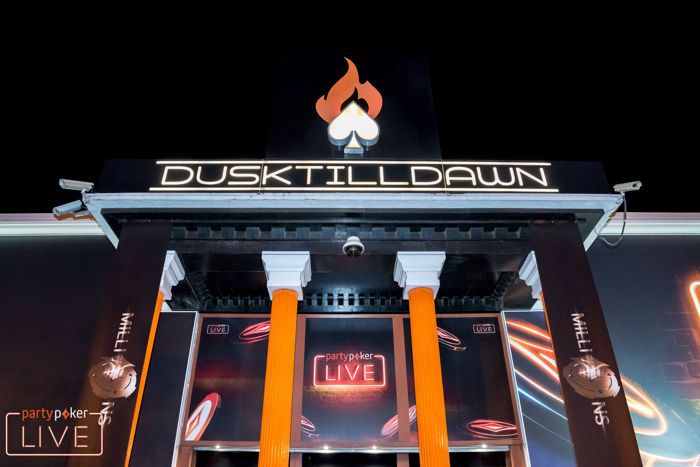 ---
Yori Epskamp: Holland Casino Amsterdam
There's no place like home. The year was 2006, and 23-year-old me — living in a small student dorm in Amsterdam — made his first foray into the world of poker. After making a few pennies online and being chock-full of confidence, I went for the real deal, Holland Casino Amsterdam, to clean out the big boys. Well, the first time was certainly one to remember: a quick and harsh clobbering from the local clientele left me empty-handed and put me back on my bike real fast. Welcome to the real world, kid.
Despite leaving the venue with nothing but a life lesson, the grandeur of the establishment (located next to the always-bustling Leidseplein) kept drawing me back. I never grow tired of walking up the spiralling stairs to enter the Koepelzaal, and Holland Casino Amsterdam certainly wouldn't be out of place in a Great Gatsby-scene. More than a decade after my first visit, I'm still in awe every time I enter the room after a long time of being on the road.
Over the years, I've been fortunate that my job has allowed me to visit the best and biggest places in the biz. Yet, when it comes to that one thing every poker player is looking for, that perfect cocktail of a good atmosphere, amazing hospitality and deep-pocketed clientele that loves to gamble and chat, I've found that nothing compares to Holland Casino Amsterdam. The first-time clobbering gave me wise lessons and I recovered since: nearly 50 percent of my lifetime cashes on my Hendon Mob have come from this very establishment. If I'm playing poker, there's no place I'd rather be.
I never grow tired of walking up the spiralling stairs to enter the Koepelzaal, and Holland Casino Amsterdam certainly wouldn't be out of place in a Great Gatsby-scene.
The Master Classics of Poker (MCOP), organized in November, is Holland Casino Amsterdam's yearly poker extravaganza and always has the room buzzing with excitement. The MCOP — despite being held for over 25 years — remains a relatively unknown stop on the poker calendar and is perhaps the most interesting series you've been missing out on.
During the week, tournament buy-ins run up all the way to €25,000 and the world's elite, such as Bryn Kenney, Steve O'Dwyer and Ole Schemion, talk fondly of it and return every year to take a shot at a bordje, the unique trophy handed out in the casino. It's not the only big series held in Amsterdam: the WPT has been running a popular series in the spring as well.
The great game of pot-limit Omaha is the game of choice in many European establishments and Holland Casino Amsterdam is no exception. A €5/€5 PLO game runs daily and higher games are available on request. During the MCOP, the Cercle Privé sports PLO cash games with blinds going all the way up to €100/€200. If PLO action is what you're looking for, Amsterdam is where it's at.
Friendly waiters, a helpful floor, a bustling city, gambling players - the room boasts all the modern comfort and yet, retains that classic, prestigious casino vibe. In my opinion, Holland Casino Amsterdam has it all. If you make it out to the Dutch capital, give the casino a shot. I'm sure you'll love it.
Holland Casino Amsterdam Poker Room Summary
| | |
| --- | --- |
| Address: | Max Euweplein 62 |
| | 1017 MB Amsterdam, The Netherlands |
| Guest relations manager | Richard van Wijk |
| Phone | 020 - 5211 111 |
| Website: | HollandCasino.nl |
| Social Media | twitter.com/HollandCasino |
| | twitter.com/PokerSeriesNL |
| | facebook.com/HollandCasinoAmsterdam/ |
| | facebook.com/HollandCasinoPoker/ |
| Number of tables | 8, 35 during Master Classics of Poker |
| Opening times | Mon-Fri: 8 p.m. - 3 a.m., Sat-Sun: 1.30 p.m. - 3 a.m. |
| Smoking | No |
| Meal Comps | No |
| Poker Room Rate | No hourly charge. Rake 2/2 10% cap €10, 2/4 and up 5% (2/4 cap €20, 5/5 cap €25, all higher stakes cap €30. |
| Phone-in List | 020 - 5211 111 |
| Automatic Shufflers | Yes, on every table |
| Massage Service | Yes (only during Master Classics of Poker) |
| Cocktail Service | Yes |
| Food Service | Yes |
| Jackpot | None |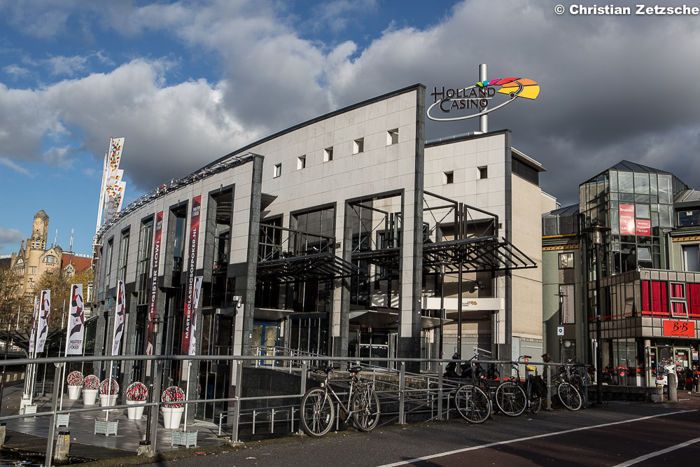 ---
Adam Lamers: Playground Poker Club
About 10 years ago, I made my first appearance in a casino as a dealer in Thunder Bay, Ontario. One year later, I learned how to deal poker and started actively playing on the side. Since then, I've been a dealer at three other casinos across Canada and have taken a seat on the other side of the table at many others in the world.
Being a live reporter for PokerNews has given me the opportunity to step foot in some of the most outstanding card rooms, but there is one in particular that rises above the rest in my eyes, and that's the Playground Poker Club.
My first experience at this poker-only establishment came in 2016 when I made the cross-country trek to Montreal, Quebec for my first PokerNews job. Having worked and played in many poker rooms previously, this one instantly stood out as one of the best-run poker rooms. Employing all top-notch dealers and floor staff, the room is solely run by poker players themselves which gives them even more valuable experience. The waitresses all provide some of the best customer service and each player, whether playing low stakes or nosebleed cash games, is treated exceptionally well.
Having worked and played in many poker rooms previously, this one instantly stood out as one of the best-run poker rooms.
Since 2016, I have returned to Playground for other work assignments and I get more impressed each and every time. Just recently, I made the trip to Montreal to play in the World Cup of Cards series, hosting the WPTDeepStacks $1,650 Main Event. My deep run fell short on the final table but I couldn't help but walk away with a smile after such a well-organized event. The venue has recently played host to the World Poker Tour, WSOP Circuit, and the partypoker MILLIONS and I will be sure to return to take part or work at any of them.
There are also over 20 daily tournaments over the course of a week for the locals to splash around when there isn't a festival going on. Many of them have guarantees upwards of $10,000 for a buy-in as little as $150. The cash games will run 24/7 with no-limit hold'em and pot-limit Omaha being the most common variants spread. There are some amazing promotions running at all times to sweeten the pot including a bad-beat jackpot that consistently runs over $1,000,000. Within the past two years there have been two jackpots hit for a seven-figure amount, awarding cash to all players in the room playing the same game.
One of the most enticing parts about playing at the Playground Poker Club is the free food and beverages that everyone is entitled to. While the rake may be slightly higher than other casinos in Canada, the dining options make it all worthwhile when you are at the table. The Rail Coal Fire Bistro, located in the Playground complex, takes care of the players with a wide-ranging menu open 24 hours and it is all complimentary while you are playing. All beverages are also complimentary which makes the atmosphere electric, especially on the weekends.
A wide range of tournament buy-ins and cash games makes Playground Poker Club one of Canada's premier poker destinations. The well-organized and efficient staff make this one poker room that you don't want to miss out on, and is the main reason why this is my pick for the top poker room, not only in Canada but quite possibly in the world.
Playground Poker Club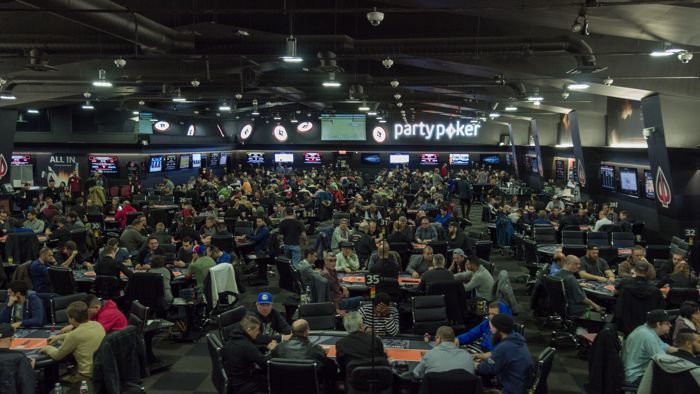 Images of Playground courtesy of Playground Poker Club and Bob Taylor.
---