Tony Miles Prepares for American Ninja Warrior for Prop Bet with Shaun Deeb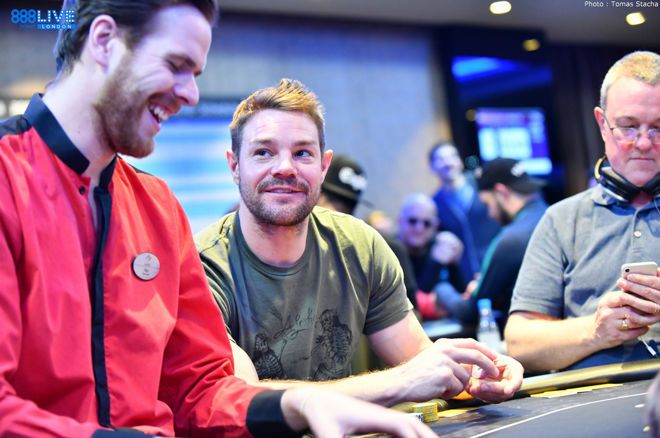 Table Of Contents
Last year, Tony Miles finished runner-up in the WSOP Main Event for $5 million. Just a few months later, he used some of his money to make a prop bet with fellow poker player and friend Shaun Deeb.
Details of the Bet
For the terms, Miles put up $5k getting 25:1 odds to get on the show American Ninja Warrior and advance at least one round. If he doesn't make it in the first year, he can get 20:1 in the second year and 15:1 for the third year. Otherwise, he has to pay up.
Deeb posted the bet on Twitter in September 2018:
just booked @Storm253 that he can't get on and advance a round on @ninjawarrior he's betting 5k to win 25/1 1st yea… https://t.co/2taZD577o3

— on hiatus (@shaundeeb)
Late November, from the 888poker Live London event at the Aspers Casino, Miles shared about his training and thought process to get past the first round of American Ninja Warrior. He didn't give all the juicy details but enough to get us interested:
Two weeks ago, Miles got some great news: he had overcome the first obstacle of the bet — getting in.
Just got the call! I've officially been selected to compete on American Ninja Warrior this season. Terms of the bet… https://t.co/Q8hIjTo6fW

— Tony Miles (@TonyMilesAway)
This week, PokerNews chatted with Miles to find out more about the ninja prop bet.
Interview with Tony Miles
How did you and Deeb come up with this bet?
Tony Miles: Shaun and I were having lunch in Edinburgh, Scotland while there to play WCOOP after the EPT Barcelona when I told him that I frequently watched the show with my parents and had always wanted to compete on it. Shaun being Shaun said that we should make a bet on it and everything grew from there. I've always been a huge proponent of pushing your limitations both physically and mentally and getting out of your comfort zone. I think it helps you grow as a person.
How are you training for the competition?
Miles: I've been training at a ninja gym in Orlando for 2-3 hours a day 3 times a week. My schedule was pretty busy through December so my training was kind of sporadic until January when the application was due and I really started to commit. I moved from Ormond Beach to Lake Mary to be closer to the training facility and hired a private coach to help with the skills acquisition and to really push me.
What was the audition for Ninja Warrior like?
Miles: The show uses an application process for competitor selection which requires a 1-3 minute video clip as well, showcasing your personality and skill set. One of the ninja warrior twitter accounts @ninjawarriornation had heard about the wager I think through one of my PokerNews interviews with Sarah and after they published an article on it, the producers reached out to me.
Which poker players would you think are capable of competing in Ninja Warrior?
Miles: I think a lot of poker players would do well in Ninja Warrior. The dedication and perseverance necessary to master the skills required to compete are really similar to a lot of aspects of poker. You're going to fall. You're going to be scared to hurl your body through the air and catch and release on obstacles. But you have to fight through it and trust your ability.
A few names off the top of my head who I think would do well would probably be guys like Alex Foxen, Jason Koon, Kyle Julius, and Shannon Shorr. The ones that are really committed to staying fit and have good strength training programs.
What's your opinion about poker players getting better and better in shape? It seems to be much more important than, let's say, a decade ago.
Miles: I think as poker players, it's critical to stay in shape. Studies have consistently shown that those who exercise tend to score higher on cognitive functions and are better able to reach their full potential of productivity. I think poker has been a prime example of how true this is and that's a major reason you see so many of these guys on the high roller circuit emphasizing the importance of diet and exercise.
What's your advice for players who would like to get in better physical shape?
Miles: My advice for players who want to get in shape is to just do it. Much like poker, everyone is different when it comes to training. Find something that works for you and don't allow yourself to get stagnant. Switch up your routine and try to integrate new exercises frequently. Also, try to find fun ways to train. I really enjoy wakeboarding, snow-skiing, rock-climbing, and playing beach volleyball.
"I've always been a huge proponent of pushing your limitations both physically and mentally and getting out of your comfort zone."
It's so much easier for me to get motivated when I know I'm going to have a blast while working out. Last but not least I would recommend finding ways to hold yourself accountable. Join a CrossFit gym where there's a community of people who count on you to be there, join a basketball or racquetball league, or hire a personal trainer and pay in advance.
In my opinion, it's important to surround yourself with people who value the importance of being fit and help motivate one another.
Forging Ahead
On his Instagram page, we get the occasion glimpse of Miles' activities:
But the main question for now will be, can he advance at least one round on the show, and prove himself as an American Ninja Warrior?