2019 WSOP Main Event: Greenwood, Esfandiari, Foxen on to Day 6, Newcomer Su Leads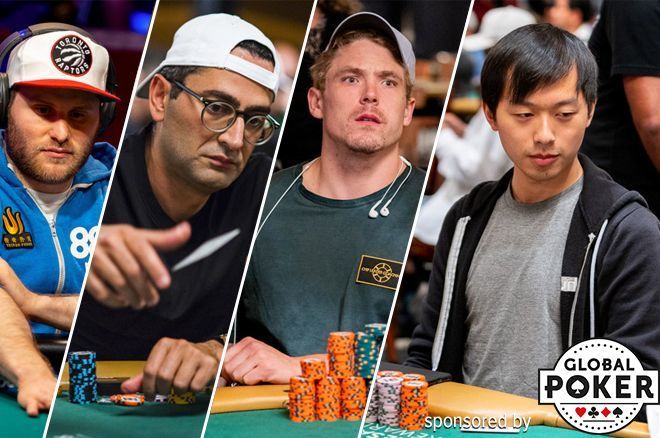 Day 5 of the 2019 World Series of Poker Main Event proved to be the longest yet in the tournament, concluding around 2 a.m. on Thursday with poker titans like Sam Greenwood (11,950,000), Antonio Esfandiari (6,630,000), Alex Foxen (2,655,000), and Jeff Madsen (1,795,000) among the final 106 remaining players.
However, all of the seasoned pros are looking up in the counts at a Main Event first-timer. Timothy Su rode a late surge to bag 19,235,000, putting him well clear of second-place Greenwood.
Top 10 Chip Counts 2019 WSOP Main Event After Day 5
| # | Player | Country | Chip Count | Big Blinds |
| --- | --- | --- | --- | --- |
| 1 | Timothy Su | United States | 19,235,000 | 240 |
| 2 | Sam Greenwood | Canada | 11,950,000 | 149 |
| 3 | Duey Duong | United States | 11,765,000 | 147 |
| 4 | Warwick Mirzikinian | Australia | 11,430,000 | 143 |
| 5 | Luke Graham | United States | 11,280,000 | 141 |
| 6 | Nicholas Marchington | United Kingdom | 10,835,000 | 135 |
| 7 | Milos Skrbic | Serbia | 10,715,000 | 134 |
| 8 | Romain Lewis | France | 10,600,000 | 133 |
| 9 | Laurids Nielsen | United Kingdom | 9,955,000 | 124 |
| 10 | Ian Pelz | United States | 9,635,000 | 120 |
Su's Climb to the Top
During the final hour, Su busted three-time bracelet winner Brian Yoon when the latter's top pair of kings ran smack into Su's bullets. Then, Su dragged an even bigger pot when he raised on the button and flopped two pair with king-seven, betting all three streets against Yulian Bogdanov. Bogdanov check-raised all in on the river with flopped second pair and a blocker to the nut straight, but Su looked him up after a five-minute tank.
"When I took a step back and thought about it, his line didn't seem to make much sense."
"He was new to the table, so I didn't have much to go off," Su told PokerNews when asked about the big call. "When I took a step back and thought about it, his line didn't seem to make much sense."
With only a few thousand dollars in cashes, Su would seem to be an unlikely chip leader this deep into poker's biggest tournament. However, the software engineer based out of Boston has maintained a very large stack at numerous points, appearing not at all out of place against the more experienced grinders contesting many of the pots against him.
"I'm proud," he said of making it to this point with such a monstrous stack. "When the big blind is the starting stack... to think that's what we all started with is unreal."
Bryant and Seymour Out, Hachem Continues Quest
Greenwood, Romain Lewis (10,600,000), Andy Hwang (8,660,000), Esfandiari, and Chris Hunichen (6,280,000) are among the well-known players maintaining strong stacks after Day 5.
Meanwhile, two notable storylines ended while another continues to build. Among the roughly 250 players going bust during the course of play was Jill Bryant. Profiled here by PokerNews, Bryant's fearless style got the better of her when she overbet shoved an overpair into David Guay's flopped trips. When the turn and river bricked, Bryant collected a payout of $59,295 for 116th place and took the honors of last woman remaining.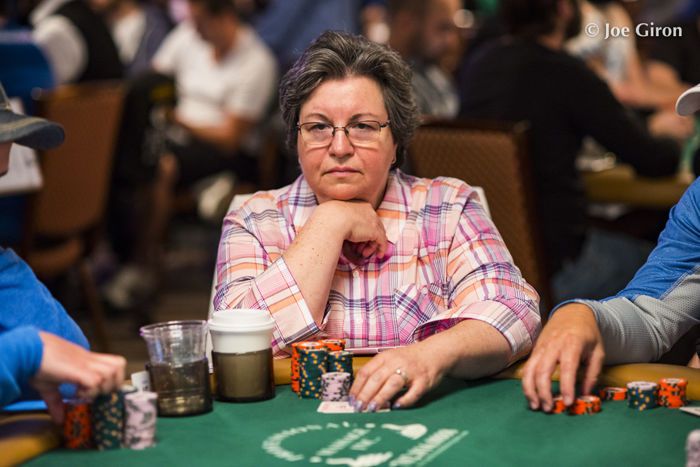 Former elite NFL lineman Richard Seymour also hit the rail. After coming in with one of the biggest stacks, he made some large folds en route to nursing a short stack during the later stages of Day 5. He'd ultimately try swiping the blinds by shoving king-four on the button, only to run into queens and ace-three suited. A king-high flop gave Seymour — along with those hoping for a big mainstream storyline — life, but a queen on the turn doomed him.
Daniel Hachem, however, remains in contention and will continue to try to bring home a second Main Event title for the family well over a decade after his father Joe won the bracelet in 2005. Pops got $7.5 million for that win, and Daniel's vying for an even bigger one with $10 million up top here in 2019.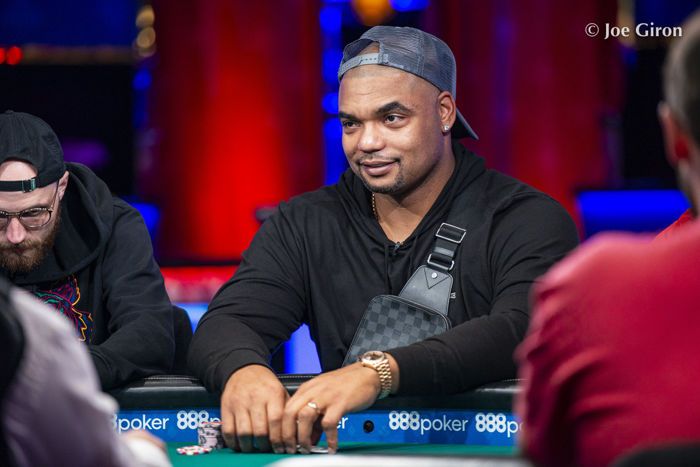 Hachem and the rest of the remaining competitors will resume play with another hour left at 40,000/80,000/80,000, starting at noon on Thursday, July 11. Come back to PokerNews then for continued coverage of poker's most famous tournament.
Main Event recaps sponsored by Global Poker.