Inside Gaming: DraftKings, NFL Announce Daily Fantasy Partnership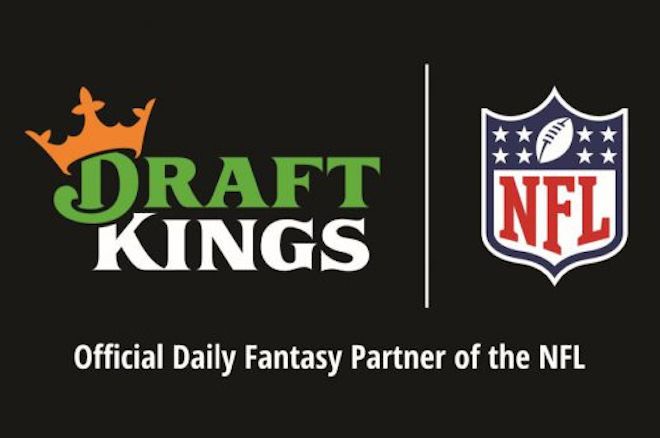 DraftKings Becomes NFL's Official Daily Fantasy Partner
With the football season now in full swing, we return to sports betting news this week with a big story from yesterday — the National Football League announcing a new partnership making DraftKings the league's first daily fantasy partner.
A joint press release describes the multi-year partnership as including "exclusive sponsorship of the daily fantasy sports category with access to NFL branding and more across DraftKings' suit of DFS products and content platforms."
"This is a defining moment in the industry," said DraftKings CEO Jason Robins. "Throughout our discussions with the League, it was evident we share a common vision around the future of fan engagement, and we are excited to continue on this unique journey."
Renie Anderson, Chief Revenue Officer and Executive VP of NFL Partnerships, was similarly sanguine about the arrangement.
"Daily fantasy football has been a tremendous vehicle for fans of all types to deepen their engagement with the NFL," said Anderson. "We're thrilled to partner with DraftKings, a clear leader in the daily fantasy space."
According to DraftKings, the Boston-based company currently has a player base of 11 million in eight different countries, of which the operator says 90 percent have played NFL contests. About 19 percent of Americans are expected to participate in DFS this year according to Fantasy Sports Gaming Association, reports ESPN.
Of note, the partnership does not involve the DraftKings Sportsbook or sports betting per se, only DFS.
In early January, the NFL and Caesars Entertainment Corporation announced a multi-year sponsorship agreement that gave Caesars rights to NFL trademarks when promoting certain events.
However, unlike the other three major sports professional leagues in North America (Major League Baseball, the National Basketball Association, and the National Hockey League), the NFL has yet to establish a sports betting partner.
Mobile Sports Betting Launching in Indiana, Delayed in D.C.
Among the ongoing news regarding the expansion of online sports betting were a couple of items this week — one signaling its introduction in a new location, the other its delay.
Uncertainty regarding whether online sports betting was ever going to come to Indiana is finally over. On Wednesday the Indiana Gaming Commission approved the state's first mobile sports betting operation, authorizing Rush Street Gaming to launch on October 3, as reported in The Indianapolis Star.
The Chicago-based company has partnered with French Lick Casino who says "all types of sports betting available in its retail sportsbook will be available on its online sportsbook." The casino's sportsbook first opened earlier this month.
Indiana regulators have also received two more applications to authorize mobile sports betting. Sara Gonso Tait, the IGC's director, said she expects "you're going to see more mobile sports wagering (platforms) from different providers in Indiana in the month of October."
At present six other states offer online sports betting of some kind or another — Nevada, New Jersey, Pennsylvania, Rhode Island, West Virginia, and Iowa.
Meanwhile the story in the District of Columbia is quite different, as yesterday a judge issued a restraining order delaying any mobile sports betting operations from rolling out, reports WTOP.
The order came in response to a lawsuit brought by a mobile app creator, Dylan Carragher, who contended a no-bid $215 contract awarded to the operator Intralot violated the district's Home Rule Act ensuring competitive bidding.
The complaint points back to the law passed back in February that allowed sports betting to be introduced under the aegis of the D.C. Lottery, though (as the lawsuit alleges) "illegally created an exemption for the D.C. Government to award Intralot with the District's Sports Betting contract."
There will be another hearing on the matter next Tuesday.
Nevada Casinos' Win Shows August Increase
Finally, the Nevada Gaming Control Board delivered its monthly gaming revenue report yesterday. It was another good one, showing that casinos across the state collectively reported a total gaming win of $952.4 million in August, an increase of 4.3 percent year-over-year. That makes three straight months' worth of increases for the Silver State.
Casinos on the Strip did particularly well in August, with the almost $520.7 million win amount representing a healthy 8.95 percent jump from a year ago. Reno casinos were also up 4.66 percent to almost $64.6 million.
Drilling down just a little, slots were down slightly (less than half a percent), while the overall win from table games was up 14.3 percent.
"The Strip was the driver for this month's statewide increase," was the assessment of Michael Lawton, Senior Research Analyst for the NGB, per CDC Gaming Reports. "This was the result of strong non-baccarat game and table play which benefited from increased volumes and significant increases to hold percentages."
After a slow start during the first five months of the year, the positive August means the last 12 months have been better for Nevada than the previous 12. At the end of July the 12-month win amount had been 0.27 percent behind the previous year, but after August that figure is now a 2.07 percent increase.