Ladies Global Poker Index Report: Bicknell Extends POY, GPI Leads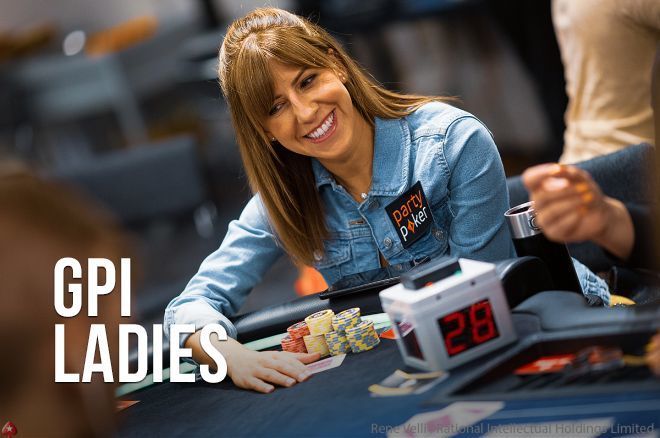 Table Of Contents
It's been a while since PokerNews last checked in on the ladies Global Poker Index races, and with just two months left to accumulate points for 2019 POY, now's a good time to do so.
Similar to the overall GPI article that comes out on the first Thursday of every month, the Ladies Global Poker Index report highlights the rankings of the best female poker players in the world. You can catch up with the first edition here.
Each week, the Global Poker Index releases a list of the top tournament poker players in the world using a formula that takes into account a player's results over six half-year periods. Here, PokerNews takes a look at both the top 10 Ladies 2019 Player of the Year standings and the Overall Ladies GPI rankings as of Nov. 1, 2019. For a look at the latest PokerNews overall GPI report, read this article, and to see the entire Ladies GPI standings, visit the official GPI website.
Bicknell Still Leads
Holding strong to her No. 1 spot as she has all year long on both standings is Kristen Bicknell. The former online poker pro and member of Team partypoker stays busy on the poker circuit, hitting many of the major stops worldwide.
She's having a career-best year on the live felt in a year that has seen her high roller event participation significantly increase. She has more than $1.7 million over 29 tournament cashes to date for 2019 and will be adding to her GPI score when her fifth-place finish over the weekend in the CA$3,300 WPT Montreal Main Event is tallied as well.
Maria Ho may not be putting in quite the volume that Bicknell has this year, but like Bicknell, she has secured her biggest year in live poker with 17 cashes worth $951,795. Ho had a big first half of the year, taking down the LAPC $25K High Roller in March and then finishing third in the WPT Seminole Hard Rock Poker Showdown. She had three other final table finishes before the summer was over, including a fifth-place finish in a WSOP $5K NLH event and another WPT final table at The Gardens.
Here's a look at the ladies GPI rankings current as of Nov. 1, 2019:
Ladies GPI Rankings
| Rank | Player | Points |
| --- | --- | --- |
| 1 | Kristen Bicknell | 2,964.44 |
| 2 | Maria Ho | 2,518.61 |
| 3 | Jessica Dawley | 2,022.94 |
| 4 | Loni Harwood | 2,015.31 |
| 5 | Natalie Teh | 1,786.65 |
| 6 | Li Yan | 1,696.79 |
| 7 | Maria Lampropulos | 1,693.44 |
| 8 | Kitty Kuo | 1,643.07 |
| 9 | Lauren Roberts | 1,635.29 |
| 10 | Ana Marquez | 1,581.21 |
More Contenders
Florida-based pros Jessica Dawley and Loni Harwood round out the top four on both the GPI and POY rankings. Dawley, 2018 WSOP Ladies Event winner, claimed her biggest score to date this past August when she took down a $2,650 buy-in SHRPO side event for $204,610.
Harwood continues her consistent results despite a cut-back on volume of scores. Of her 17 cashes in 2019, her best so far was a fourth-place finish in the $5K Bay 101 Shooting Star Main Event worth $142,440.
The ladies POY race for 2019 looks quite similar to the ladies overall GPI race with the same players in the top six spots. It remains to be seen if Ho or any other contender can close out the year on a tear to catch Bicknell, but they'll have their work cut out. Here's a look at the ladies 2019 POY rankings current as of Nov. 1, 2019.
Ladies 2019 POY Rankings
| Rank | Player | Points |
| --- | --- | --- |
| 1 | Kristen Bicknell | 2,765.47 |
| 2 | Maria Ho | 2,385.15 |
| 3 | Jessica Dawley | 2,032.12 |
| 4 | Loni Harwood | 1,830.33 |
| 5 | Li Yan | 1,756.70 |
| 6 | Natalie Teh | 1,723.31 |
| 7 | Lauren Roberts | 1,565.07 |
| 8 | Maria Lampropulos | 1,565.01 |
| 9 | Nadya Magnus | 1,484.37 |
| 10 | Diana Volcovschi | 1,360.50 |
If Bicknell closes out the ladies POY on top, it'll be her third year in a row doing so. Even more important for Bicknell than winning the ladies POY race, she told PokerNews early this year, is finishing the year atop of her home country of Canada's POY race — a feat she accomplished in 2018. With 2,765.47 points, she was third on that list prior to her recent WPT final table.
In the final two months of the year, Bicknell will be looking to catch two other top Canadian pros in Timothy Adams (2,934.08) and Sam Greenwood (3,294.67), whose high roller exploits have propelled them to the top.
Keep following along as the 2019 GPI and POY races wind to a close. You can follow the Ladies GPI races on the official GPI website or get updates via the GPI Twitter and Facebook page. Poker tournament results in this article were provided by The Hendon Mob.