WSOP Corrects POY Mistake: Robert Campbell Winner, Not Daniel Negreanu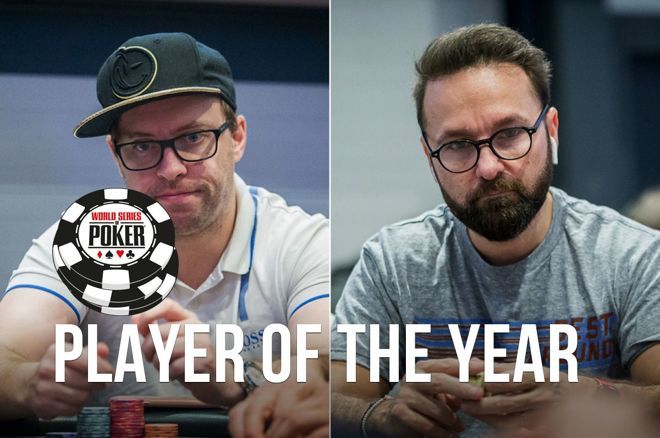 UPDATE: The WSOP has confirmed the error and that Robert Campbell is the 2019 WSOP Player of the Year (see at bottom).
There's still more 2019 World Series of Poker Player of the Year intrigue to share. In a development reminiscent of Steve Harvey at the Miss Universe pageant or a similar snafu at the Academy Awards Best Picture announcement a couple of years ago, it's possible an error in the results posted in one WSOP race might change the previously declared outcome of the WSOP POY race.
As noticed by "iskander," a poster on the TwoPlusTwo Forum who started a thread today titled "2019 WSOP POY Error? Not DNEGS?" a mistake in the results listed for one of last summer's online events, Event #68: $1,000 WSOP.com Online No-Limit Hold'em Championship, appears to have given previously declared 2019 WSOP Player of the Year Daniel Negreanu extra POY points.
Without those added points, Negreanu's total would place him third overall, making Robert Campbell the winner and Shaun Deeb runner-up.
PokerNews has reached out to the WSOP regarding the matter. They've indicated they are aware of the error and that a mistake may have been made, and that they are working now to get it sorted properly.
Misreported Results Affect POY Totals
Here is the apparent error as pointed out by "iskander," that is, Alexander Elenskiy a live reporter for the Russian poker news platform Gipsyteam.
While the top 31 finishers in Event #68 were accurately recorded on the event's results page on WSOP.com, those from 32nd place down to 46th were not.
Instead, the 32nd-46th place finishers from a different event, Event #87: $3,000 H.O.R.S.E., were incorrectly listed as having finished in the same places in Event #68 on the WSOP.com site where POY points are tabulated.
The results for Event #68 were reported correctly on Hendon Mob where Max Silver is listed as having finished 36th in the event. They same is true for the results on PokerNews, where players were identified by their usernames and "SnapShove" (Silver's handle) is listed as the 36th-place finisher and not "DNegs."
Negreanu did cash in Event #87 in 36th place, and so that meant on WSOP.com he was listed again — apparently erroneously — as taking 36th in the earlier event and earning 213.1 POY points for doing so.
Without that cash, Negreanu's POY point total would not have totaled 4,074.88 points for 24 cashes in the World Series of Poker and the World Series of Poker Europe this year. Rather, for his 23 cashes he earned 3,861.78 points.
As noted, that would place Negreanu in third place behind Campbell's total of 3,961.31 points and Shaun Deeb's total of 3,917.32.
Worth noting as well is the fact that entering the final day of the last WSOP Europe event, Deeb was under the impression that he would need to finish at least fifth in the event to surpass Negreanu and win his second straight WSOP POY. Deeb was third in chips with 11 players left to start the day, and unfortunately for him was eliminated early in 11th place.
In fact, Deeb needed only to have survived two more eliminations to finish in at least ninth to have earned enough POY points to top Campbell's total.
Negreanu has already weighed in on the strange turn of events via Twitter to congratulate Campbell, a.k.a. "SonicJaxx2019":
I will share my thoughts on the WSOP POY situation in a written blog later today.

— Daniel Negreanu (@RealKidPoker)
Stay tuned to this still-developing story.
* * * * *
UPDATE (added 6 p.m. ET):
As noted above, the WSOP has now issued a statement confirming the error and that indeed Robert Campbell is the 2019 WSOP Player of the Year. The statement appears below:
After being alerted earlier today of a possible error in our Player of the Year standings, we immediately began to investigate it.
We have confirmed a data entry error was made in our uploading of results into the backend off our website for WSOP Event #68, affecting places 32-46.
The results from Event #87, for places 32-46 in that event, were erroneously and additionally uploaded into the final results of Event #68 – more than two weeks after the completion of Event #68.
When a staffer uploaded the first 15 players who were eliminated in the money of Event #87 on July 16 (which included Daniel Negreanu in 36th place) – instead of uploading those results into Event #87, the staffer, by mistake, uploaded them into Event #68 instead. These were places 32 through 46, the lowest 15 positions to cash in Event #87. This error overwrote the correct results in Event #68 for places 32-46, and 15 players were credited with a cash in Event #68 despite not finishing in that place.
As a result, Daniel Negreanu was given 213.1 points erroneously in Event #68, an event we verified he did not cash in. 14 other players were also given erroneous points – the same players who properly cashed in Event #87, like Negreanu.
Recalculating our Player of the Year results today has an impact on the final standings. Robert Campbell finishes in first place with 3961.31 points, with Negreanu dropping to third place with 3861.76. Shaun Deeb's points were not affected by the data entry-error, but he moves up into second place, with 3917.32 in the final POY standings.
We have begun to reach out to the affected players to notify them of this mistake. We deeply regret the error.
"We'd like to offer our sincere and public apology to those players who chased the award," said WSOP Executive Director Ty Stewart. "It is an amazing thing when poker players pursue history and a sense of sporting honor, and thus it's a terrible embarrassment for us to stain a great race for the title. We're going to take the next few months to overhaul the POY and many of our procedures that have gone off course."
* * * * *
Here is the final 2019 WSOP POY Top 10, following the WSOP's correction:
| Place | Player | 2019 WSOP POY Points |
| --- | --- | --- |
| 1 | Robert Campbell | 3,961.31 |
| 2 | Shaun Deeb | 3,917.32 |
| 3 | Daniel Negreanu | 3,861.76 |
| 4 | Anthony Zinno | 3,322.00 |
| 5 | Phillip Hui | 3,186.17 |
| 6 | Dan Zack | 3,126.13 |
| 7 | Dario Sammartino | 3,091.03 |
| 8 | Chris Ferguson | 2,997.10 |
| 9 | Kahle Burns | 2,983.37 |
| 10 | Dash Dudley | 2,860.79 |