2019 WSOP Player of the Year: Dan Zack Keeps Lead Through Second Week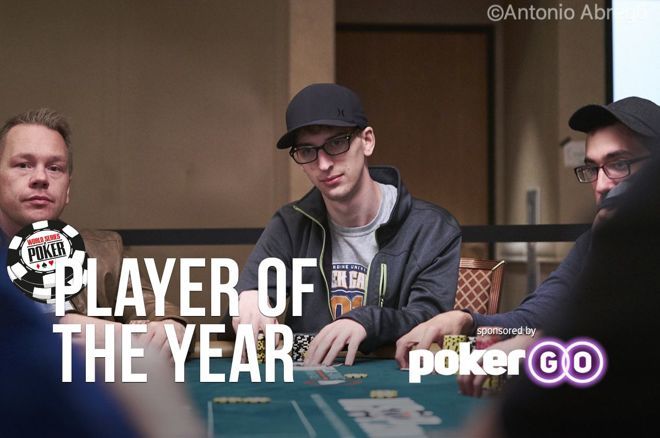 Two weeks' worth of events have been played at the 2019 World Series of Poker and 22 bracelets awarded already. Last week we reported how Dan Zack had raced out to an early lead in the 2019 WSOP Player of the Year race, and a week later he has maintained his position while the rest of the Top 10 below him has been in constant flux.
After winning his first career bracelet in Event #6: $2,500 Mixed Triple Draw Lowball, Zack made the money in two more events during the series' second week to bring his total number of cashes to five and widen the gap between himself and the chase pack.
A week ago Ben Heath was in the No. 2 position just behind Zack. In fact, Heath is the only player who was in the Top 10 last week who is still there today, having slipped back to No. 6 despite adding a second cash after winning Event #5: $50,000 50th Annual High Roller No-Limit Hold'em.
Here's how the 2019 WSOP POY Top 10 looks as of this morning, Wednesday, June 12:
| Place | Player | 2019 WSOP POY Points |
| --- | --- | --- |
| 1 | Dan Zack | 1,754.40 |
| 2 | Isaac Baron | 1,396.76 |
| 3 | Femi Fashakin | 1,384.62 |
| 4 | Brett Apter | 1,356.43 |
| 5 | Daniel Strelitz | 1,353.20 |
| 6 | Ben Heath | 1,231.20 |
| 7 | Jeremy Pekarek | 1,278.95 |
| 8 | Frankie O'Dell | 1,259.10 |
| 9 | Ben Yu | 1,219.61 |
| 10 | Scott Clements | 1,217.26 |
Leaping up to No. 2 this week is Isaac Baron who topped a field of 1,832 to win Event #16: $1,500 No-Limit Hold'em Six-Handed. Just behind Baron at No. 3 is Femi Fashakin who like Baron won his first career WSOP bracelet by taking down the massive Event #3: BIG 50 - $500 No-Limit Hold'em. Fashakin won $1,147,449 for besting the record-breaking 28,371-entry field.
Brett Apter has cashed three times so far this WSOP, including winning Event $17: $1,500 No-Limit Hold'em Shootout to move up to No. 4 on the POY leaderboard. Daniel Strelitz was another first-time bracelet winner earlier this week after winning Event #11: $5,000 No-Limit Hold'em at one of several final tables shown on PokerGO. The win earned Strelitz a $442,385 first prize and enough points to push upwards to No. 5 on the list.
Of the four players rounding out the current Top 10, three of them have won bracelets as well.
Jeremy Pekarek (No. 7) got his after winning Event #9: $600 No-Limit Hold'em Deep Stack, an event that drew 6,151 entries. Frankie O'Dell (No. 8) won his third career bracelet this week in Event #18: $10,000 Omaha Hi-Lo 8 or Better Championship. And Scott Clements (No. 10) also won his third WSOP title by capturing the bracelet in Event #10: $1,500 Dealer's Choice.
Meanwhile Ben Yu almost won his fourth WSOP bracelet, finishing runner-up in Event #15: $10,000 Heads-Up No-Limit Hold'em after losing the final match to Sean Swingruber. Yu already has six cashes at the WSOP and two final tables, and after finishing second to Shaun Deeb in the 2018 WSOP POY race today sits at No. 9.
Looking just outside the current list, Murilo Souza sits at No. 11 after winning Event #14: $1,500 H.O.R.S.E., while Event #12: $1,000 No-Limit Hold'em Super Turbo Bounty winner Daniel Park (No. 12), Shannon Shorr (No. 13), Asher Conniff (No. 14), and Event #22: $1,000 Double Stack No-Limit Hold'em winner Jorden Fox (No. 15) have all drawn close to the Top 10.
About the 2019 WSOP Player of the Year
After changing the way POY points were calculated prior to last year, the WSOP has kept the same formula to determine this year's winner. The formula is "loosely based" on the one employed to calculate WSOP Circuit rankings, with modifiers based on buy-ins and field sizes.
At the time, the WSOP explained the changes had been made "to better reward bracelet winners and players who run deep, while still rewarding consistency." A couple of differences from the pre-2018 system include a bigger gap between points earned from first- and second-place finishes, and min-cashes being worth relatively less than was the case before.
Here's an information sheet provided by the WSOP that provides further details regarding the 2019 WSOP Player of the Year.
The 2019 WSOP POY race includes all of the "open" bracelet events from this summer's WSOP in Las Vegas as well as events from the 2019 World Series of Poker Europe series that will take place in Rozvadov, Czech Republic later this year (Oct. 15-Nov. 4). That means from the full schedule of bracelet events this summer, the following six events are excluded:
Event #1: $500 Casino Employees No-Limit Hold'em
Event #32: $1,000 Seniors No-Limit Hold'em
Event #39: $1,000 Super Seniors No-Limit Hold'em
Event #47: $1,000/$10,000 Ladies Event
Event #57: $1,000 Tag Team No-Limit Hold'em
Event #81: $1,500 Bracelet Winners Only No-Limit Hold'em
It should be noted that in an unusual move the WSOP this week added one more bracelet event to this year's schedule — the $50,000 Final Fifty High Roller — bringing the total number of bracelets awarded in the 2019 WSOP to 90. That new entry will also count toward the 2019 WSOP POY race, which means players can earn points in 84 of this summer's events.
We'll continue to look in on the WSOP POY race once a week here on PokerNews going forward. However, you can always check the standings any time on the constantly updated WSOP Player of the Year page. There you also can find a "WSOP Point Calculator" to discover in advance how many points each event will award based on the number of entries.
Follow all of the action from the 2019 World Series of Poker and keep track of which players are making POY pushes on PokerGO.