Ben Heath Wins His First Bracelet - Conquers WSOP $50,000 High Roller for $1.48 Million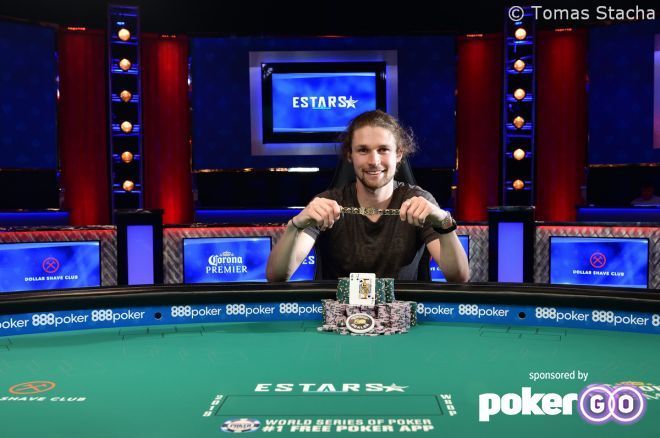 In light of the 50th Annual World Series of Poker, there was always going to be a $50,000 High Roller tournament. With such a significant buy-in, the group of players able to give it a shot is limited. You could predict a final table full of recognizable faces, and that's precisely what happened.
After three days of play, just six players remained from the 110-entry field. Five bracelet winners, and Ben Heath. But Heath did bring the chip lead, a ton of experience playing high rollers, and seemingly immunity from feeling pressure in essential spots.
"It feels a lot better than I thought it would."
After not even five hours of play, Heath was indeed the one posing with the gold WSOP bracelet, his first. That makes it look like it was all easy going, which wasn't entirely the case. He had to battle with some of the best in the game, and more than once lost the advantage with others topping the counts.
Asked what it means to win his first WSOP bracelet, Heath said: "It feels a lot better than I thought it would."
Posing for the winner photo and answering questions from the press that rushed the stage upon completion of the last hand didn't seem to faze Heath too much. But, as he would soon explain, that hadn't always been the case: "When I was younger, I was shy and didn't really want to win the bracelet. I would have rather just taken second place. But now that it has happened, it feels great!"
Final Table Payout WSOP 50th Annual High Roller - $50,000 No-Limit Hold'em
| Position | Player | Country | Prize |
| --- | --- | --- | --- |
| 1 | Ben Heath | United Kingdom | $1,484,085 |
| 2 | Andrew Lichtenberger | United States | $917,232 |
| 3 | Sam Soverel | United States | $640,924 |
| 4 | Dmitry Yurasov | Russia | $458,138 |
| 5 | Nick Petrangelo | United States | $335,181 |
| 6 | Chance Kornuth | United States | $251,128 |
| | | | |
| 7 | Elio Fox | United States | $192,794 |
| 8 | Cary Katz | United States | $151,755 |
| 9 | David Einhorn | United States | $122,551 |
WSOP 50th Annual High Roller - $50,000 No-Limit Hold'em Final Table Action
The final table got underway with an average stack of 40 big blinds for the remaining six players after David Einhorn, Cary Katz, and Elio Fox had already departed on the penultimate day of the schedule. The shortest two stacks, belonging to Dmitry Yurasov and Nick Petrangelo, were still over thirty big blinds deep.
Despite the room for play for all six finalists, the first casualty took place after only three hands. Chance Kornuth lost all three of them, bluffing the first one, raising the river with a worse hand in the second, and getting it in dominated in the last. Needless to say that it wasn't Kornuth's day. He lost the majority of his chips to Dmitry Yurasov and got eventually taken out by Andrew Lichtenberger.
"it's hard not think that it might be slipping away. But things worked out in the end, I guess."
Just a couple of hands later, Nick Petrangelo followed Kornuth out the door. Petrangelo got it in with ace-king against the queens of Ben Heath and found no help on the flop, turn, or river.
Ben Heath initially built out his lead only to lose a big pot to Lichtenberger to get about even in chips with him. The two battled in multiple pots that saw the lead change hands just as often. Lichtenberger took a sizable lead to distance himself from Heath and the rest not much later.
Asked if he felt like the victory was slipping away from him, Heath said after play had wrapped up: "I was up to fifteen million or so at one point and then fell down to eight [million], so it's hard not think that it might be slipping away. But things worked out in the end, I guess."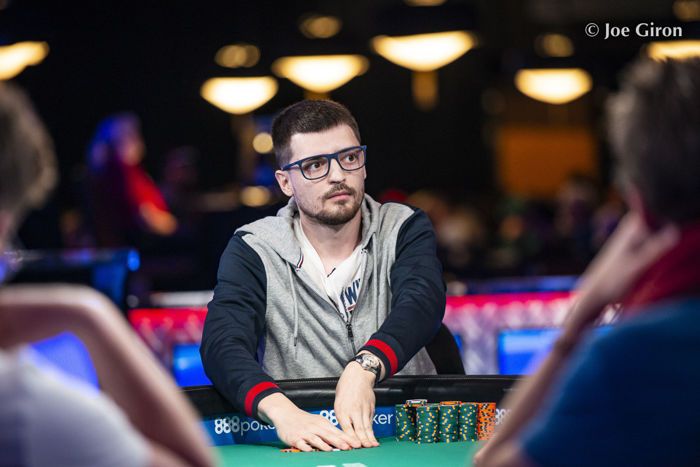 A Controversial Hand in the $50,000 High Roller
Heath turned things around winning a controversial hand against Dmitry Yurasov that meant the latter's demise.
With Soverel and Yurasov on equal stacks of twenty-five big blinds each, the former opened for a min-raise. Yurasov shoved all in, and Lichtenberger got out of the way from the small blind.
Heath in the big blind, though, asked for a count and contemplated his next action for a bit. With the tournament utilizing a shot clock, Heath was soon out of time, and he tossed in a small red time bank card to gain thirty more seconds to act. Soverel, still in the hand as the initial raiser, wasn't paying attention and tossed his cards in the muck right away, seemingly registering Heath's time bank card as either a muck of his cards or a call with a single chip. Now, not facing Soverel anymore, Heath instantly called.
To say that Yurasiv wasn't happy is pointing out the obvious. Yurasov showed ace-ten of diamonds and lost to Ben Heath's ace-queen of hearts.
"It was definitely going in either way. [...] I genuinely think he did it by mistake."
When the floor walked over to see what was going on, Lichtenberger assured him that Soverel didn't intentionally muck out of turn and that it was instead an honest mistake.
Asked about the hand after he had won, Heath was adamant that the outcome would have been the same: "It was definitely going in either way. I think if I have a slightly worse hand then it could become a bit interesting, but I genuinely think he did it by mistake."
Soverel faced no penalty, but couldn't turn things around either. He succumbed a couple of hands later, getting it in and losing with king-jack suited against Ben Heath's ace-king.
Having knocked out Yurasov and Soverel, Heath started with an eighteen to fourteen million lead. Lichtenberger seemed to get the better of it initially and evened the stacks after only five hands. Over the next five hands, he took the lead but was trailing Heath again after the latter won the next batch.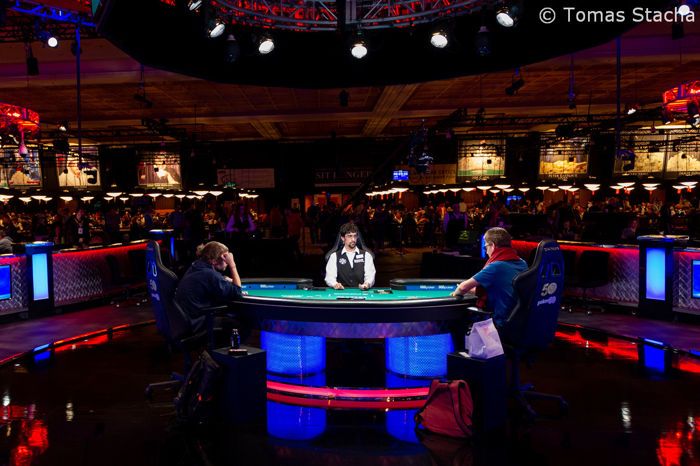 The Final Hand
After a button raise from Lichtenberger, Heath three-bet holding ace-jack. Lichtenberger four-bet shoved for 56 big blinds with ace-king and Heath called.
"I have friends that understand what my goals are in life, so they've been great."
Heath flopped a jack to take the lead in the hand. The turn made things a bit iffy for him, but a blank on the river guaranteed Heath the bracelet and the accompanying $1,484,085.
Joining him in his winner photo were half a dozen friends that had railed him throughout the final table. "I have friends that understand what my goals are in life, so they've been great," Heath said. "They tell me to go play my best, which is what I try to do. Not 'Go win the tournament' because the results don't matter to me. It's all about how well I played."
With the WSOP only a week in, the summer is already a great one for Heath. But that doesn't mean he intends to rest on his laurels; "I'm probably not going to play too much of the small stuff, but I'll be around all summer, playing some events at Aria and still studying a lot."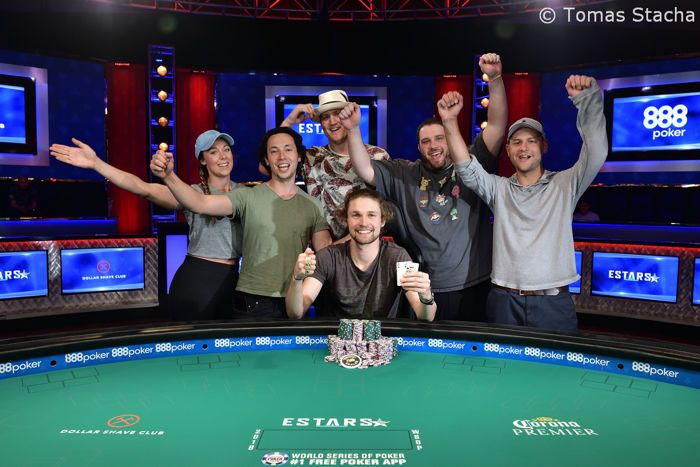 Like so many other final tables, Ben Heath's win was broadcasted on PokerGO. You can get a subscription for $10 a month or $99 a year via PokerGO.com. The next final table you can watch takes place tomorrow as your favorite poker streaming service brings the final of the $600 DEEPSTACK event.
For now, though, you can follow along on PokerNews with a batch of great events. Updates for Event #3: BIG 50 - $500 No-Limit Hold'em, Event #6: $2,500 Limit Mixed Triple Draw, Event #8: $10,000 Short Deck No-Limit Hold'em, Event #9: $600 No-Limit Hold'em Deepstack, Event #10: $1,500 Dealers Choice, and Event #11: $5,000 No-Limit Hold'em can all be found in the PokerNews WSOP Live Reporting section.