Denis Strebkov Wins His First Bracelet and $206,173 Top-Prize in $3k H.O.R.S.E.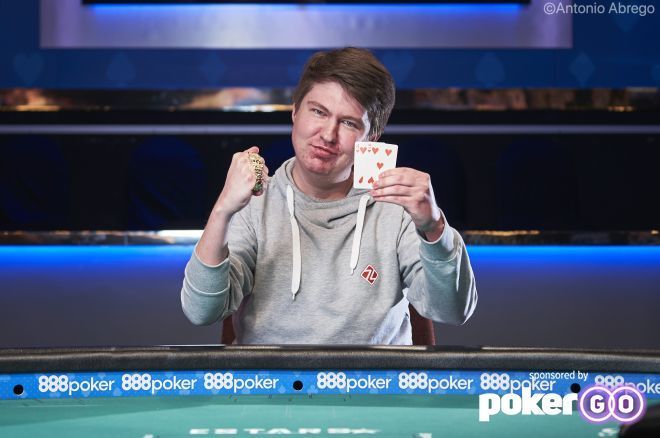 Last year, Denis Strebkov stunned the world, winning unprecedented five titles in the World Championship of Online Poker playing as "aDrENalin710." The well-versed Russian player arrived at 2019 World Series of Poker to showcase his versatility, and he made it to three final tables during the recent few weeks.
"It was great. It was like at a football stadium. I enjoyed that."
He would eventually add a number four to his name, and it would be the most precious one. Strebkov joined the final mixed-game event of the series, the $3,000 H.O.R.S.E., and he took it down, beating a field of 301 entries. Strebkov claimed the $206,173 first-prize and his first career bracelet, adding the handsome wristwear to his trophy cabinet.
Strebkov maybe didn't even expect to capture the title in the final hours of this year's WSOP. He was bound to be on a plane home, but the first two days of the H.O.R.S.E. event saw him navigate his way to among the final 14.
"I had my flight booked for today, so I had to reschedule after Day 2," Strebkov said.
Event #87: $3,000 H.O.R.S.E. Final Table Results
| Place | Player | Country | Prize |
| --- | --- | --- | --- |
| 1 | Denis Strebkov | Russia | $206,173 |
| 2 | Paul Tedeschi | France | $127,419 |
| 3 | Nick Guagenti | United States | $85,265 |
| 4 | Brian Hastings | United States | $58,359 |
| 5 | Andrey Zaichenko | Russia | $40,876 |
| 6 | Konstantin Puchkov | Russia | $29,316 |
| 7 | Jim Collopy | United States | $21,540 |
| 8 | Paul Volpe | United States | $16,224 |
Still, Strebkov's chances weren't too enticing when the day got underway. Strebkov was sitting third from the bottom when play resumed.
After Harold Klein (14th, $8,098), Tom Koral (13th, $8,098), Nicolas Milgrom (12th, $9,941), Patrick Leonard (11th, $9,941), and Cole Jackson (10th, ($12,535) hit the rail early, the final table was formed. The final table hit a long stalemate following Albert Shim's elimination in ninth place ($12,535.)
The next two hours didn't bring any knockout, and the stacks got incredibly shallow. It was anyone's game. A streak of two or three made hands could completely reshuffle the leaderboard. Ultimately, it was Paul Volpe who broke the deadlock, departing in eighth place in a hand of Stud Hi-Lo. Jim Collopy followed him to the rail shortly after that.
Strebkov himself experienced both of the extreme situations. He held the lead for a while, and then he nearly touched the ground with five players left. Down to one big bet, Strebkov immediately bounced back with a double up, followed by a triple up.
Strebkov's fellow countrymen Konstantin Puchkov and Andrey Zaichenko went through similar swings. Start-of-day chip leader Puchkov was eventually knocked out in sixth, and Zaichenko fell in fifth, courtesy of Strebkov.
While Puchkov and Zaichenko were denied a chance to pair their respective bracelets, Strebkov was eager to bring it home. Zaichenko stayed on the rail to support his friend.
"Andrey told me, 'You have to win!'" Strebkov said.
Strebkov played with maximum concentration, but he knew that wouldn't be enough. With the average stack around eight big bets, the margin for error was minimal.
"We were so shallow that it was about who would get lucky."
"We were so shallow that it was about who would get lucky."
Strebkov credited all his opponents, saying they all played very well. It had to come down to good cards, and that was something that sank Brian Hastings' chance of a back-to-back victory.
Hastings couldn't win a hand for a few game rotations, and he lost a considerable portion of his stack. Nick Guagenti busted Hastings in fourth in stud hi-lo, and while Guagenti held the chip lead with three players left, he wouldn't make it to the heads-up match as he exited in third place losing in a Razz hand to Strebkov.
With the bracelet on the line, Strebkov and Paul Tedeschi both eyed their debut triumph at WSOP. Their chances very pretty much even.
Played in an electric atmosphere provided by the Italian and German rails at the center stage (rooting for their favorites in the Main Event), Strebkov and Tedeschi needed to keep their focus.
"It was great. It was like at a football stadium. I enjoyed that," Strebkov said.
Strebkov pulled ahead, and he had a solid chance to finish off Tedeschi in stud hi-lo, but Tedeschi found a double.
He was, however, still short stack and the tournament found its champion on the very next hand, with Strebkov hitting his flush draw in hold'em. The ace of hearts on the turn left Tedeschi drawing dead, and the Frenchman knew that he would have to wait at least a couple of months for his bracelet.
With most of the tables folded and chairs stacked up, Strebkov left the Amazon room for one last time this summer. This time, it was with a bracelet on his wrist.
Want to watch the best poker from the comfort of your living room? Sign up for PokerGO!