Shankar Pillai Takes Down 2019 WSOP $1,500 Bracelet Winners Only Event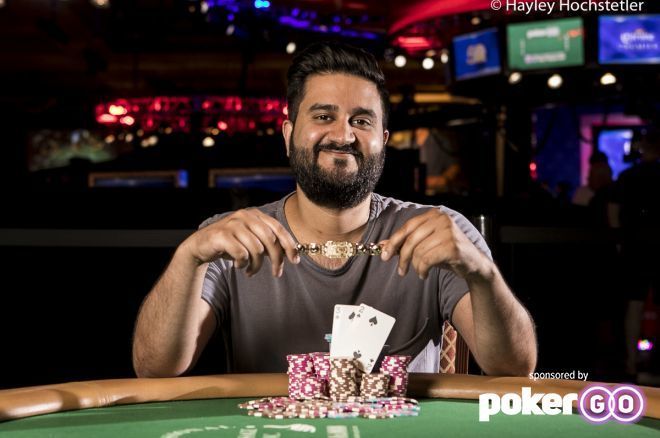 Table Of Contents
Tons of variables influence success in poker tournaments. Playing at one's best and running well are the most cited ones, but a favorable table draw might also be one of the key ingredients. Shankar Pillai proved it today in the 185-entry 2019 World Series of Poker Event #81: $1,500 Bracelet Winners Only Event.
Pillai came out on top in the strong field of WSOP decorated players. He took home $71,580, one of the modest first-place prizes of the summer, but that didn't make his victory any easier.
"It feels good. A little special, because everyone had one already," Pillai said.
"Every time they folded, I tried to play as many pots as I could."
Playing against former WSOP champions meant that nobody at the final table would be intimidated by the atmosphere. There was no place for first-timers.
But Pillai still found an advantage over his opponents on the last table. The seat draw was very generous to him. Coming back with the second-biggest stack, Pillai had the optimal position at the table as the chip leader Tommy Nguyen rubbed Pillai's right shoulder.
"I think I had the best seat at the table by far. Tommy had the chip lead and he was the most aggressive by far," Pillai said.
What made his situation even sweeter was the fact that Michael Gagliano, another feared opponent, was the next one to Pillai's right. Having the benefit to act after two of the most dangerous competitors in the majority of the hands, Pillai's gameplan was clear.
"Every time they folded, I tried to play as many pots as I could," Pillai claimed.
While that could work for the first few hours, Pillai would eventually have to challenge both Gagliano and Nguyen. The final day started with several short stacks at the table, and they were leaving the table one by one.
Final Table Results
| Place | Player | Country | Prize (USD) |
| --- | --- | --- | --- |
| 1 | Shankar Pillai | United States | $71,580 |
| 2 | Michael Gagliano | United States | $44,232 |
| 3 | Tommy Nguyen | Canada | $31,176 |
| 4 | Brett Apter | United States | $22,349 |
| 5 | Kevin Gerhart | United States | $16,299 |
| 6 | Andreas Klatt | Germany | $12,097 |
| 7 | Thom Werthmann | United States | $9,140 |
| 8 | Scott Bohlman | United States | $7,032 |
| 9 | Haixia Zhang | United States | $5,512 |
Final Table Action
Scott Bohlman lasted only two hands and Thom Werthmann followed him to the rail before the first break. Andreas Klatt was able to double every now and then, but it still couldn't prevent him from falling in sixth place. Kevin Gerhart and Brett Apter also gave way to the top three stacks at the final table.
"We just always had a lot of chips, so I figured it was going to be us three," Pillai said about facing off with Nguyen and Gagliano.
"We were really deep at that point so it was anyone's game. In fact, everyone swung chip stacks the whole time."
"We were really deep at that point so it was anyone's game."
The fast-paced tempo left the remaining three players with comfortable stacks, and it seemed that neither player had any higher chance than another. It was anyone's game.
And the chips were flying in all directions. Nguyen had the chip lead until Gagliano took over. Then Nguyen risked his stack on an open-ended straight draw on a turn and Pillai picked him off with aces. The bullets held and Nguyen was dismissed.
Gagliano still held the better stack, but the heads-up match had one particular theme. Gagliano was winning mostly the small pots, adjusting his game in the process. He limped a lot of his buttons while Pillai kept raising his own. Whenever they tangled in more inflated pots, it seemed the chips would always find a way to Pillai's stack.
"I let him win the small ones and the big ones... I went after them," Pillai revealed.
It was a special match, considering the common hand history between Pillai and Gagliano. They meet at the tables on a regular basis, both being located on the East Coast. "We play all the time," Pillai said.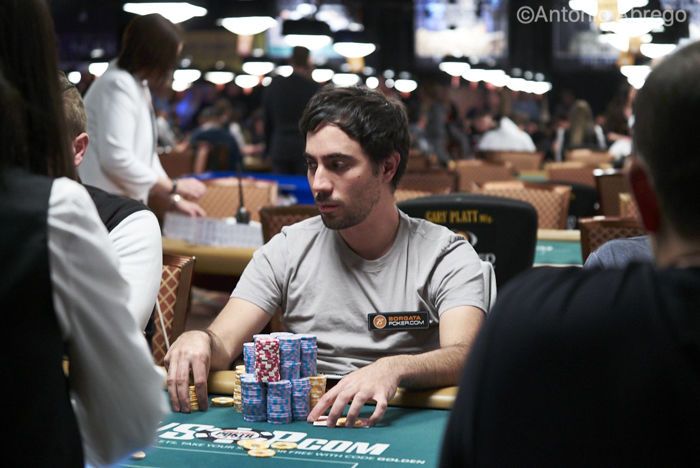 So it was a tricky spot for both of them. They could hardly surprise each other, but Pillai was still able to put Gagliano into some tough spots.
"I was bluffing most of the big ones. Like, I had it one time. That was kind of the gameplan," Pillai said.
He certainly had it when they clashed on the 218th hand on the final table. Pillai raised his button, Gagliano called, and Pillai barreled all streets of the board, jamming the river. Gagliano had turned two pair and he called, but he learned that the turn didn't do him any favor. Pillai hit a straight at the same time, and he even improved to a flush on the river.
The cooler locked the second bracelet for Pillai, his first since 2007 when he won the $3,000 No-Limit Hold'em event for $527,829. Pillai will play a few more tournaments here at WSOP and fly back to New York after the $5K event.
"I'll be home a lot. I have a 16-month-old son so I don't travel that much anymore. I'll play the tournaments nearby," Pillai said.
Gagliano is surely already planning his revenge, be it in Atlantic City, Florida, or elsewhere.
While this tournament has concluded, there's plenty more coming from the 2019 World Series of Poker. Click here for live updates from the 2019 WSOP Main Event, or click here for an overview of all events that are currently going on in the Rio All-Suite Hotel and Casino. Want to watch final tables live? Sign up for PokerGO.