Alex Epstein Wins Event #8: $10,000 Short Deck for $296,277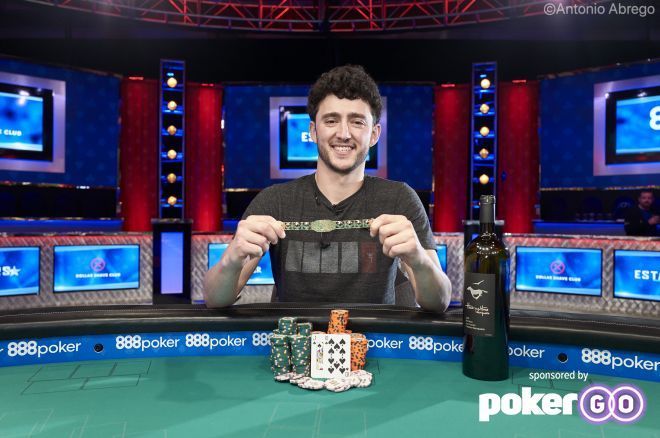 Alex Epstein has won his first bracelet and $296,277 after defeating a 114-entrant field in the first-ever $10,000 Short Deck Event at the WSOP.
Epstein was responsible for the last three eliminations at the final table, including that of three-time bracelet-winner Chance Kornuth in fourth, before sending both Anson Tsang and Thai Ha to the rail in the same hand to clinch victory.
Final Table Results
| Place | Player | Country | Prize (USD) |
| --- | --- | --- | --- |
| 1 | Alex Epstein | United States | $296,227 |
| 2 | Thai Ha | United States | $183,081 |
| 3 | Anson Tsang | Hong Kong | $130,482 |
| 4 | Chance Kornuth | United States | $93,593 |
| 5 | Rene van Krevelen | Netherlands | $67,566 |
| 6 | Yong Wang | China | $49,095 |
| 7 | Andrew Robl | United States | $35,907 |
From PLO to Short Deck
To paraphrase New York Times bestselling author John Green, Epstein won this tournament "slowly, then all at once." Coming into the final day second in chips, he bided his time before a pivotal hand against start-of-day chip leader Kornuth vaulted him into a chip lead he never relinquished.
"Walking to the Rio today, I was thinking that I just wanted to enjoy the experience," Epstein told PokerNews shortly after winning the tournament. "I knew that the other good players at the final table were shorter stacks so I had a very good chance if things broke my way."
Epstein's previous experience of short deck hold'em came at some Run It Up Reno events, and he said that after running "far below EV" at PLO so far this summer, he "decided to play a game with higher variance than that."
In the end, it's worked out for Epstein, who has claimed his first WSOP bracelet and almost $300,000 in prize money.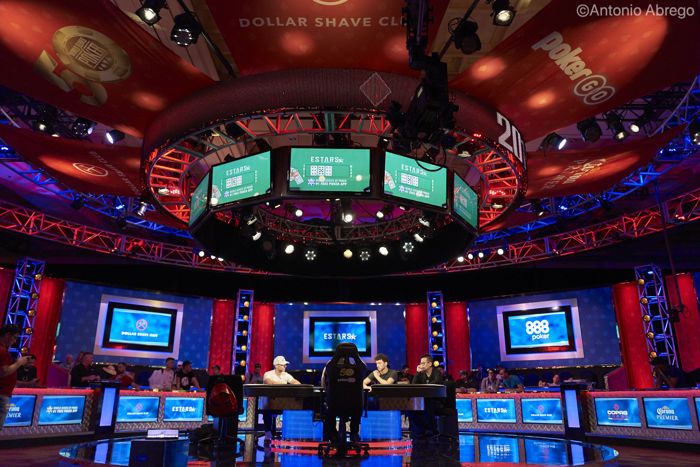 Final Day Recap
Seven-handed at the start of the day, it took just four hands to find the first elimination, with start-of-day short stack Andrew Robl sent packing by Anson Tsang after the latter turned a flush.
Thai Ha would double five times at the final table on his way to a runner-up finish, with his first coming when he picked up kings midway through the first level of the day to double through Tsang, and his second coming shortly thereafter when his ace-jack bested the ten-nine of chip leader Chance Kornuth.
His third came through Epstein who by this stage had moved into the chip lead. Despite these three doubles, Ha remained short.
Both Epstein and Kornuth would trade the chip lead before Yong Wang was eliminated in sixth place. His jacks were cracked by the ace-king of Tsang who added his second elimination of the day.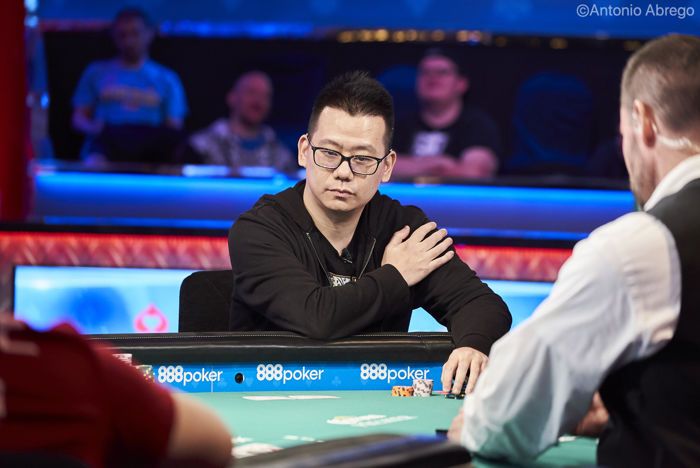 Battle for Chip Leader
Tsang now joined both Epstein and Kornuth as a contender for the chip lead five-handed and moved into the overall lead for a spell.
Ha would double for a fourth time before Dutchman Rene van Krevelen did the same, both through Epstein who had stumbled onto rocky ground. It was then Epstein's turn to double. He got it in with trips against a flopped full house of Tsang and the Hong Kong player looked destined to send a third player in a row to the rail. However, a miracle river kept Epstein alive and he moved back to the top of the pile.
The fifth double for Ha would leave Van Krevelen short before the break, and although a double saw him threaten to make a comeback, he was eliminated in fifth place.
Kornuth and Epstein Clash
Big WSOP final tables sometimes demand big final table moments, and this was no different. After Kornuth check-called Epstein on a queen-high rainbow flop, both players checked the turn. The river completed a backdoor flush draw and Kornuth bet, was raised and then moved all in.
"Like most of the other professionals," said Epstein, reflecting on the hand afterward, "when they see me and the way that I table talk and set myself up, they think they have a post-flop edge in a game where they definitely don't have a post-flop edge."
"The only reason I took so long is because it's a huge spot and I had the time bank chips. If I had lost, it is what it is."
Epstein took his time before calling. He was shown a single pair by Kornuth, with Epstein's straight good enough to secure a massive double.
"I was relieved, for sure. He could have lucked into backdoor hearts there, which happens in poker. And if he does he gets paid. The only reason I took so long is because it's a huge spot and I had the time bank chips. If I had lost, it is what it is."
According to the stream, Epstein and Kornuth both exchanged words after Epstein scooped a massive pot.
"I'm sure Chance is a very nice guy. He made it very clear that he felt that he had an edge without any realization that that is purely because of the way I present myself to him. On one hand, that's a great thing because it sets up moments like this but on the other hand, it's a little annoying when people feel the need to comment on that."
The Final Hand
With one hand on the bracelet, Epstein started to push ahead, shoving at several opportunities before the final hand. Then, Tsang shoved as the short stack, with Ha reshoving as the middle stack. Epstein was in position and called to put both at risk.
After flopping a straight, the outs Epstein had to dodge were numerous. The turn was a brick, and the rail of Epstein's friends gathered under the WSOP Thunderdome took a moment after the river was dealt before erupting with delight. Epstein's straight had held, sending two players to the rail and securing his victory.
Epstein won his gold bracelet under the lights and on the PokerGO stream. You can watch more final table action from the 2019 WSOP a subscription for $10 a month or $99 a year via PokerGO.com. Follow all the live updates right here at PokerNews.
Milko van Winden has been a part of the poker media corps since 2017. An occasional [I]PokerNews[/I] contributor and live reporter, Milko is the Head of Digital Media at poker training site Pokercode.