Michael Blake Wins Event #39: $1,000 Super Seniors No-Limit Hold'em, Shulman Second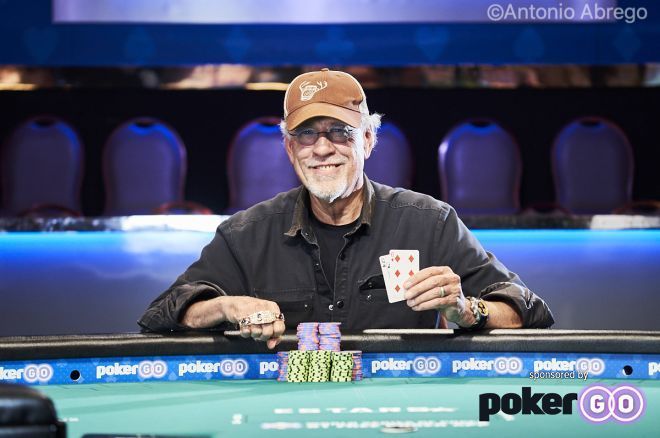 Table Of Contents
Arguably one of the most fun tournaments of the series has come to an end today and a new champion has been crowned in Event #39: $1,000 Super Seniors No-Limit Hold'em. A record-breaking field of 2,650 players walked through the doors of the Rio All-Suite Hotel and Casino, and when the last chance saloon had closed for business it was Michael Blake who took down the tournament for a staggering $359,863 as well as a shiny new WSOP bracelet.
Blake started the unscheduled fourth day as the chipleader of the final ten and instantly started to stack chips, taking a pot early from Rick Austin with a rivered straight. Shortly after, Blake sent William Davis out the door in tenth, winning a classic flip with ace-king against jacks.
The Broomfield, Colorado native started the official final table as the only person over the ten million mark and had almost double the chips of Kanajett Hathaitham who was sitting in second on the leaderboard. After about 60 hands it was Cary Marshall taking the lead, running over everyone and opening almost every hand.
"I'm an old guy, I've played poker for most of my life, and I feel very fortunate.
"No I didn't, I thought Cary would definitely win the thing, to be honest with you," Blake said when asked if he expected it to play out this way. "But the cards turned and I hit some good hands and it turned out really well."
Blake has only played three events at the WSOP – the Super Seniors tourneys in 2017, 2018, and 2019. He's cashed in all three. "It's the third time I've played in it. I'm an old guy, I've played poker for most of my life, and I feel very fortunate," he said.
Event #39: $1,000 Super Seniors No-Limit Hold'em Final Results
| Place | Player | Country | Prize |
| --- | --- | --- | --- |
| 1 | Michael Blake | United States | $359,863 |
| 2 | Barry Shulman | United States | $222,295 |
| 3 | Cary Marshall | Unites States | $162,536 |
| 4 | Timothy Joseph | United States | $119,888 |
| 5 | Rick Austin | United States | $89,217 |
| 6 | Kanajett Hathaitham | United States | $66,987 |
| 7 | Jeffrey Miller | United States | $50,751 |
| 8 | Bruce Treitman | United States | $38,802 |
| 9 | Miles Harris | United States | $29,939 |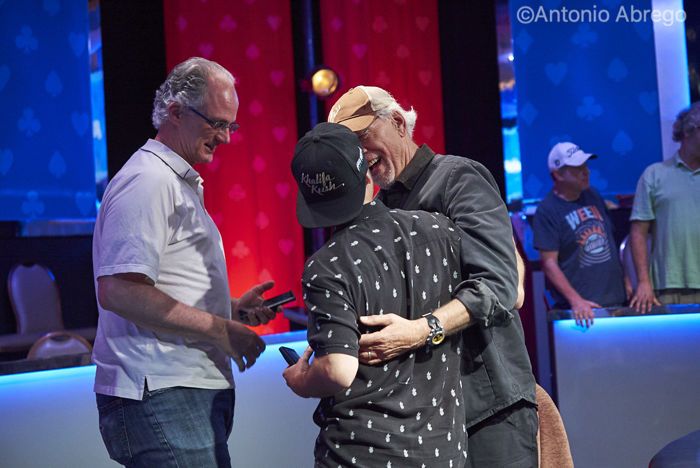 He thanked his home game for being able to get better at poker collectively as a whole. "There is a group of fellows in what they call Anthem Ranch. It's an excellent, excellent game, and I have to be honest: Most of my poker was not hold'em poker." Blake then described another home game in New Mexico he often frequented which included two jokers in its most-played variant. "So the game at Anthem Ranch has really helped me.
"So hold'em was something new to me over the past two to three years. I always understood that I would come to Vegas and play it, day in and day out. There was a gentleman, Dave Burritt, who runs the game at Anthem Ranch, who's really improved my game." Blake mentioned Burritt a second time as a home-game friend whose support really made a difference in making Blake's hold'em game competitive on the WSOP scene.
When asked about the final hand Blake replied, "It was an excellent hand and I was fortunate that Barry didn't hit the straight or the flush on the river." Blake mentioned that two-time bracelet winner Barry Shulman was a very good opponent. "Well, I've played poker for most of my life and I think Barry is a very strong player, I feel very very fortunate and I feel very elated."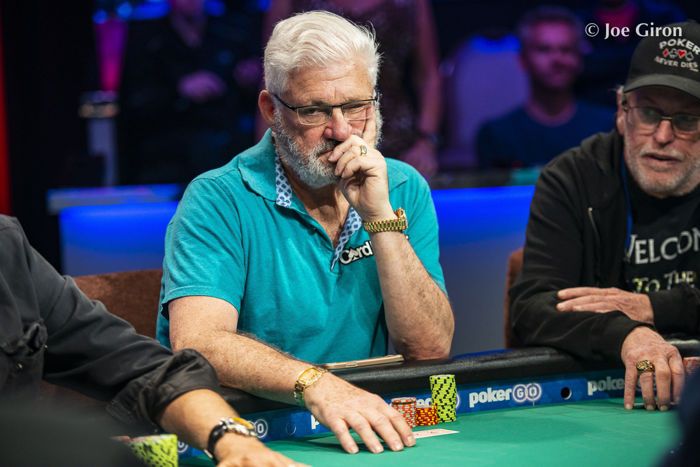 Super Seniors Final Table Action
The first player to leave the final table of nine was Miles Harris who shoved a ten turn card and was called by Jeffrey Miller with his flopped king. Harris failed to catch up and took the first exit on the final table of nine. Bruce Treitman was the next casualty after he shoved his pair of dimes from under the gun and was called by Cary Marshall's big slick. Treitman lost the race after Marshall smacked a king on the flop, being eliminated in eighth.
I was fortunate that Barry [Shulman] didn't hit the straight or the flush on the river."
On perhaps one of the sicker of the beats, Jeffrey Miller was eliminated. Marshall opened to almost three times the big blind and Miller shoved over 15 big blind back at him. Marshall took a brief moment and then called the all in of Miller who tabled a suited slick in spades. Marshall turned smaller spades, queen-high. The flop and turn looked good for slick, but the seven on the river connected with Marshall's kicker, giving him two pair, while sending Miller out the door.
Just two hands after Miller was eliminated, Kanajett Hathaitham moved all in and again Marshall was the caller. This time though it was Marshall holding the big slick and Hathaitham failed to catch up as he was sent home in sixth place. Marshall continued his elimination streak against Rick Austin who was shafted on the river after moving all in with ace-three and called by Marshall's dominated five-three. All seemed well for Austin until an unlikely river landed, giving Marshall a pair of fives and the pot. Austin headed to the payout desk in fifth place.
Timothy Joseph moved all in for his remaining stack in the cutoff and Blake elected to call. Joseph was in poor shape with his paint cards versus the ace-queen of Blake. Joseph failed to find any hope as he was drawing dead on the turn, taking an exit in fourth place for a respectable six-figure cash.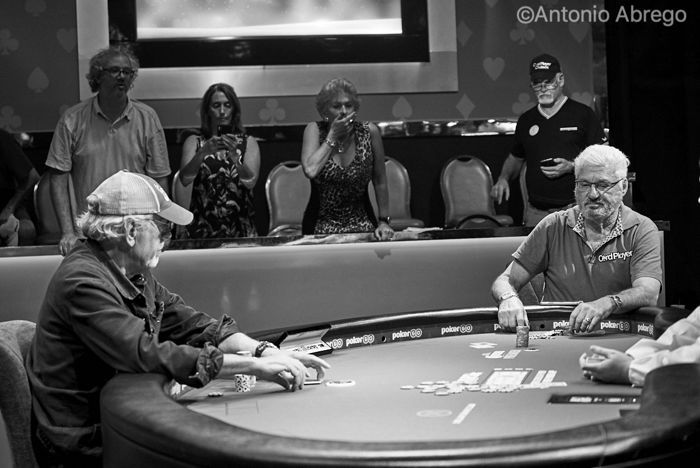 Marshall was the leader for the better part of the final table but once the three-handed game started it seemed as all of his run-good had faded. He found himself on a continuous downswing, grinding down to a short-stack and in need of a double. Marshall was facing a button raise by Shulman and looked down at an ace, he elected to move all in and Shulman called with his sixes. Marshall could not find another river and was sent home by Shulman.
The heads-up portion of the tournament lasted almost two hours before a player had all of the chips in play. Shulman and Blake started almost even, but Blake drew first blood and seemed to have the advantage throughout the rest of the match. Barry jumped back a few times but failed to ever gain any real traction as Blake was just running too well. The final hand of the tournament saw Shulman move all in on the turn with flush and straight draws on the turn of a queen high board but Blake called with queen-six, giving him two pair. It was a sweat for Blake but Shulman failed to connect on the river and was eliminated in second, taking home $222,295 for his efforts.
That brings an end to the record-breaking Super Seniors tournament. Click here to read back all the live updates, and come back for live updates on every WSOP event here on PokerNews throughout the rest of the summer. Want to watch the final tables live? Sign up for PokerGO!