Mike Lisanti Cashes Seniors Event for 4th Year in a Row; Makes Final Table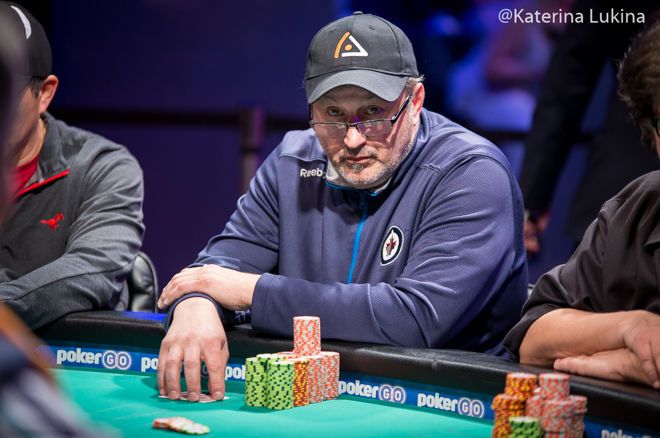 The final table of Event #32: $1,000 Seniors No-Limit Hold'em Championship is underway and Canada's Mike Lisanti is on it for the second time in four years.
Impressively, the 58 year-old Lisanti has been eligible to play this event for eight years now and has cashed five times. He has also made the money in the Seniors' event for the last four years in a row. As far as statistics go, Lisanti is definitely producing results at a healthy clip.
Hailing from Winnipeg, Manitoba in Canada, Lisanti has over $220,000 in lifetime earnings. For his final table appearance on Sunday, Lisanti is guaranteed a payout of $59,044 with nine players remaining. He is ultimately looking to scoop the $662,594 top prize, the gold World Series of Poker bracelet, and hopes to bring a huge win back to his hometown.
"I recognized that the game is changing after 2011. I used to play mid-level cash games, and then the games got tougher,"
Lisanti used to play a lot of poker, but realized that the field was not getting any softer. "I recognized that the game is changing after 2011. I used to play mid-level cash games, and then the games got tougher," Lisanti told PokerNews.
Another reason Lisanti doesn't play much poker anymore is in 2016 he opened a restaurant called Pizzeria Pronto. In addition to that, Lisanti is focused on his family life. "I play one event a year now. I've got grown kids. I'm very proud to say, one is in the last year of law school and one's in medical school. Very proud to say that," smiled Lisanti.
Pride is something Lisanti is feeling a lot of today, as he also mentioned he has been the last Canadian standing in the Seniors' event field for two of the five years he has cashed. "I was also the first player out of Winnipeg to make a final table [at the WSOP]. It was me."
World Poker Tour champion and semi-retired poker player Patrick Serda also hails from Winnipeg and is on Lisanti's rail. "He's the best senior tournament player in the world," he exclaimed.
Lisanti threw in a jab in relation to Serda: "He's won million-dollar tournaments, but he's never final-tabled a World Series event. So I'm very proud of my accomplishment."
Back in the day, Lisanti used to travel a lot for poker but has since settled down and only travels for the WSOP now.
"We did a lot of traveling poker. We went to Dominican for five years, Panama, Peru," explained Lisanti. Now, it's just the Seniors Event for him and it's clear he's doing something right.
Follow Mike Lisanti's progress in the Seniors Event as the final table progresses. Live updates can be found on PokerNews.com