Hennigan Wins Sixth Bracelet in $10,000 Seven Card Stud, Negreanu Second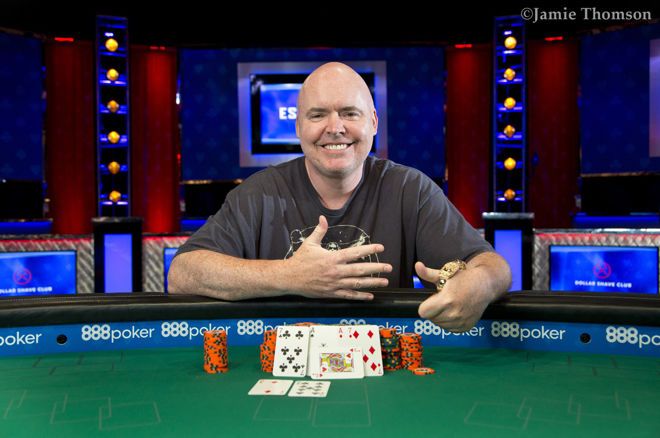 A champion has been crowned.
"I'm happier with this than I would be with any other, to be honest with you."
John Hennigan, regarded as one of the best Seven Card Stud players on the planet, is the most recent 2019 World Series of Poker bracelet winner, having just topped a field of 88 of the world's best in Event #41: $10,000 Seven Card Stud Championship to earn a first place prize of $245,451.
When asked what this bracelet meant to him, Hennigan said it was a little more special than the other ones as he's always fancied himself to be a very good stud player. However, Hennigan wasn't the only world class player at what proved to be a star-studded final table; only one of the eight players to make the final table entered the day without a bracelet.
Event #41: $10,000 Seven Card Stud Championship Final Table Results
| Place | Player | Country | Prize (USD) |
| --- | --- | --- | --- |
| 1 | John Hennigan | United States | $245,451 |
| 2 | Daniel Negreanu | Canada | $151,700 |
| 3 | David "ODB" Baker | United States | $104,416 |
| 4 | Mikhail Semin | Russia | $73,810 |
| 5 | David Singer | United States | $53,621 |
| 6 | Chris Tryba | United States | $40,066 |
| 7 | Frank Kassela | United States | $30,817 |
| 8 | Frankie O'Dell | United States | $24,419 |
Event #41: $10,000 Seven Card Stud Championship Final Table Recap
The tournament found itself down to the final table of eight players nearing the end of Day 2 in what was supposed to be a four-day tournament. At the very end of the day, Frankie O'Dell was eliminated and the final seven players returned today for Day 3 to compete for nearly a quarter-million dollars, a WSOP bracelet, and the title of being Seven Card Stud World Champion.
Hennigan entered the day fourth in chips, with eventual runner up Daniel Negreanu coming into the day as chip leader and starting fast.
Third place finisher David "ODB" Baker also got off to a hot start, taking over the chip lead during the first level of play. Baker secured the first two knockouts of the day, making queens up to best the sevens up of Frank Kassela (seventh place), and later making queens up again to send Chris Tryba to the rail in sixth place.
Two-time bracelet winner David Singer (fifth place) was next to go, getting eliminated less than ten minutes behind Tryba after hanging around with a short stack for around an hour before finally succumbing to elimination.
"He played so well, he really did not get what he deserved there. He made every right decision and it was just bad luck for him there at the end."
It was over two hours later that the next elimination occurred. Mikhail Semin, who was the sixth-place finisher of Event #29: $10,000 H.O.R.S.E. Championship for $71,505, continued his run of short-stacked survival, winning numerous all-ins over the two-plus hours it took before his luck ran out and he finished in fourth place. Much like Singer and Tryba being eliminated in rapid succession, Baker was eliminated just four minutes after Semin when his pair of fours was unable to improve beyond Negreanu's sixes.
Then the battle began. Hennigan entered heads-up play with a stack of 1.5 million, roughly 40 percent of Negreanu's 3.7 million. Within 20 minutes, Hennigan and Negreanu were even in chips. The next 15 minutes saw Hennigan extend his chip lead to the point it seemed like he could run away with the tournament. However, Negreanu battled back and over the next two-plus hours, the two went back and forth, taking turns as chip leader without either player getting too far ahead of the other before stacks were all of a sudden even, again.
With about ten minutes left in what would be the penultimate level of the night, the momentum started to swing in Hennigan's favor. He won a big pot with two pair, aces up, and proceeded to win several pots afterward. After a match that never saw a commanding chip lead up until then, Hennigan found himself eclipse the four-million chip mark. It wasn't much longer before Negreanu was under one million.
The final two hands of the night put an exclamation mark on the tournament. Hennigan found himself in a hand where he was able to get two bets in on both fifth and sixth streets before betting on seventh street and forcing Negreanu to fold, the latter leaving himself with fewer than two big bets in his stack. A couple of hands later, Negreanu was all in and ended up with a pair of fours that was no match to Hennigan's aces up.
After the tournament, Hennigan gave all the credit in the world to Negreanu. "It was a very tough duel, especially for me," Hennigan said in an interview. "He played so well, he really did not get what he deserved there. He made every right decision and it was just bad luck for him there at the end." Hennigan said he felt like he played a great tournament up until the end but that he really needed luck when the tournament reached heads-up play.
Fortunately for Hennigan, luck was on his side. However, Hennigan is far more focused on the meaning of this victory. Having already won five bracelets prior, he had already felt happy with what he had accomplished in his career. "This is just a sentimental thing, (winning) the stud (bracelet). I'm happier with this than I would be with any other, to be honest with you."