Inside Gaming: Rio Sale Completed, Caesars to Operate Two More Years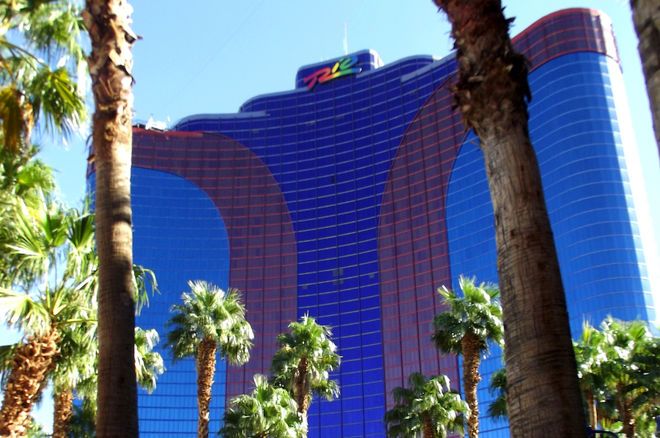 Sale of Rio Closes, Caesars Leases Property Through 2021
The Rio All-Suite Hotel and Casino officially has a new owner. On Thursday the purchase of the property well known to poker players as the home of the World Series of Poker was finally completed, with the closing of the $516.3 million deal meaning Dreamscape Companies has now acquired the property.
As explained in a release from seller Caesars Entertainment Corporation, the deal is specifically with a company affiliated with Dreamscape Companies which is owned and controlled by New York-based real estate developer Eric Birnbaum.
The terms of the deal include a subsidiary of Caesars entering into a lease agreement with Dreamscape for at least two more years for $45 million per year, with an option to extend to a third year should both parties desire to do so.
That means Caesars will continue to operate the Rio and — as WSOP Vice President of Corporate Communications Seth Palansky confirmed in September — the WSOP will remain at the Rio both in 2020 and (likely) in 2021.
That gives Birnbaum and Dreamscape at least a couple of years to decide what they plan to do with their new property. Birnbaum has already refuted rumors that the hotel-casino will be demolished, perhaps to be replaced by a Major League Baseball stadium, something Birnbaum made that clear yesterday when speaking to CDC Gaming Reports.
"I love baseball... but this is a campus with a building and a location that has unbelievable potential," said Birnbaum. "We think the time and location affords us the opportunity to consider our plans."
"We have a long runway ahead of us and we're not ready to give away all the secrets," Birnbaum added. "Suffice it to say, whatever we do, we will reimagine the property."
Back in June, casino operator Eldorado Resorts Inc. acquired and merged with Caesars in a blockbuster cash-and-stock deal worth $17.3 billion. Details of the acquisition are still being worked through, with the deal not expected to close until late next year.
Down Again in November, Macau Headed for First Annual Revenue Decline in Three Years
It has been a while since we've looked in on gaming revenue reports from Macau. The year hasn't been great for casinos in the Special Administrative Region, and the latest Monthly Gross Revenue from Games of Fortune report from the Gaming Inspection and Coordination Bureau all but confirms Macau will be experiencing its first annual revenue decline since 2016.
In November casinos reported gross gaming revenue of just under 22.9 billion patacas (about $2.8 billion USD), which means a year-over-year decline of 8.5 percent. That makes seven of 11 months of declines for Macau as well as four of the last five.
The accumulated gross revenue for the year to date stands at a bit more than 269 billion patacas or about $33.3 billion USD, down 2.4 percent when compared to the first 11 months of 2018.
According to Bloomberg, factors that have negatively affected Macau gaming revenue this year include the ongoing trade war between China and the United States, a slowed-down Chinese economy and weakening yuan (the Chinese currency), the ongoing and escalating protests in nearby Hong Kong, the appearance of rival gaming hubs elsewhere in Southeast Asia, and a continued crackdown by China on offshore gambling activity impacting junkets and Macau's VIP clientele.
Despite the negative numbers, the 2.4 percent decline for the year is well shy of a much bigger 10 percent decline forecasted by analysts, says Bloomberg.
California Card Room Owners Decry Proposed New Rules
The history of legislation affecting card rooms in the state of California has been full of twists and turns that have stretched all of the way back to the 19th-century. There could be yet another big change coming if newly-proposed rules by regulators are adopted, reports the Los Angeles Times.
The proposal by the California Bureau of Gambling Control was delivered on Tuesday. It culminates a year's worth of hearings on the issue and revives an argument that has come up before concerning the way the state's non-tribal card rooms have purported to comply with state law prohibiting the collection of money directly from losing players.
Unlike in Las Vegas or in other traditional casinos, in California card rooms not located on tribal lands are not technically allowed to have any financial stake in the outcome of the games. To get around that prohibition, most card rooms have an employee act as the dealer while "a representative from a licensed third-party business takes on the role of a banker" (a.k.a. "the house") and handles collecting from losers and paying winners. Card rooms then collect a fee from each player every hand (typically tied to the betting limit) in order to generate revenue.
The new, tentative rules proposed by regulators would require all players at the table "to take turns serving as the banker, switching every two rounds." Those refusing to do so will not be allowed to play, and if no one is willing the game stops altogether.
As has happened in the past when this issue has arisen, card room owners are strenuously objecting to the proposed change, arguing that players do not wish to carry the burden of serving as the banker, the games would necessarily slow down, and additional problems would arise when new players unfamiliar with rules have to serve as banker.
"If these regulations were adopted as proposed, they would kill the card room industry and devastate dozens of communities and thousands of working California families across the state," said the California Gaming Association. The trade group additionally charged that regulators appeared "intent on eliminating this lawful $5.6-billion industry and putting 32,000 Californians out of work."
Meanwhile the California Nations Indian Gaming Association offered no comment on the proposed new rules. "While we are still studying the proposed regulations, we are generally in support of regulatory agencies taking a clear position on illegal gaming practices," said Steven Stallings who chairs the association.
The California Gambling Control Commission will next consider testimony regarding the proposed changes in Sacremento on December 18.
Photo: "Rio All-Suite Hotel and Casino," Amadscientist, CC BY-SA 4.0.