The Muck: Daniel Negreanu Considers Not to Re-enter Events in 2020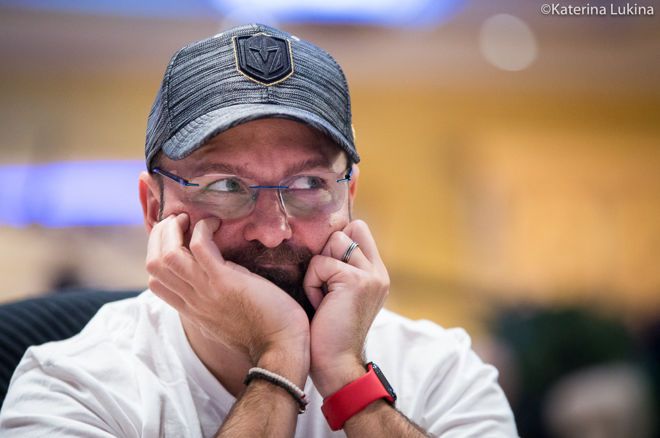 Daniel Negreanu is not one to shy away from controversy or speak what is on his mind.
The former PokerStars ambassador and current GG Poker ambassador is active on social media and shared his thoughts via popular daily vlogs during both the WSOP and the WSOP Europe.
"Kid Poker" was active on Twitter this week about how he is contemplated not to re-enter any events in 2020.
The standard freezeout used to be the standard of poker tournaments. Re-entries became more of the norm as poker rooms are able to offer higher guarantees while, of course, also able to collect more rake.
Some players love re-entry tournaments not only because of the promise of a big prize pool but also provides players that travel to an event multiple chances at making the money and beyond.
In addition, it isn't all solid professional players re-entering events but many recreational players do the same.
Others prefer the re-entry trend to reverse as even though the prize pool is bigger, they only plan to fire one bullet into an event like Negreanu could be doing in 2020.
One big reason heard in card rooms over the years is that they don't want to face a big professional player later in a tournament that they already eliminated.
Going Back to His Roots
Negreanu mentioned that he might not wait until 2020 and approach the upcoming World Poker Tour Bellagio with the mindset of entering on time and firing just one bullet.
2015 WSOP Main Event Champion Joe McKeehen Tweeted to Negreanu: "...aren't you always in for multiple bullets? Isn't that your style? You might not like it, but wouldn't you be playing toward your strengths given it's there?"
Negreanu responded that he would be going back to his roots.
Less Bullets Means Higher ROI?
Although re-entering isn't morally or ethically wrong if the tournament allows, Negreanu stated he began to feel bad about it as he felt it puts amateur players at a further disadvantage against the professionals.
Most players agree with this with one even bringing how fantasy sports professionals take advantage of re-entries in those events using advanced models.
Negreanu was asked about whether a stance against re-entering tournaments would hurt his ROI.
Negreanu responded about this and other people asking similar questions in a series of tweets.
Suggestions to Tournament Organizers
Many players would like to see more freezeout tournaments. One problem would be what happens to the player that busts early from the event they traveled far to play including Nate Silver, who describes himself as a "non-pro" player.
Negreanu responded to Silver with a potentially good suggestion to tournament directors and organizers.
Would this Effect Negreanu's WSOP POY Run?
Negreanu was actively seeking to become the first player to win the WSOP Player of the Year during three separate years. At times, he was even multi-tabling live WSOP events in hopes of piling up points.
The contest ended with a bit of controversy with Negreanu initially being declared the winner. However, there was a miscalculation in an event during the summer and instead, Robert Campbell won the 2019 WSOP Player of the Year award, while Negreanu took third place.
That being said, if Negreanu adopts refuses to re-enter WSOP events that allow it, it could affect his chances going forward.
Negreanu cashed in 16 events during the WSOP in Las Vegas and another seven events at the WSOP Europe in Rozvadov, Czech Republic.
Seven of the events in Las Vegas that Negreanu cashed in prohibited re-entries, while another seven allowed for one re-entry. One event allowed a single re-entry per each of two flights and another event he cashed in permitted unlimited re-entries.
Meanwhile, the story was different during the WSOP Europe with six of the seven events Negreanu cashed in allowing for unlimited re-entries while one event allowed for one re-entry during each of nine opening flights.
This doesn't mean Negreanu re-entered all of these events as he often found some success on his first bullet. However, his biggest score in the 2019 WSOP came when he finished runner-up in WSOP Event 83: $100,000 No-Limit Hold'em High Roller for $1,725,838, counting 630.2 points out of his total 3,861.78 total 2019 WSOP Player of the Year points. Negreanu was felted near the end of Day 1 in this event and took advantage of the single re-entry format to get back in on Day 2.
The poker community will have to wait and see if Negreanu adopts a no re-entry strategy and how this might or might not affect his 2020 WSOP Player of the Year hunt. It is possible that it might help Negreanu rather than hurt as he is more likely to take less chances on his first bullet if he goes in with the mindset that he can't re-enter. In addition, if Negreanu doesn't re-enter an event he can use that time to enter a different event instead.
Here is a look at the breakdown of Negreanu's 2019 WSOP results:
| Series | Event | Finish (Entries) | Cash | 2019 WSOP POY Points | Re-entries Allowed |
| --- | --- | --- | --- | --- | --- |
| WSOP | $10,000 Super Turbo Bounty (#2) | 6th (of 204) | $52,099 | 379.7 | None |
| | $600 No-Limit Hold'em Deepstack (#9) | 485th (of 6,150) | $1,257 | 57.9 | One |
| | $1,500 No-Limit 2-7 Lowball Draw (#13) | 29th (of 296) | $2,780 | 44.6 | One |
| | $600 Pot-Limit Omaha Deepstack (#25) | 381st (of 2,577) | $875 | 51.9 | Unlimited |
| | $3,000 No-Limit Hold'em 6-Handed (#31) | 106th (of 754) | $4,514 | 54.7 | None |
| | $1,000 Double-Stack No-Limit Hold'em (#34) | 523rd (of 6,214) | $2,164 | 62.0 | One per flight |
| | $600 WSOP.com Online NLHE Knockout Bounty (#38) | 46th (of 1,224) | $1,652 | 190.4 | None |
| | $10,000 Seven-Card Stud (#41) | 2nd (of 88) | $151,700 | 488.3 | None |
| | $1,500 No-Limit Hold'em Super Turbo Bounty (#56) | 155th (of 1,867) | $1,762 | 56.1 | None |
| | $1,500 Pot-Limit Omaha Hi/Lo 8 or Better (#60) | 152nd (of 1,117) | $2,330 | 52.6 | One |
| | $10,000 Razz (#62) | 5th (of 116) | $69,223 | 379.1 | None |
| | $1,500 Limit Hold'em (#66) | 20th (of 541) | $4,360 | 192.3 | None |
| | $3,200 WSOP.com Online NLHE High Roller (#74) | 72nd (of 593) | $6,310 | 53.8 | Three |
| | $1,500 Pot-Limit Omaha Bounty (#78) | 42nd (of 1,130) | $3,553 | 210.8 | One |
| | $100,000 No-Limit Hold'em High Roller (#83) | 2nd (of 99) | $1,725,838 | 630.2 | One |
| | $3,000 H.O.R.S.E. (#87) | 36th (of 301) | $4,734 | 48.7 | None |
| WSOPE | €550 Pot-Limit Omaha, 8-Handed (#2) | 59th (of 476) | €787 ($869) | 41.5 | Unlimited |
| | €25,500 Short Deck High Roller NLHE (#6) | 16th (of 111) | €39,943 ($41,847) | 56.4 | Unlimited |
| | €25,500 Platinum High Roller NLHE (#8) | 10th (of 83) | €48,929 ($54,680) | 217.7 | Unlimited |
| | €1,650 Pot-Limit Omaha/No-Limit Hold'em Mix (#9) | 37th (of 279) | €2,392 ($2,673) | 44.6 | Unlimited |
| | €25,500 Mixed Games Championship (#10) | 6th (of 45) | €54,287 ($60,655) | 352.9 | Unlimited |
| | €2,200 Pot-Limit Omaha (#11) | 20th (of 271) | €4,127 ($4,605) | 92.2 | Unlimited |
| | €550 Colossus No-Limit Hold'em (#15) | 195th (of 2,738) | €2,036 ($2,275) | 103.3 | One per flight |
| | TOTALS | | $2,202,705 | 3,861.78 | |