Poker Moments: The 'Scandi Final' in the WSOP Main Event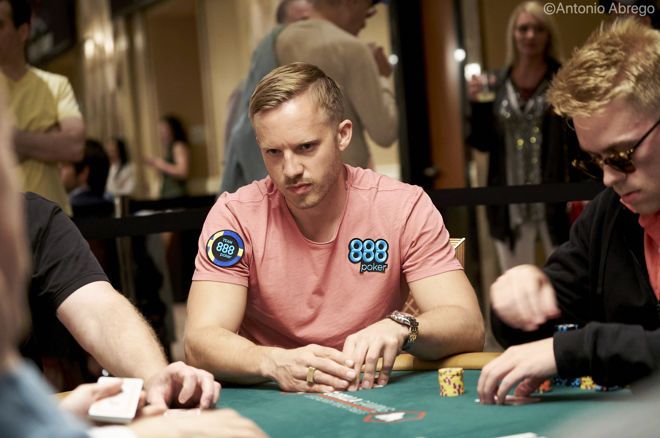 Table Of Contents
Five summers ago, the World Series of Poker Main Event was won by Swedish pro Martin Jacobson. The former military chef took home $10 million when he beat fellow Scandinavian player Felix Stephensen for the title in one of the most multicultural final tables in World Series history.
It the last time two non-American players reached the heads-up battle — before Hossein Ensan and Dario Sammartino repeated it in 2019. Five years on, we caught up with Jacobson to look back on the day he won one of the biggest prizes in poker history and made his dream come true.
Setting the Stage for the November Nine
"It was almost like a story," says Jacobson, who turned 32 during this past summer's WSOP. "I was happy, but I also felt a sort of emptiness inside me."
Jacobson didn't begin final table proceedings as the favorite, sitting eighth of the nine remaining players. But he felt confident on a level he had never felt before.
"Even as the tournament started, I had this weird calmness and detachment from the emotions inside me."
Ninth in chips was Bruno Politano, but the story was all about Mark Newhouse, who came into play with 65 million chips, more than most for the player who, incredibly, had come ninth the year before. As the players gathered the day before the final for ESPN coverage, Jacobson noticed that he appeared to have been the only player to have worked on his game a huge amount.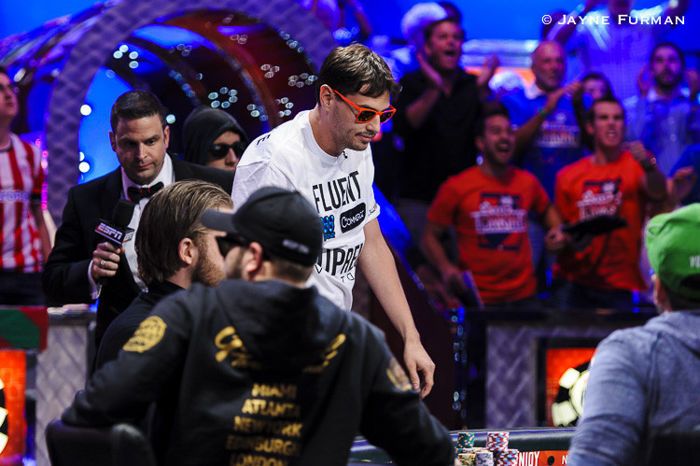 "[Newhouse] said that he had been in Amsterdam partying for three months," Jacobson remembers. "In an interview beforehand, he said, 'I'm definitely not going to finish ninth, I'm going all the way this time.' He said that our final table was much softer than the year before. I didn't think that was true."
Newhouse would finish ninth again, as it happened. But before the tournament, as Jacobson prepared for a comeback victory he felt he'd worked hard to visualize, tournament director Jack Effel had told the players that they would play down to heads-up "no matter what" on that first day of November Nine play. Both Jacobson and Dutchman Jorryt van Hoof objected, thinking that it might take 22 hours because of how deep the players were. Jacobson had 37 big blinds and was the second-shortest stack.
"Jorryt had 150 big blinds and they were still two-hour levels," Jacobson says. "At that stage, everyone takes their time and it's naturally a more passive stage."
Staying Dispassionate
Jacobson didn't get off to the best start, dropping to just seven big blinds with nine players still remaining. But he fought his way up the chip counts. Weirdly, he felt no nerves.
"Sometimes when it's a massive stage and the pinnacle of your career, you're so nervous that you're not feeling the nerves any more," he says. "You snap into another character, only focusing on the task at hand. I've been nervous at other final tables, but the big ones I feel less nervous at for some reason."
Jacobson felt that left him in contrast with some of his competitors. Politano brought plenty of color to the ESPN stream, with 200 friends and family to his rail. However, Jacobson didn't think that helped and may have been proved correct when Politano went down in eighth.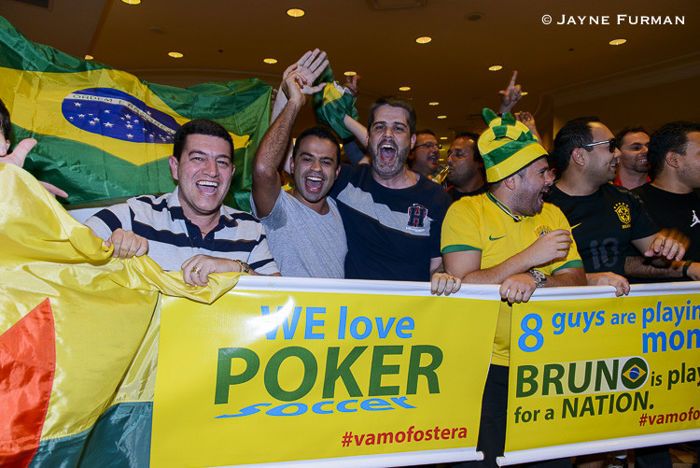 "Naturally, it put pressure on him. He played very tight and maybe misplayed some hands because he didn't want to finish ninth more than anything. You can't go in with that mindset, either subconsciously or consciously."
While Politano's rail was at the forefront of the coverage, Jacobson had specifically requested that his own friends and family stay well back, watching from the upper tier of the seats. The Swede wanted no emotional thoughts to enter his mind at the most critical point of his career.
"What if I saw my mom crying or something?" he says now.
But there were to be no tears on the first day. Jacobson emerged as one of a trio of Northern Europeans who would battle for the title on the final day.
Final Day
Jacobson identified van Hoof as his most focused opponent. A legend in the online tournament realm, van Hoof was naturally more at home in a huge spot, where the other players seemed to Jacobson to act "as if it was a freeroll, something fun."
For Jacobson, the only fun was in winning and his relentless pursuit of the title saw him eliminate van Hoof when they both went all-in with ace-high, and both paired, van Hoof's fives crushed by Jacobson's tens. The ten would be a fateful card in the late stages of Jacobson's life-changing tournament.
That meant heads up was an all-Scandinavian affair, with neighbors Sweden and Norway represented by Jacobson and Felix Stephensen, respectively. Jacobson held the lead and when he worked up to a 6-to-1 advantage, all the chips went into the middle.
Stephensen held ace-nine of hearts, but Jacobson's pocket tens were out in front.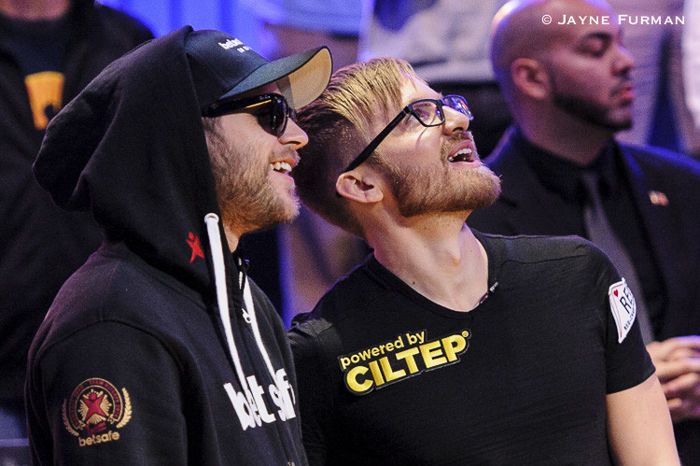 "Felix's rail started shouting, 'Ace, Ace, Ace!' and my rail responded with 'Ten for Ten,'" Jacobson remembers.
The latter, of course, referred to the $10 million set to be claimed by the winner. If Jacobson's tens could hold, the millions were his.
Both rails cheered for the card they craved, but only the Swedish contingent would continue cheering postflop. A ten landed in the window, and Jacobson had won the Main Event after the turn card extinguished all hope for Stephensen.
Jacobson's friends swamped the stage and while his monumental achievement hit him like a train, a security guard intercepted Jacobson's biggest fan — his mum.
"They were all running to me and a security guard tried to stop her," Jacobson says. "She yelled, 'That's my son!' My friends and family expected me to be a certain way, everyone wants to put themselves in your shoes.
"It was a bit overwhelming. I was supposed to be happy, but it was hard to make that switch."
Celebration and Reflection
Jacobson didn't just win $10 million that night. He and his entourage were allowed to stay in the luxurious Palazzo Suite at the Rio, temporary home to many a celebrity throughout the years. The group celebrated and played casino games all night, running up $1,500 which Jacobson had to borrow from his friends, having only $100 in his pocket.
"At one point had over $100,000 on the craps table," he says. "I couldn't lose that night, it was crazy. I was the luckiest man in town."
For 24 hours, Jacobson felt on top of the world.
But, he hadn't processed it. It took a trip to a Mexican beach resort to clear his head. That was the first time since he won the Main Event that he felt able to reflect on what had happened.
"It was a bit overwhelming. I was supposed to be happy, but it was hard to make that switch."
"I would walk on the beach," he says. "It was the first time I was completely alone. It felt so far away because I was in a completely different climate."
During the game, Jacobson had purposely tried to push thoughts of the money out of his head. He admits now that he had no idea what to do with it all, no investment plan, nothing. It was detached from his pursuit of victory, which came above everything else.
But he had won the second-largest prize in Main Event history. And that had a debilitating effect on Jacobson's game for some time.
"I lost motivation and questioned my sense of purpose in continuing playing poker," he says. "I didn't feel fulfilled any more to compete at the highest level. People kept asking me, 'How do you motivate yourself?' and I kept saying that I loved the game and it hadn't changed anything. That wasn't the case."
Away from the pressure of being poker's newest public face, the winner everyone wanted to interview, Jacobson continued to play. He needed to do something, because after a week on any beach, he would get bored, needing to reach for something. But he'd reached the top. Where else was there to go?
"I struggled with motivation for 18 months to two years," he says. "You can see it in my results, too. I maintained a full-time schedule and I was trying my hardest, but it was a difficult time. Poker wasn't easy anymore and I wasn't as hungry as guys who didn't have a big win."
"Poker wasn't easy anymore and I wasn't as hungry as guys who didn't have a big win."
Solvers came into the game. New players entered professional poker with even stronger mathematical genius, even more hours of effort. But that would prove the turning point for Jacobson, who realized that he still had so much to learn.
"There were a lot of ways I could improve," he says. "Once you start working on your game away from the tables, it's suddenly a lot more fulfilling to see how it translates to the table."
These days, Martin Jacobson is an 888poker ambassador and travels to their tournaments above any others from his home in East London.
He returned to the Rio this past summer, five years on from the day his life changed forever, the day he won "The Scandi Final" and sealed his place in history. Jacobson likes being a part of poker history, and he'll revisit his moment of triumph again in the coming years.
He just doesn't live within that freeze frame when the future in the game is moving so fast.