Pokercode Founders Aiming to Build Community, Foster Learning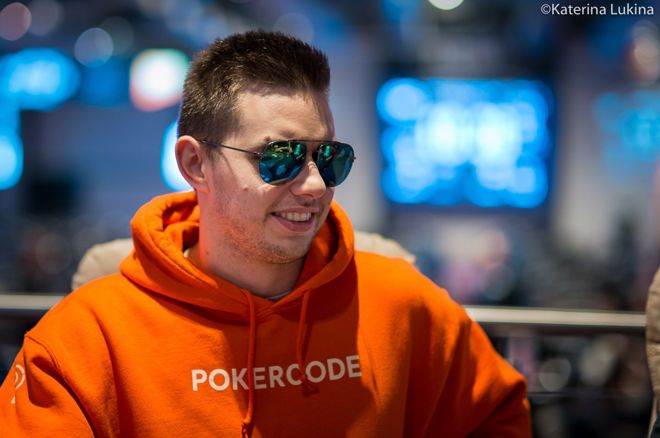 Table Of Contents
Fedor Holz is working on a project. Based in Vienna, it's to be called "Under the Tree," with the stated goal to "bring together like-minded, creative individuals and companies to explore alternative futures, together."
That project hints at Holz's biggest goal and passion in life, fostering communities of people.
And while it might not be the first thing that comes to mind when thinking about his newly released training program Pokercode — co-created with Matthias Eibinger — community is absolutely essential to the fabric of Pokercode.
Although the initial focus and draw for many might be the mechanics of the poker lessons, the two top-tier tournament titans both stressed the word "community" in separate interviews with PokerNews.
"I think the community aspect is the biggest aspect for us because we want people to really like being part of team Pokercode," Eibinger said.
"If our community requests certain things or becomes more interested in specific topics, it is always an option to provide more courses. We really focus on making our community happy and make them a team Pokercode pro."
Holz called it his true passion in life.
"My goal for Pokercode is to have a strong community full of players who are driven and passionate about improving their game and sharing that experience with the other members," he said.
Quality Coaching
Poker communities online are nothing new.
As a matter of fact, while poker is often seen as an individualistic pursuit, much of "modern" poker was born on forums and other online gathering places.
Places like TwoPlusTwo and FlopTurnRiver were breeding grounds for the poker stars of the online boom as like-minded individuals gathered and improved at the game, communicating and developing in groups.
There's even an email-based poker tournament that's been running since the 1990s, to the delight of hundreds of old-school players.
Poker training programs are nothing new either.
CardRunner, PokerXFactor, Run It Once and others have flooded the market and at one time or another played a role in educating aspiring players, both recreational and professional.
A hallmark of such programs has always been the appeal of learning from some of the best in the world, and Pokercode is no different in that regard.
In that respect, it actually offers more name recognition than other programs, as the only two coaches devising the curriculum are Holz and Eibinger.
With a combined $41 million in live cashes, that's quite a bit of star power.
Coaching of that quality doesn't come cheap, though.
Prospective Pokercode customers can expect to fork over $1,549.
In exchange, they get more than 60 poker lectures authored by the high-roller pair, delivered by Holz.
According to the German superstar, it's the end product of thousands of hours of work from the two, delivered on a "state-of-the-art platform."
Through Pokercode, customers also get access to a poker industry "partners" such as mental game coaches Primed Mind and software toolbox Hold'emResources.
"I understand that for a lot of players playing low stakes or just for fun the price can seem quite high," Holz said.
"Matthias and I sat down for hundreds of hours to filter through everything we've learned in our years in the game, and thousands of hours that we've played at the highest level of the game.
"If you think about it, if you're looking at playing hundreds of thousands of dollars in buy-ins a year, or for everyone who's taking the game seriously at medium stakes, for a $1,549 investment you just need to improve your win rate slightly to earn that money back.
"Even at the low stakes though, it doesn't take that much to win the money back. So even if the improvements in your game lead to winning $100 more per month, you will get your money back within 15 months and then you also have the improved framework to build on that basis."
Holz stressed that it's aimed at players who have the basics covered.
Tournament players in particular will benefit from the material.
But it's the community factor that Holz really believes will help improve the games of Pokercode members.
Personal experience tells him that it's one of the best avenues for improvement, and he's got the unimpeachable results to back up his view.
The Secret of Holz's Success
Holz came up in the game online, making his mark as "CrownUpGuy" on PokerStars.
He emerged onto the live scene in 2015, but everyone knows he made his true mark in 2016 with his incredible $16 million year.
Given his insane success, it was only natural for both fellow players and fans to wonder how it happened.
How did this German kid who looked barely old enough to drive — he was actually in his early 20s — go from total unknown to the top of the poker world in such a short amount of time?
"The main thing that I believed contributed to my success was the network of players I had around me."
"I was getting asked the same questions over and over again everyday," Holz said. "'What poker course should I buy? What poker books should I read? How do I improve my game?' And while there was a lot of material out there, there was never anything that I could really stand behind and fully endorse."
And it's not solvers or video training courses or books or simple volume that he points to when asked the secret of his success.
While he feels all of those tools have value, none fully answered the questions he was being asked.
He decided to create his own answer instead, and it started with the best tool he found for improving his own game: conversations with like-minded individuals.
"Back when I was starting out me and my friends would spend hours and hours everyday working on our game and discussing hands and strategy with each other," he said.
"Looking back, the main thing that I believed contributed to my success was the network of players I had around me. I was surrounded by people who were passionate about poker and about improving together.
"The ability to constantly get feedback from really smart players was priceless."
But why give away the secrets to his success? The man cashed for more than $32 million in live poker.
While the environment in the game isn't as lucrative as it once was, there's still plenty of dough to be made, and most people would be loathe to part with the methods that earned them seven or eight figures.
"The short answer is that I wanted to give back," Holz said. "It's been on my mind for years now. I'm really passionate about helping others improve and I felt that I had the right knowledge and resources to be able to create a platform for this."
Teaming With Eibinger
In 2018, a new face emerged on the High Roller circuit and has since become a fixture in the five- and six-figure buy-ins. Little was known about Matthias Eibinger just two years ago.
A former high-volume online grinder himself, Eibinger found himself pushed out of his comfort zone by the much-panned rewards changes at PokerStars that all but eliminated the high-stakes sit-n-go ecosystem in which he thrived.
After a year of study, he made the switch to live tournaments and immediately had success at high stakes, piling up about $8.5 million in live cashes since the start of 2018.
There, he naturally connected with fellow German-speaking pro Holz.
"He's the type of person who, after playing 12 hours or more, goes back to the hotel room and sits down at the desk to study."
"I think it was actually in the Bahamas where Fedor approached me and said he has an idea, and maybe have a breakfast together," Eibinger said.
"With some people you just connect well. Basically from the first moment we talked to each other, we were really on the same line for so many different things and realized quickly that it is interesting for both of us."
For his part, Holz immediately recognized that Eibinger's incredible work ethic and strong understanding of the game made him an ideal partner for the venture, which had been kicking around in his head since 2017.
"I must say, he is probably the hardest-working person I know," Holz said.
"He's the type of person who, after playing 12 hours or more, goes back to the hotel room and sits down at the desk to study, going through hands that he'd played that day trying to improve. It's amazing."
'Existing Courses Monotone'
As for creating that material, the two started from a place of knowing what they didn't want.
"We had the impression that a lot of the existing courses can be a little bit monotone," Eibinger said.
"We needed to find a way to really make people understand our courses so that they can apply it when they play poker. And I think this is something we managed really well."
Eibinger's own solver-centric style, honed on long hours of solitary study, wouldn't seem to be a natural fit with a community-focused approach for poker improvement.
However, he and Holz are readily available for member interaction, and Holz said when the two put their heads together to create the Pokercode courses, Holz himself was adding things to his own game.
"I learned so many new things from Matthias while we were creating the Pokercode material."
"Even with all my experience in the game, I learned so many new things from Matthias while we were creating the Pokercode material," he said.
Their interactions relit a flame of poker passion for Holz, and he's excited to get back to the felt more in the coming months.
He hopes to foster that same sense of passion with Pokercode members, spreading a contagious love for the game and zeal for improvement, something he feels is necessary to reach high levels of play.
"What is important is having the drive and the passion to learn and improve and understanding that it's going to take more than just going through the lectures once to get to the next level," he said.
"Having access to the other Pokercode members is so valuable but you have to be willing to put in the work and the time."
The project launched in early October, and Eibinger hopes it will make its mark on the poker world going forward.
"The years to come will show which direction the project will take and whether or not it can become one of the leading poker coaching sites out there."
Reporting from Christian Zetzsche contributed to this piece.