Marco D'Amico Dominates 888poker LIVE Madrid Main Event Day 2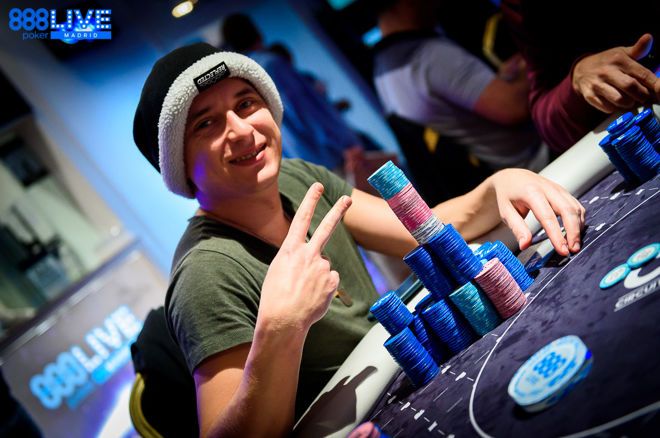 The first three starting days of the 2020 888poker LIVE Madrid €888 Main Event put the tournament on track for a huge turnout for the first major live poker tournament at the Casino Gran Via in the heart of Madrid. With nearly 100 entries in the turbo heat at noon and an additional two levels of late registration and re-entries, the attendance reached four digits and a field of 1,067 entries emerged.
Upon completion of level 24, the initial wave of more than 500 poker enthusiasts from near and far was culled down all the way to the final 66 hopefuls. That number is especially remarkable considering that the top 125 spots were paid and the money bubble only burst one hour prior to bagging and tagging in the early morning hours.
D'Amico Chip Leader
Marco D'Amico ran the hottest during the late stages and frequently ensured that his table ended up short-handed and in need of fresh blood. The Italian topped the leaderboard with a stack of 4,590,000, however, Spain's Alvaro Puchol is not far behind with 4,230,000.
Another name that certainly stands out among the 66 survivors is former WSOP Main Event finalist Fernando Pons, who claimed the third-biggest stack of 3,470,000. From the very start of the day, Pons built his stack and will be a threat to look out for on the final day of the tournament. The Spaniard also already had a close call in an 888poker LIVE Main Event as he finished in 13th Place in London 2018 for £8,000.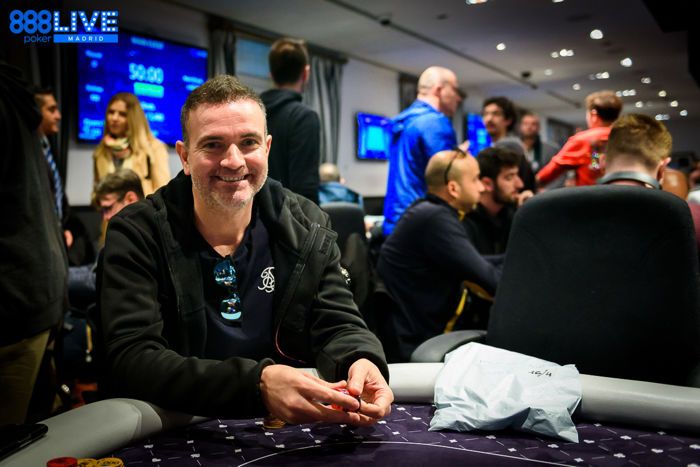 Other Notables Still in Contention
Further notables for the final day include Alex Montgomery (2,780,000), Ran Shahar (2,270,000), Adrian State (2,000,000), Daniyar Aubakirov (1,825,000), Mario Melis (1,700,000), Claudio Di Giacomo (1,405,000), Ignacio Lopez De Maturana (1,000,000), Antonios Onoufriou (710,000), and Miguel "Gandalf" Riera (540,000).
A whole armada of 888poker ambassadors returned to their seats for Day 2 of the Main Event which saw over 500 hopefuls in contention when the cards were dealt for the first time. Kara Scott and Sofia Lovgren entered with a fresh stack of 88,000, but no ambassador made the cut to take home a share of the €800,000 prize pool.
Scott lost the vast majority of her stack on a hero-call with pocket sixes against Lin Ruida, who had flopped a king-high straight and could not believe what happened. Scott, who left the table with her bright trademark smile, later took to social media to refer to this very specific hand.
Money Bubble Bursts
Indeed it would take many more hours to get close to the money bubble and Dominik Nitsche, as well as Ana Marquez, came up short in their bid. The 2019 London runner-up Leon Louis, Younesse Oualgasi, and Chris Da-Silva were high profile eliminations without having anything to show for. Da-Silva fell two off the money when his queens ran into kings, and a very tantalizing bubble period followed.
Usually, the short stacks end up at risk with pocket aces, but this time kings were involved in the first four showdowns in quick succession. Each time the player at risk held up and tournament staff even jokingly threatened to take all kings out of the decks when it happened a fifth time. Ultimately, the madness came to an end in a different kind of fashion.
Eduards Rakuss was blinded out and forced all-in from the big blind, and he could not make the cut with eight-deuce versus jack-ten. Most bubble boys would leave the tournament area with a quite upset mood but the Latvian just laughed, bumped fists with all players at his table and sat down seconds later on a nearby cash game table.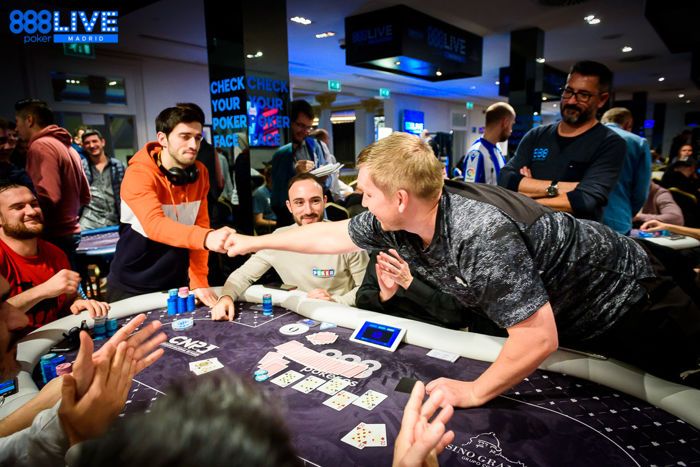 One more hour was to be played and as many minutes were left on the clock, almost as many players headed to the payout desk to collect their earnings. Among others, that would be the case for Abdelhadi Kondah, Byungwook Ahn, Sergio Alonso, Mehdi Hsissen, Evangelos Bechrakis, Carl Shaw and Marius Gicovanu.
The remaining 66 players have €2,400 locked up thus far but all eyes are set on the top prize of €150,000, the trophy and the $12,500 package for the 2020 WSOP Main Event courtesy of event sponsor 888poker. As of 2 p.m. local time the following day, the PokerNews team will be back on the floor to provide all the action from start to finish, and the live stream action on a security delay of 30 minutes with hole cards displayed can be found on the 888poker social media channels.
2020 888poker LIVE Madrid Day 3 Seat Draw
| Table | Seat | Player | Country | Chip Count |
| --- | --- | --- | --- | --- |
| 16 | 1 | Khalil Youssafi | Germany | 1,100,000 |
| 16 | 2 | Paolo Boi | Italy | 550,000 |
| 16 | 3 | Alessandro Campedelli | Italy | 780,000 |
| 16 | 4 | Pere Llopis Ordines | Spain | 220,000 |
| 16 | 5 | Manuel Borges | Portugal | 2,320,000 |
| 16 | 6 | Carlos Marina | Spain | 1,730,000 |
| 16 | 7 | Reinaldo Perdomo | Spain | 1,700,000 |
| 16 | 8 | Krasimir Kirilov | Bulgaria | 1,475,000 |
| | | | | |
| 17 | 1 | Gilad Yam-Hod | Israel | 1,180,000 |
| 17 | 2 | Abraham Serrano | Spain | 700,000 |
| 17 | 3 | Luis Falcon | Spain | 2,075,000 |
| 17 | 4 | Gleb Novik | Russia | 920,000 |
| 17 | 5 | Amihai Necman | Israel | 1,140,000 |
| 17 | 6 | Bruno Hormigo | Portugal | 1,955,000 |
| 17 | 7 | Daniel Rodriguez | Spain | 520,000 |
| 17 | 8 | Mario Melis | Italy | 1,700,000 |
| 17 | 9 | Carlos Herraiz Morales | Spain | 850,000 |
| | | | | |
| 18 | 1 | Lin Ruida | China | 2,530,000 |
| 18 | 2 | Daniel Tafur | Spain | 1,800,000 |
| 18 | 3 | Stephen Elliott | United States | 1,305,000 |
| 18 | 4 | Miguel Riera | Spain | 540,000 |
| 18 | 5 | Aaron Rivero Daly | Spain | 430,000 |
| 18 | 6 | Marcos Rocha | Portugal | 430,000 |
| 18 | 7 | Juan Francesco Vega Quintana | Spain | 1,010,000 |
| 18 | 8 | Ruben De Pedro | Spain | 3,000,000 |
| 18 | 9 | Federico Anselmi | Italy | 495,000 |
| | | | | |
| 19 | 1 | Marco D'Amico | Italy | 4,590,000 |
| 19 | 2 | Alvaro Puchol | Spain | 4,230,000 |
| 19 | 3 | Fernando Pons | Spain | 3,470,000 |
| 19 | 4 | Pablo Paez | Spain | 1,600,000 |
| 19 | 5 | Salvador Soria | Spain | 2,100,000 |
| 19 | 6 | Petru Tarlev | Spain | 885,000 |
| 19 | 7 | Miguel Angel Lopez | Spain | 580,000 |
| 19 | 8 | Antonio Smeraglia | Italy | 910,000 |
| | | | | |
| 20 | 1 | Selim Souissi | Switzerland | 1,700,000 |
| 20 | 2 | Alex Martinez Tormos | Spain | 2,280,000 |
| 20 | 3 | Cristinel Costin | Romania | 800,000 |
| 20 | 4 | Aleksandr Sazhinov | Russia | 780,000 |
| 20 | 5 | Marco Biavaschi | Italy | 875,000 |
| 20 | 6 | Bruce Fishman | United Kingdom | 1,675,000 |
| 20 | 7 | Miguel Tejero | Spain | 1,735,000 |
| 20 | 8 | Juan Carlos Martin | Spain | 860,000 |
| | | | | |
| 21 | 1 | Pablo Osuna | Spain | 820,000 |
| 21 | 2 | Emil Westman | Sweden | 700,000 |
| 21 | 3 | Antonios Onoufriou | Cyprus | 710,000 |
| 21 | 4 | Alex Montgomery | United Kingdom | 2,780,000 |
| 21 | 5 | Liangle Ni | China | 645,000 |
| 21 | 6 | Antonio Romero | Spain | 1,220,000 |
| 21 | 7 | Alberto Blanco | Spain | 2,515,000 |
| 21 | 8 | Alejandro Sanchez | Spain | 2,005,000 |
| | | | | |
| 22 | 1 | Lotfi Boughannai | France | 515,000 |
| 22 | 2 | Claudio Di Giacomo | Italy | 1,405,000 |
| 22 | 3 | David Gozalez Delgado | Spain | 3,200,000 |
| 22 | 4 | Adrian State | Romania | 2,000,000 |
| 22 | 5 | Alessandro Borsa | Italy | 615,000 |
| 22 | 6 | Meir Avigal | Israel | 525,000 |
| 22 | 7 | Daniyar Aubakirov | Kazakhstan | 1,825,000 |
| 22 | 8 | Ignacio Lopez De Maturana | Spain | 1,000,000 |
| | | | | |
| 23 | 1 | Ran Shahar | Israel | 2,270,000 |
| 23 | 2 | Juanba Martin | Spain | 1,875,000 |
| 23 | 3 | Xiaozhe Liu | China | 1,670,000 |
| 23 | 4 | Israel Avraham | Israel | 1,000,000 |
| 23 | 5 | Jose Luis Garrido | Portugal | 430,000 |
| 23 | 6 | Israel Marmoles | Spain | 375,000 |
| 23 | 7 | Tomasz Brzezinski | Poland | 600,000 |
| 23 | 8 | Juan Jose Marfil Perez | Spain | 350,000 |