Negreanu on COVID-19 Spread 'The Government Should Legalize Online Poker'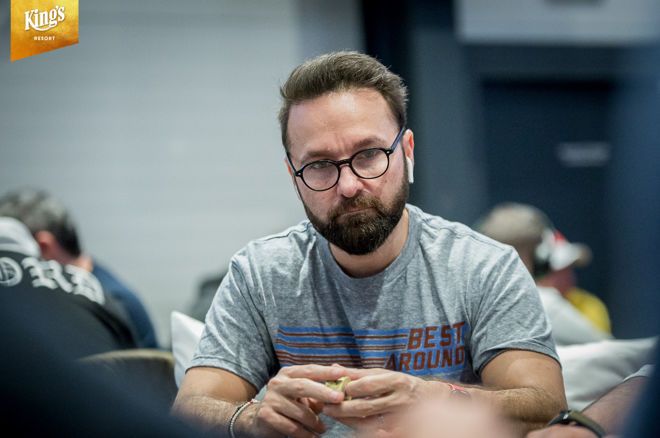 As the world reacts to the spread of the new coronavirus (COVID-19) and the international live poker circuit continues to see more and more tournaments get cancelled, GGPoker pro Daniel Negreanu invites the US government to consider nationwide legalization of online poker.
"For most [poker] sites, summer is not the most lucrative time of the year," Negreanu shared in the latest episode of the DAT Poker Podcast aired on March 11.
"People actually go out and do things. But this summer is probably a little bit different. People are going to be home."
That's why Negreanu believes this might be a good time to reconsider the limitations imposed in the US by the Unlawful Internet Gambling Enforcement Act (UIGEA) of 2006 and let all American citizens enjoy real money poker games online.
"The government should, even just for this period, let online poker be legal. This would let people have something to do."
Speaking with the podcast co-host Terrence Chan, Negreanu shared his views on the risks connected to the COVID-19 spread and explained that he believes no one is going to regret "being a little too prepared. No one ever has in the history of life."
'We Are Preparing for What Is Likely to Come'
The former PokerStars team pro and now face of the up-and-coming poker platform GGPoker explained that he has already taken measures to lower the chances of contracting a COVIS-19 infection. Negreanu and his wife, former PokerNews host Amanda Leatherman are currently in quarantine at home.
"We are preparing for what we think is likely to come, which is the cancellation of lots of stuff.
"From what I'm reading, the only real way to curb the growth is social distance, keeping people away from each other. That's good to me. I don't really like people that much anyway," Negreanu said, jokingly.
"We're bunkered up here in the in the house for the next — who knows how long?"
As the conversation between Chan and Negreanu continued, the Canadian poker pro discussed also the Trump administration, sharing his scepticism toward the optimistic claims made by US President Donald Trump earlier this month.
"In a board meeting, [President] Trump said we'll have a vaccine in three months. But then, every specialist later said that no, we won't."
According to Negreanu, government's efforts would be better invested in creating measures for those who are most likely to be hit by the economic slowdown that might accompany the virus spread in the US.
"People that have businesses are going to take a big hit in the next six weeks, two months, or eight months. Hopefully [the government] will find a way to take care of them.
"This is where government policy really shines through in terms of what should matter," Negreanu continued as he asked policymakers to make sure people will receive the necessary help in a time as difficult as the one that might come.
'We Should All Learn from Italy'
Reflecting on the news from overseas, Negreanu invited Chan and the listeners to pay attention to what happens in Italy, a country in lockdown since Monday, March 9.
"We have the chance to look at [Italy] and understand that this could happen here too. About 10 days ago, they had somewhere between 500 or 600 cases. Ten days later, they're up to nine thousand cases.
"They started by quarantining 16 million people in the northern part of Italy. Now the vast majority of Italy is in quarantine," Negreanu went on to say.
In his opinion, the best way for the US to avoid a similar scenario is to be prepared and to adopt preventive measures before the COVID-19 spread becomes a national emergency. Even if this would carry significant financial consequences.
"Th only real way to fight against this is to start shutting down large gatherings. And that means casinos, restaurants, and a lot of places are going to struggle.
Negreanu believes the only way out is to "limit our social interactions" and change our habits until the risk of infection lowers. Otherwise, we'd risk "a mass spread" that would create additional stress to the US health care system.
"The economy is going to take a hit. We saw the markets crash on Monday. If you just look at the picture that we've seen in Italy, I don't get why people think this won't happen in America."
Terrence Chan Calls for 'Online Poker Renaissance'
As the conversation continued, Chan and Negreanu touched on today's hottest topic — the 2020 edition of the World Series of Poker.
Analysing the trends and odds offered by Mike 'Timex' McDonald's PokerShares, they both admitted that the possibility of an unprecedented decision is today more likely than it was only one week ago.
"That's a real possibility," Negreanu said. "If all of a sudden 20,000 people go to a hockey game and half of them get [infected], it'll be very difficult Las Vegas to find beds and to be able to sustain that.
"I'm not saying that you're going to die from this. I don't believe you are. But you should be prepared for possibly having to shut down some of your everyday way of being."
This could include, in theory, also the most important tournament series of the year. "If there's no real vaccine, we're not doing extreme social distancing in the next six weeks to two months, and the heat doesn't slow [the virus] down, you just wonder what scenario the World Series could actually happen."
Should COVID-19 impact the Vegas tournament schedule, as Chan points out, 2020 could lead to the "renaissance of online poker" as people would to turn to the online platforms to satisfy their poker needs.
"For most [poker] sites, summer is not the most lucrative time of the year," Negreanu commented. "But every single operator is going to look at this.
"You have a whole bunch of people at home with nothing to do. Globally, this would be a great time to run online poker series."
Despite not having any insider information to share with the podcast's listeners, Negreanu admitted that he imagines most poker sites might be already drafting plans to run special online events.
"I would imagine you'd see new series running on GGPoker, partypoker, and PokerStars. Everyone's going to tackle this."
Listen to the Full Episode