Latest App Updates Show Big Bets on Vertical Poker Clients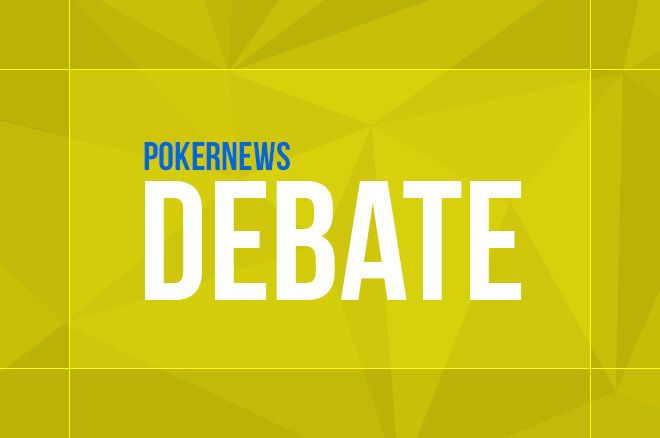 Gone are the days when online poker was only a desktop affair.
With mobile devices accounting for over 52 per cent of web traffic worldwide in the last quarter of 2019 alone (source: Statista), it's only natural that some of the world's top poker sites have started to put a stronger focus on their mobile poker products.
As we get through the first months of 2020, we can already see how this is bringing massive changes to the way poker is played on mobile phones.
Think about the poker table.
Most of today's online poker clients have been developed when mobile poker was still uncharted territory.
Grinders multi-tabled on desktop computers and the only games that really worked well on mobile devices where free-to-play poker apps like WSOP Poker and Zynga Poker.
That's why the industry's standard poker table was thought for a desktop environment and featured a horizontal rectangular layout.
Poker sites chose this option to get the most out of the screen real estate on desktop computers — and while this decision made sense at the time, it might no longer hold true in 2020.
The Mobile Poker Race is On
In recent times, a group of bold poker operators have started to shuffle things up. They decided to future-proof their mobile products and, to do so, they had to:
Create some new mobile-focused strategies
Develop better mobile solutions to play poker online
Although it isn't, this new approach might sound almost revolutionary when you consider how unresponsive the poker industry has been to many of the technological changes that we have seen happen in the last decade.
Like many other online companies, a few poker operators decided to adopt a "mobile-first" strategy that led to the introduction of mobile-only vertical poker clients.
Two of the five most-trafficked real money online poker operators (GGPoker and partypoker) are amongst those leading the way in the mobile side of things.
They are looking to enhance their players' experiences with exciting, feature-laden vertical mobile clients.
Don't be surprised if many more follow their trend.
In this article, we look at some of the features that make them stand out from the competition. For a more comprehensive overview of their mobile offer, have a look at our list of the top mobile poker sites in 2020.
Want to play at GGPoker from the palm of your hand?
Register a free account to get an immediate signup bonus!
REGISTER HERE
GGPoker Mobile Client
GGPoker boasts one of the best mobile poker clients available for real-money poker players for both iOS and Android.
The portrait layout allows players to enjoy the full experience of GGPoker literally in the palm of one hand while leaving the other hand free.
The mobile client is perfect to play on the go. If you ever wanted to play a game of poker while commuting to work by train or bus (don't try this while driving), the GGPoker mobile client is an excellent choice.
Install it on your mobile phone to play all the best games on the site, including the newly introduced jackpot Spin & Gold sit-and-go tournaments.
Other fast-paced games that may make you look forward to a short commute include the fast-fold Rush & Cash, the short-stacked All-In or Fold Gacha hold'em, and Omaha cash games.
The Mobile Interface
The menu presented right after logging in is clear and concise. The simple layout and the buttons on display make it extremely easy to find the best games to play.
The gameplay is smooth with very clear action buttons to Fold, Check, and Bet along with preset buttons that players can use for bet sizing if they don't want to take the time to make a custom bet size.
The client boasts a powerful Betting Gears system to facilitate control over tables and actions with just a thumb.
Multi-tabling is easy as well with mini-action of your cards shown at tables on full display available in the upper left corner of the client.
You can easily toggle to a table by clicking on the button showing your cards.
Conclusion
GGpoker is one of the best mobile poker sites in 2020 and this should not come as a surprise to anyone.
This vibrant poker operator has been working really hard to carve its own space within the poker industry, and one of the key elements of their strategy has been the great focus they have put on their poker client.
Created for modern players more than for those who have been in the industry for decades already, the GGPoker mobile poker site has everything you'd expect to find in 2020.
It's fast, it's simple to use, and it's so packed with features that you'll never want to go back to the old poker sites you got used to.
Want to revolutionize your mobile poker experience at partypoker?
Register a free account to get an immediate signup bonus!
REGISTER HERE
partypoker Mobile App
Another company that worked really hard on the mobile side of things is partypoker.
Despite being one of the oldest names in the online poker industry, partypoker is also one that has always been great at staying ahead of the competition and innovate their poker software.
That's why the development of partypoker's modern and innovative mobile products should not be analysed in isolation. It is part of a wider strategy that has seen the company adapt to many of the latest trends to pursue one very 'simple' goal: to make their players happy.
From the removal of third-party software — including HUDs to the use of real names in satellites for live events or the inclusion of run-it-twice features to cash games, partypoker is one that always seems to want to build on its own successes.
Should it come as any surprise that partypoker has also been revamping its mobile experience as well?
The site introduced a portrait layout to its iOS and Android mobile clients at the end of 2019 already.
At first, this was just for the popular lottery-style SPINS sit-and-go tournaments, but more recently it has been expanded to also include the fast-fold fastforward games.
Multi-table tournaments are still in landscape mode, but it should come as a little surprise that partypoker plans to roll out a vertical layout for all of its games in the near future.
The Interface
The layout features vibrant graphics and entering the games couldn't be easier. You only need a click (or better to say 'a tap') or two to move from the lobby to the table and play.
Although the design is different than that of GGPoker's mobile client, there are some similarities in functionality including preset betting amounts, clear action buttons, and multi-tabling made easy.
Other cool features on the partypoker app include:
A bet slider that is easy to control with an upwards swipe of a finger,
a vastly improved hand replayer in portrait orientation,
and all-in equity in hold'em games.
---
READ MORE: partypoker's Cash Game Leaderboards to Pay Out $1 Million In March
---
The 'Social' Element
The updated partypoker app features also other special features that will appeal to those that enjoy the 'social' side of online poker.
Players on the partypoker app can play to win money and, at the same time, earn a social currency named 'Diamonds'.
Diamonds are not strictly connected to your results at the table but, in a perfect gamification fashion, are distributed every time you complete the (easy) tasks and missions set by the poker site.
Diamonds can be used to complete a multitude of actions — including to throw objects at your opponents.
(And if you think this is silly, wait until someone throws an egg at you while you are trying to decide on your next move.)
You can also invest Diamonds to use the site's Rabbit function (taken from rabbit hole). When doing that, you can see the remainder of the board after folding.
Conclusion
Everything we said about the GGPoker mobile client works also for the one to play games on partypoker.
Although this should not be an exception (but it is), partypoker's mobile platform is a great option to play poker on a mobile device.
The wide choice of games available for mobile play and a gaming environment built specifically to fit a small screen make it one of the top choices for those who don't want to compromise on usability or game choice.
What Do You Think?
Time will tell whether GGPoker and partypoker are the pioneers of vertical mobile poker clients. Will this be the new trend?
What do you think?