Kevin Hart Signs on to Promote partypoker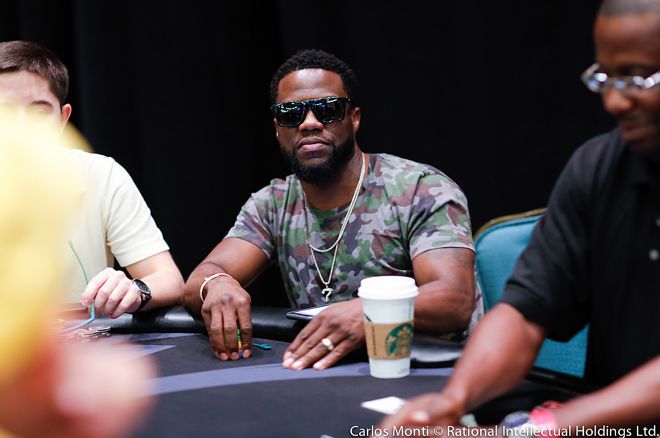 Table Of Contents
Whenever live poker comes back, poker fans around the world will continue to see movie superstar Kevin Hart at the table, only with a different patch on.
In a video released by partypoker's Rob Yong on Twitter, he and Hart announced they've partnered up to promote the site and the game going forward.
"I asked my man Kevin Hart to help me promote amateur poker," Yong said. "He's the highest stakes amateur player in the world and I want him to help me promote amateur poker, promote poker to the masses."
He named Hart a "global ambassador" of the brand.
"I'm here to party, I'm here to make it a good time," Hart said. "Expect the world of poker to get a lot more fun."
Same Tune, Different Patch
If those words sound familiar, it's because they're along the same lines as the ones Hart spouted when patched up by partypoker's rival, international leader PokerStars.
In early 2017, Hart attended PokerStars Caribbean Adventure and participated in the $100,000 Super High Roller. A few months later, the relationship became official as Hart announced he'd signed on with the promise to make poker fun again.
It was the boldest and most clear step for PokerStars as the company distanced itself from its old strategy of patching up well-known pro players and embraced a new strategy of allocating sponsorship dollars to international celebrities. Sports icons like Usain Bolt and Neymar also represented the company.
Hart continued to appear at PokerStars events through early 2018 but has not been seen playing many live tournaments since that time.
Resurfacing With Yong
According to Yong, though, that's not for lack of playing. He proclaimed that Hart loves the game and plays even more than he does.
Apparently, Hart was playing in a cash game with Yong, Andrew Robl and Jean-Robert Bellande recently, and he and Yong came to an agreement for the movie and comedy superstar to bring his allegiance to partypoker.
Both men have often railed against the archetype of the quiet, calculating pro, something that Hart brought up in his video with Yong.
"Expect it to get real, and expect us to get rid of all of the people that make it so f****** technical, man," he said.
Worth an estimated $200 million and with a reach of tens of millions on social media, Hart will make a welcome addition to any events held by partypoker, as well as broadcast partners like Poker Central and Triton.