Underdog Antonio Esfandiari Beats Kevin Hart in a Boxing Match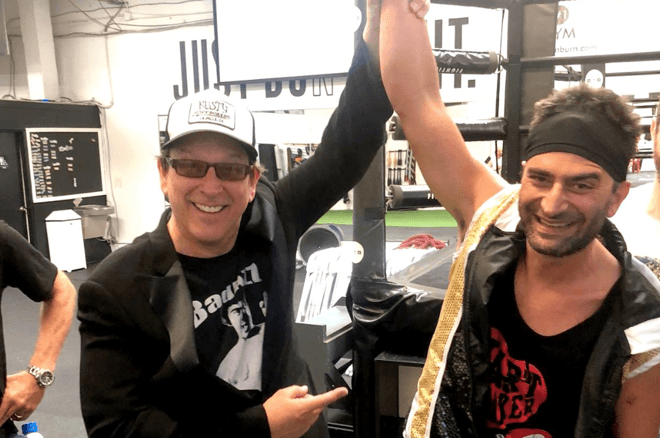 Antonio Esfandiari is well-known for both his poker prowess with nearly $28 million in live tournament cashes as well as for making outlandish prop bets.
Back in July 2018, Magic Antonio revealed a prop bet to face actor Kevin Hart in a boxing match.
At the time the match was announced by TMZ Sports, Esfandiari gave himself 35 to 1 odds of winning.
"Kevin's in much better shape," Esfandiari said at the time. "He's an athlete. He's fast as hell… I got the reach, I have a little bit of weight, but he's fast, quick, and he's strong."

Article continues under the promos
One can never count Esfandiari out of any prop bet regardless of the odds. He surprised his own expectations by winning the match by decision after battling it out against Hart in three rounds of three minutes each over the weekend.
While the amount bet and the odds given haven't been made public, Esfandiari wasn't the only one to consider himself an underdog. Bill Perkins agreed with Esfandiari citing long odds and how Esfandiari "pulled a Rocky Balboa" by winning the match in a Tweet.
All I know I @MagicAntonio pulled a Rocky Balboa and beat @KevinHart4real in three rounds of Boxing. Congrats on th… https://t.co/OUeQANSiYY

— Bill Perkins (Guy) (@bp22)
Esfandiari had support in his corner with his close friend Phil Laak and Laak's long-time girlfriend Jennifer Tilly in attendance.
All hail the champion! ### @PhilLaak and @MagicAntonio after Antonio's victory over @KevinHart4real in the boxing r… https://t.co/3A8xyziY5i

— Jennifer Tilly (@JenniferTilly)
Hart publically congratulated Esfandiari after the match to his more than 73 million Instagram followers while also promising "some highlight videos of both of us when it's all edited.."
* Lead image courtesy of Jennifer Tilly