Would You Spend $11 to Play with the Gods?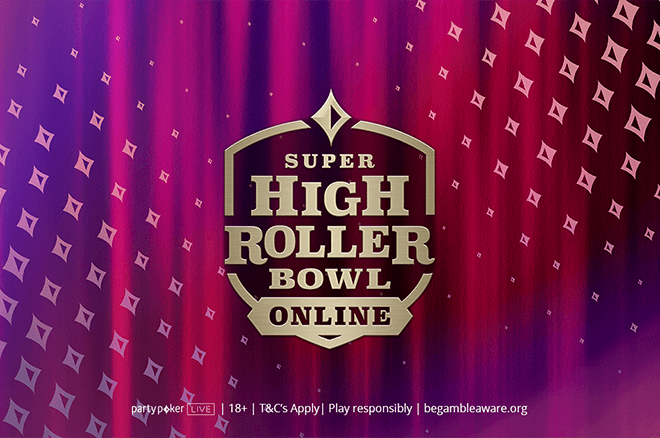 Next week, some of the world's elite poker players will be competing for a share of $3,000,000 in the Super High Roller Bowl Online and you could be there too thanks to partypoker's Phase satellites.
On June 1st, the $3m GTD Super High Roller Bowl kicks off, and it isn't a tournament to be taken lightly. The guaranteed prize pool is huge, as is the $102,000 buy-in. You'd think a buy-in of that size would make this tournament inaccessible to the majority of the poker world. You'd think wrong because you could be playing in it for $11.
Daniel Dvoress has an awesome start to the SHRB
Start Your $102K SHRB Journey From Only $11
Phase satellites for the $102,000 buy-in event have buy-ins of $11, $109, and $1,050. You can buy in at any stage you wish and try play your week to the final. You can't buy into the final direct, you must progress from one of the $1,050 buy-in Phase 3 tournaments.
Phase 1
Buying into the $11 Phase 1 sees you sit down with 500 chips and play to three-minute blinds that start at 2/5/1a. Play continues until the end of the 16th level and anyone with chips in front of them at this time progresses to the next available Phase 2 satellite with those chips in tow.
Phase 2
Progress to Phase 2 with your chips from Phase 1, or buy in direct for $109 for a 5,000 stack. Blinds in Phase 2 also increase every three-minutes, but start at 25/50/6a. Again, 16-levels are played with players progressing to Phase 3.
Phase 3
You can buy into Phase 3 for $1,050 and receive 50,000 chips if you don't progress from a Phase 2. Everyone plays to five-minute blinds starting at 250/500/50a and play continues until the end of the 27th level or until only one player remain. Make it through Phase 3 and you've reached the final at least five $102,000 seats are guaranteed!
Final Phase
The Final Phase shuffles up and deals at 4:30 p.m. CET on June 1st before the Super High Roller Bowl itself kicks off at 19:00.
There's already a star-studded crowd through to it, waiting to try and bank a $102,000 seat.
Reach the final and you'll be rubbing shoulders with the likes of Sylvain Loosli, Jon Van Fleet, Ami Barer, Team partypoker's Roberto Romanello, former WSOP Main Event champion Ryan Riess, and Adrian Mateos. Wow!
Now's the time to defect to partypoker
Start Your partypoker career With Up to $30 Worth of SPINS Ticket
partypoker is giving PokerNews readers up to $30 worth of SPINS tickets when they make their first deposit at the site. Download partypoker, create your free account, and make a deposit of $10 or $20 to receive your free SPINS tickets.
Deposit $10 to receive $10 worth of free play, made up of:
Day 1 = 1 x $5 SPINS ticket + 5 x $0.25 SPINS tickets
Day 2 = 5 x $0.25 SPINS tickets
Day 4 = 5 x $0.25 SPINS tickets
Day 6 = 5 x $0.25 SPINS tickets
Up your initial deposit to $20 and $30 worth of free play is yours, made up of:
Day 1 = 1x $5 SPINS ticket + 5 x $1 SPINS tickets
Day 2 = 1 x $5 SPINS tickes + 5x $1 SPINS tickets
Day 4 = 4 x $1 SPINS tickets
Day 5 = 2 x $3 SPINS tickets