Over $500,000 in Prizes to be Won During 888poker's Trails of Fortune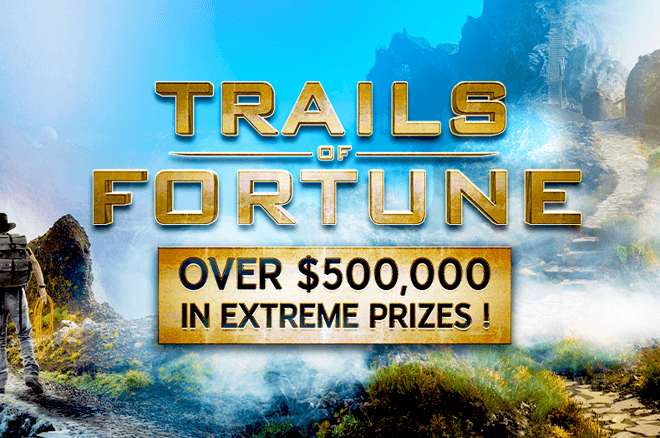 The exciting promotions over at 888poker continue with the new Trails of Fortune promotion which will give out $500,000 in extreme prizes between now and August 9th.
Following the success of the "Galaxy of Freerolls" promotion and their highly successful XL Inferno Series, players over on 888poker have another shot at winning big thanks to Trails of Fortune.
Check out this video for more details and read on to find out how you can get involved!
How to Win
There are plenty of opportunities for players to get their hands on some prize money between now and the end of the promotion. Whether you're scaling the heady heights of the weekly $30,000 888Summit, playing in the Cash Peaks Freeroll or blasting off in the $1,000,000 BLAST game, there's something for everyone over on 888poker.
$30,000 888Summit Every Week
Players have a chance to win a share of $30,000 every week thanks to the 888Summit. This weekly multiflight freeroll has three Day 1s running every day, granting seats to the Day 2 on Sunday.
In order to get a ticket to the Day 1, players must complete one of the daily challenges or gain a ticket from the daily spin on Hiker's Loop. 14:15, 18:15 and 23:15
| Event | Date | Time (GMT) | Buy-in | Guarantee |
| --- | --- | --- | --- | --- |
| 888Summit Day 1 | Daily | 14:15 | Ticket Only | $30,000 |
| | Daily | 18:15 | Ticket Only | $30,000 |
| | Daily | 23:15 | Ticket Only | $30,000 |
| 888Summit Day 2 | Sundays | 20:15 | | $30,000 |
Discover the Cash Peaks Freeroll
The Cash Peaks Freeroll runs every day at 17:15 (GMT). Players receive 3,000 chips and blinds go up every three minutes. If you manage to come out on top of this turbo freeroll, you could be walking away with a share of the $1,000 GTD prize pool. That's a freeroll guaranteeing $1,000 every day!
Check Out This Freeroll Strategy Guide
Enter the Blast Heights Freeroll
Or if you'd prefer something slightly different, the Blast Heights Freeroll runs daily at 16:15 (GMT), guaranteeing 200 x $5 Blast Tickets. Players can then use these to enter the BLAST jackpot sit & go tournaments in the 888poker client and have a shot at winning a cool $1,000,000!
| Prize Pool Multiplier | Prize Pool | Frequency |
| --- | --- | --- |
| 200,000 | $1,000,000 | 1 in 10,000,000 |
| 100 | $500 | 75 in 1,000,000 |
| 25 | $125 | 1,000 in 1,000,000 |
| 10 | $50 | 5,000 in 1,000,000 |
| 5 | $25 | 80,000 in 1,000,000 |
| 3 | $15 | 411,650 in 1,000,000 |
| 2 | $10 | 502,275 in 1,000,000 |
---
---
Your Guide to the Trails of Fortune Challenges
In order to gain access to the 888Summit, Cash Peaks or Blast Heights Freerolls, players must complete challenges to earn tickets. Here are the details of the Trails of Fortune Daily Challenges. For each Daily Challenge completed, the player will receive one freeroll ticket to be used on any of the Promotion Freerolls. Players can complete each Daily Challenge once per day

Tournament Trek Challenge
The first way players can get their hands on a Trails of Fortune Freeroll Ticket is to play poker tournaments. In order to receive the ticket, players must play tournaments - including BLAST - with buy-ins totalling $3. Rebuys do not count towards the Tournament Trek Challenge.
Find Out About the PKOctopus and Other PKO Tournaments on 888poker
Casino Adventure Challenge
Another way of winning a Trails of Fortune Freeroll ticket is to place bets totalling $ 5 in casino games.
KQ Cliffside Path Challenge
Arguably the most straight-forward of ways to win a Trails of Fortune Freeroll ticket, players must win a hand in cash games, including SNAP, with KQ. Only cash games with a minimum stake of $0.02/0.05 or higher apply for this particular Challenge.
---
---
Hiker's Loop Spinner
888poker player can also spin the daily Hiker's Loop for a chance to win awesome prizes including Casino Freeplay, Sports Free Bet ora Trails of Fortune freeroll ticket!
---
Sign Up to 888poker Today
If you don't already have an account with 888poker, simply download 888poker through PokerNews to instantly get an $88 bonus (£20 in the U.K.) and also a 100% first deposit bonus up to $888 or more than double that you can get at 888poker's website.