Error in partypoker US Online Network PKO Series Finale Results in Nearly $50K Overlay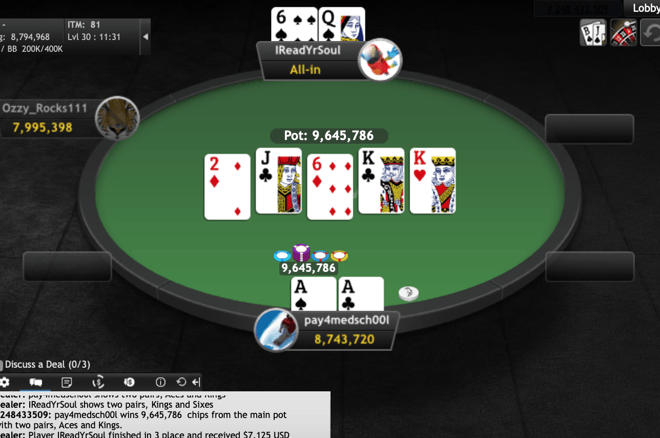 Table Of Contents
On Sunday night, the partypoker US Online Network PKO Series wrapped with the conclusion of the Phase Multi-Flight $75,000 GTD Main Event. Players had qualified all week long via $35 buy-in qualifier flights, and there was to be a $320 direct buy option for Day 2. However, a software glitch at the start prevented the expected late registration period, meaning only 79 players got in.
By the time the error was discovered, play was well underway, so partypoker US officials opted to continue the tournament as was, and given there was only $27,604 in collected buy-ins, those players enjoyed a juicy overlay thanks to the $75,000 guarantee. Not only that, because the usual payout structure remained and some players had already busted, everyone in the tournament received a minimum payout of $218.
After six and a half hours of six-handed play, "pay4medsch00l" emerged victorious to claim the title and $13,597.50 first-place prize. The series was open to New Jersey players on the trio of online poker sites that comprise the partypoker US Network – partypoker US, Borgata Poker and BetMGM Poker.
partypoker US Phased Final Table Results
| Place | Player | Prize |
| --- | --- | --- |
| 1 | "pay4medsch00l" | $13,597.50 |
| 2 | "Ozzy_Rocks111" | $10,125 |
| 3 | IReadYrSoul" | $7,125 |
| 4 | "ELITEMALESSO" | $5,362.50 |
| 5 | Anthony "Flawlissbinkage" Maio | $4,125 |
| 6 | "phillychzsteak1" | $3,112.50 |
Others to cash the tournament were "monge" (7th - $2,363), Brian "TopCreature" Sherrier (9th - $1,275), "Allyoucaneat" (17th - $660), BorgataPoker.com Ambassador Michael "Gags30" Gagliano (22nd - $488), Clayton "claytonfletcher" Fletcher (25th - $413), Mike "MistaMenzer" Menzer (45th - $300), Ryan "Whosyourdoddy" Dodd (52nd - $270), and Daniel "leinad" Buzgon (68th - $233).
At the final table, "pay4medsch00l" got to work with five left, which is when they picked up two black nines and held against ace-eight suited to send Anthony "Flawlessbinkage" Maio out the door. "pay4medsch00l" then began using the big stack to their advantage by moving all-in frequently to put the smaller stack to big ICM decisions. Eventually "IReadYrSoul" dispatched "ELITEMALESSO" in fourth place, and then "pay4medsch00l" woke up with aces to eliminate "IReadYrSoul," who check-jammed after flopping middle pair.
"pay4medsch00l" began heads-up play with a big lead and closed it out after calling "Ozzy_Rocks111's" three-barrel bluff.
partypoker US Network Online PKO Series Winners
In side event news, some recognizable names claimed titles. Interestingly, for the second series in a row, Eric "alwaysliquid" Vanauken emerged victorious in back-to-back tournaments. In the last series, he won Event #5: $7,500 GTD Green Chip Bounty for $3,145.30 and the next day took down Event #6: $2,500 GTD R&A NLH for $1,124.05.
This series, he won Event #3: $15,000 GTD PKO Bounty for $6,393.44 and the following day Event #4: $12,000 GTD PKO Bounty Boost for $5,691.
| Tournament | Buy-In | Total Entries | Prize Pool | Winner | Prize | KO | Total Winnings |
| --- | --- | --- | --- | --- | --- | --- | --- |
| Event #1: $12K GTD PKO | $215 | 66 | $13,200 | Jacob "FerociousPanda" Toole | $2,316.60 | $2,120.32 | $4,436.92 |
| Event #2: $2,000 GTD PKO Bankroll Boost | $20 | 158 | $2,844 | "TuBuck" | $534.08 | $144.74 | $678.82 |
| Event #3: $15,000 GTD PKO Bounty | $320 | 52 | $16,200 | Eric "alwaysliquid" Vanauken | $4,320 | $2,073.44 | $6,393.44 |
| Event #4: $12,000 GTD PKO Bounty Boost | $215 | 71 | $14,200 | Eric "alwaysliquid" Vanauken | $3,738 | $1,953 | $5,691 |
| Event #5: $10,000 GTD PKO | $109 | 92 | $10,000 | "spinach_kale" | $2,256.10 | $962.14 | $3,218.24 |
| Event #6: $10,000 GTD PKO Bounty Boost | $109 | 121 | $12,100 | Daniel "centrfieldr23" Lupo | $1,709.00 | $1,949 | $3,658 |
| Event #7: $10,000 GTD PKO Bounty Boost | $109 | 79 | $10,000 | Mike "MistaMenza" Menzer | $2,608 | $492 | $3,100 |
| Event #8: $12,000 GTD PKO | $215 | 104 | $20,800 | Michael "IIIIIIIIIIIII" Haberman | $3,705 | $3,196.66 | $6,901.66 |
| Phased Main Event | $320 | 79 | $75,000 | "pay4medsch00l" | $13,597.50 | - | $13,597.50 |