PokerNews Book Review: A Girl's Guide to Poker by Amanda Botfeld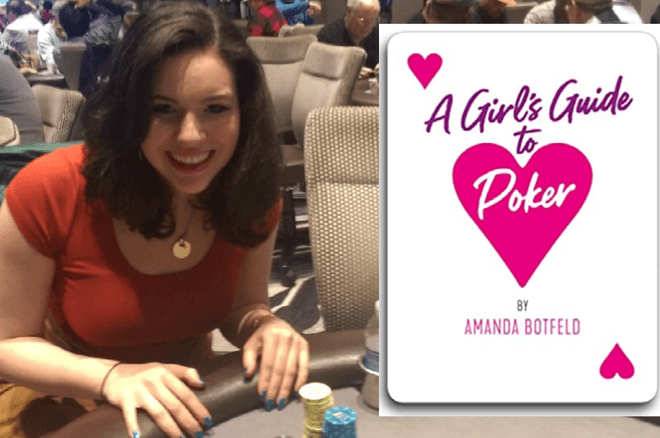 Table Of Contents
Whenever a new poker book hits the market, I'm almost always excited to read it. However, truth be told, A Girl's Guide to Poker by Amanda Botfeld was not one of them. The reason is simple – I'm not a girl.
I tried to see if my longtime PokerNews colleague Sarah Herring might be interested in reading and reviewing, but at the time she was on maternity leave. I informed Botfeld that a review may not happen, but I've got to give her credit, she was persistent and convinced me that while it's marketed to women, a man could also get something out of it.
I decided to set aside my reservations and give it a read, and you know what, she was right. Much to my surprise, I found the book to be informative, entertaining, and worthwhile.
Book Review
Botfeld, dubbed "The Bridget Jones of Poker" by D&B Publishing, put together an easy-to-read book chock full of images. As far as the poker content, it's definitely elementary and geared towards either new or recreational players.
With a coffee-table feel, A Girl's Guide to Poker is easy to digest. It introduces the basics of the game and slowly adds layers to help take a newbie to at least someone confident enough to take a seat at the table.
For me, I thought it'd be the perfect gift for my sister or niece if they ever wanted to learn more about the game. I also felt it'd be the perfect book to give one of the girlfriends/wives/etc. I often see sweating their significant other at the poker table (if you've played live in a casino, you've no doubt know what I'm talking about). In fact, upon finishing the book, I actually took it to my home game to share with one of the player's girlfriends, who was always watching with an apparent itch to play.
In addition to the text and images, Botfeld also offers engaging quizzes, which drives home the information covered in each chapter. Like its description says, "This one reads like Cosmo," which is pretty accurate.
The book is available on Amazon now for $14.99 for a physical copy and just $2.99 for Kindle.
Q&A w/ the Author
PokerNews had the opportunity to chat with the author, Amanda Botfeld, about her book. She was also a guest on the PokerNews Podcast, which you can listen to here.
PokerNews: Can you tell us a little about yourself?
Botfeld: I'm 27 years old from Santa Monica and went to the University of California, Santa Cruz where I majored in Jewish Studies. After college, I moved to Washington D.C. to work as a foreign policy writer and was writing a daily current affairs newsletter for 30,000 subscribers. My articles have been published in the Huffington Post, Wall Street Journal, and Los Angeles Times.
PokerNews: When and how did you learn to play poker?
Botfeld: I learned the basics from my dad, but overall was pretty dreadful! A new MGM casino opened up just outside of Washington D.C. when I was working there. I went thinking I was going to be this rockstar poker player like my dad. Instead, I got my backside handed to me!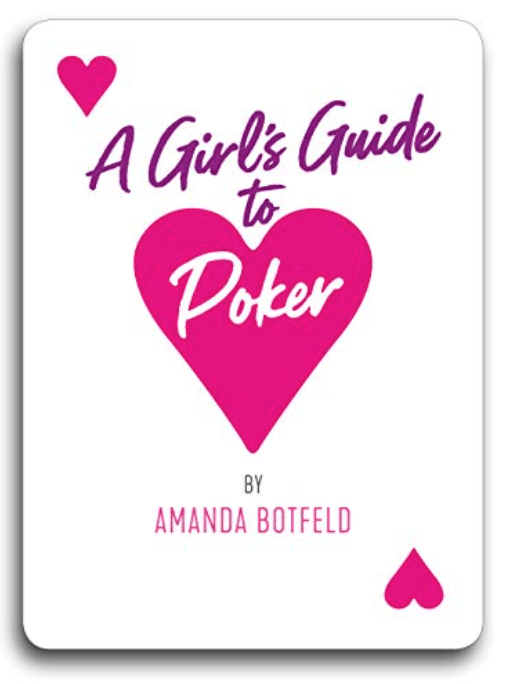 From there, I Ubered to a strip mall in Virginia about 45 minutes away because it was the closest bookstore with poker books. Unfortunately, I found them very difficult to understand which inspired me to write my own.
PokerNews: When and how did the opportunity to write this book come about?
Botfeld: I realized the need for an easy-to-read poker book when I was struggling to learn myself. The original idea for A Girl's Guide to Poker was a 45-minute manuscript I'd written on a plane. I cold-emailed it to two of the biggest publishers in the poker book industry, and they both wanted it.
PokerNews: How long did it take you to write the book? What sort of challenges did you face?
Botfeld: About five months. The graphics actually took as long as the book! I wanted to make sure the photos were appealing to female audiences (rather than pictures of sexy girls holding up cards), so going through a massive library of stock photo images was probably the greatest challenge.
PokerNews: What were some highlights while writing the book? How about some low points so to speak?
Botfeld: Finishing! Just kidding. I had a fun conversation with Kristen Bicknell while writing it (see the chapter Why a Women's Poker Book?) with a snippet of our conversation, and interviewing former F.B.I. agent Joe Navarro for his wisdom as a body language expert. I interviewed Dr. Tricia Cardner for her background in poker neuroscience, and she couldn't have been any more intelligent or charming.
A low point would have been the extensive gambling and poker history section that had to be cut. There were so many things I didn't know (Did you know that the state of Pennsylvania was given over to repay gambling debt? Napoleon relaxed gambling laws to feed his blackjack habit — and sent tax revenue to hospitals? That George Washington kept a poker log every two weeks? His biggest win was in Annapolis, Maryland for 14 pounds).
Listen to Amanda Botfeld on the PokerNews Podcast here.
Executive Editor US, PokerNews Podcast co-host & 2013 WSOP Bracelet Winner.