Sam Grizzle Passes Away Following Massive Stroke; Hellmuth & Brunson Comment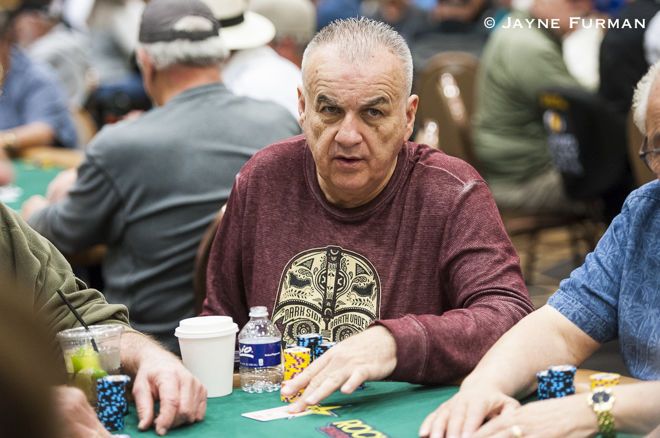 Sam Grizzle, an accomplished player and legendary character from the early days of modern televised poker, has died after a massive stroke, according to family and friends.
Mike Matusow tweeted the news Monday afternoon.
I just got a text that Sam Grizzle had a massive brain hemorrhage last night and is in critical condition at hospit… https://t.co/c3nYpbnTjG

— Mike Matusow (@themouthmatusow)
Todd Brunson confirmed the news.
"He had a massive stroke and brain aneurysm," he told PokerNews. "He is in a coma and they are going to pull the plug. Doctor says no hope. So sad. Shutting off life support tomorrow."
Brunson added: "Love him or hate him there's no denying Sam Grizzle was one of the most colorful characters in the poker world. A stark contrast to many of the 'robots' of today's game. We are worse off without his sometimes annoying but usually hilarious witty lines."
A Foil for Hellmuth
Poker fans got their introductions to Grizzle during the televised 2003 World Series of Poker Main Event, where he took center stage as a foil to Phil Hellmuth. "The Poker Brat" had introduced himself and TJ Cloutier to the cameras as stars of the game, and Grizzle interrupted with characteristic brashness.
"In the mean time, ya'll keep talkin'," he said. "I'ma bust all of ya."
His well-remembered rivalry with Hellmuth was on display for the rest of the episode, with Norman Chad explaining the backstory.
"Just a couple of years ago, in this very casino downstairs, they got in a dispute at a table," he said. "They took it outside just like they would in the movies, and Sam decked Phil. You gotta like Sam's chances in a fistfight, even though Phil's a lot bigger."
Hellmuth told his side of the story years later:
"Sam has always been one of the funniest guys in the poker world: huge personality! One day he asked me to save him a seat in a game while he went to eat. After 90 minutes, I made the casino stop taking his $9 every 30 minutes, cause so much time had passed, AND then he shows up and the game is full, DOH! So he wants to fight me...I say, well you better do it this week while my back is out, and suddenly I'm in my first and only fist fight I've ever had in the poker world! We both land punches, but next day not a mark on either of us (BEST FIGHT EVER cause no one was hurt)."
In that 2003 broadcast, Grizzle would double through Hellmuth early and antagonize him in memorable fashion.
"No, what happened?" he said in mock surprise after the final card was dealt. "Keep them big chips in front where I can see 'em.
"I make a run through the border about four more times, I'll have all them beautiful chips. Phil will say, 'Oh my God, let me go butt my head against the wall.'"
Later, he fired off a memorable line in response to Hellmuth's trademark bluster about being a hold'em champion.
"What if you're a goofball that just catches cards?" he asked.
Hellmuth, however, would get the last laugh as he busted a short-stacked Grizzle to end the episode.
$1.3M in Tournament Cashes
While he was best-remembered for his dry wit and deadpan wisecracks at the poker table, Grizzle was an accomplished player with a strong ledger of tournament results.
Dating to the late 1980s, Grizzle amassed more than $1.3 million in cashes according to The Hendon Mob. As PokerNews' Chad Holloway noted back in 2015 after playing some small-stakes cash with the legend, he did so without a single six-figure score, a testament to both his longevity and his penchant for near misses when he ran deep at the WSOP.
He had a handful of final table runs in bracelet events but never finished better than third.
In fact, his biggest lifetime cash came just months before his death. In the midst of a strong run during the WSOP.com portion of this summer's bracelet series, "texasmolly" finished third in Event #10: $600 No-Limit Hold'em MonsterStack for $77,725.
That was one of seven cashes he booked during the series, evidence that despite his decades in the game, it hadn't passed him by completely just yet.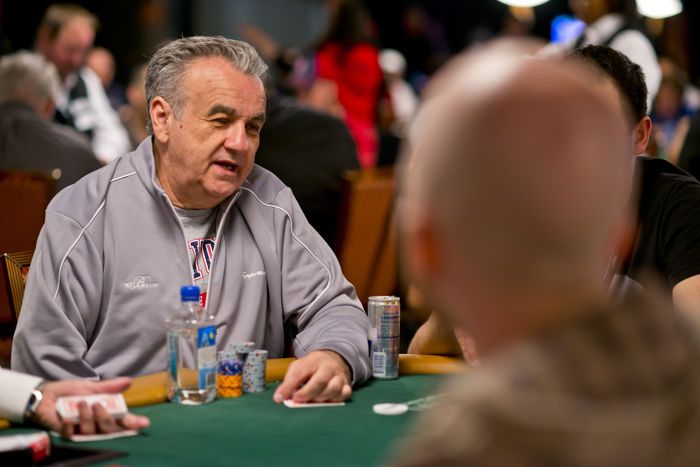 Fellow Players Remember a Character
Grizzle's sharp tongue and tendency to pull no punches made an impression on many fellow players over the years, some of whom shared anecdotes on Twitter:
His old rival Hellmuth shared his own with PokerNews:
I'll never forget the time that Sam Grizzle got Stu Ungar upset. In fact, the normally calm Stuey, was screaming and yelling at Sam! It was during the "Hall of Fame" poker tourney at the Horseshoe Hotel: the 2-7 no limit Lowball (that tourney brought out Chip Reese, Doyle Brunson, and all of the biggest champions because they side bet so much with each other!)

When I heard the commotion, I dashed over to see what was happening (poker was calmer in those days). Sam and Stuey were sitting at a table right beneath a "World Champions of Poker" Picture board (all of the world champions had their pictures up). Sam proclaimed, again, "y'all ought to pull down every one of those pictures, and put up one giant picture of me." Stu didn't know Sam and took it as a sign of disrespect (Sam meant it, yes, but I had learned to enjoy his sense of humor by then).

Because I knew Sam, I busted out laughing! Sam was quite clever, and 80% of the time he was the funniest guy in the room. He had a super dry sense of humor, and went at the other players with all of his considerable full force! I appreciated the cleverness. When you played poker with Sam, you ended up doing a lot of laughing!
Executive Editor US, PokerNews Podcast co-host & 2013 WSOP Bracelet Winner.