Poker Hall of Famer & WPT Legend Mike Sexton Passes Away (1947-2020)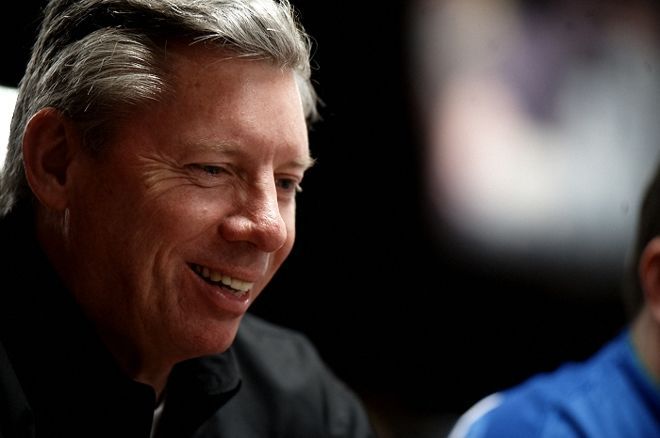 Table Of Contents
At the beginning of September, the poker world learned that Mike Sexton, one of the game's greatest ambassadors, had been battling prostate cancer that had spread to other organs. As a result, the Poker Hall of Famer began in-home hospice a month earlier.
Unfortunately, Sexton's longtime friend Linda Johnson shared that the poker legend passed away on Sunday.
Mike Sexton passed away peacefully at home earlier today surrounded by family members. He appreciated all the wonde… https://t.co/Z3Tt2SNZhz

— Linda Johnson (@FirstLadyPoker)
Sexton dedicated his life to the game of poker. First, he spent a couple of decades as a well-respected pro player. Then, he transitioned smoothly into a memorable role as TV commentator for the World Poker Tour, the job for which he's probably most well-known. During and in between those duties, he served as an advocate for the game and all-around ambassador, which led to a final transition as a full-timer in that role for partypoker, the online poker company he helped get off the ground.
He was universally loved by colleagues, fans, and his fellow players, and his immense contributions to the game were recognized when he was the sole member of the Poker Hall of Fame's Class of 2009.
WPT Stardom
After spending some years in his youth learning the game and honing his skills in early adulthood, Sexton moved to Las Vegas to become a poker pro in 1985. There, he made connections that included future WPT founder Steve Lipscomb.
When Lipscomb readied his big idea for launch, he let Sexton and Johnson know about it over a plane ride to Costa Rica.
"Of course, Linda and I were over the moon about it; we thought it was the greatest thing since sliced bread," Sexton would tell PokerNews years later. "We loved the idea of creating a new sport."
Lipscomb asked Sexton to serve as commentator, a role he'd fill alongside Vince Van Patten. Sexton agreed and became the face of the company, with his enthusiastic voice narrating the action on dozens of final tables for the next 15 years.
His ready knowledge and love for the game helped welcome countless players to the poker world, as the WPT's groundbreaking broadcasts played a huge role in the generating the game's boom years.
Final Chapter: A Return to partypoker
In 2017, after 15 years working for the WPT as a commentator and all-around ambassador, Sexton moved onto a role as chairman of partypoker. He left Tony Dunst to take his place.
"It's been fantastic," he said after a few months on the new job. "It's great for me, it's just a fancy name for a nice ambassador.
"I love the World Poker Tour. It was hard leaving that job but it was just an opportunity I couldn't pass up."
Sexton had a long history with partypoker, as he'd been a part of the team when it grew into a giant of the industry in the years prior to anti-poker legislation passing in the U.S. In fact, he's been credited with coming up with the name.
"I was at partypoker from the start, before there was even a name or a single virtual card was dealt," he said. "I experienced the crazy times of the poker boom when we became the No. 1 site in the world. I remember people sleeping on the office floor when we were all working 24/7 to get the software launched, and I remember the first partypoker Million on a cruise ship which overlaid $500K."
A colleague from that early period, Mike O'Malley, shared on Twitter an anecdote from those fretful, unprofitable days that highlighted Sexton's dedication to the game and his determination to grow poker into a global phenomenon.
According to O'Malley, partypoker brass was stewing over the $500K loss and vowing to never run another partypoker Million. Sexton convinced them to run it one more time after going on a rant about how successful it was going to be, and with perfectly timed ad campaign built around the newly airing WPT, he was right. The company took off after that, soaring to the industry lead as online poker exploded and poker boom came to fruition.
"I know the general consensus is that others were the catalyst for the poker boom," O'Malley wrote. "But the reality is, if you knew the story and saw what really went on, the poker boom was happening before Chris Moneymaker ever played a hand of poker. And the person that was most responsible for that was Mike Sexton."
Back with partypoker starting in 2017, Sexton traveled to events the world over, glad-handed with players, and generally just played the role of ambassador to perfection. That was a theme throughout his time in poker, with countless players pouring out heartfelt stories of great times with Sexton on and away from the felt.
Charitable Focus
Another theme throughout Sexton's career was a commitment to charity. When he won the WSOP Tournament of Champions for $1 million in 2006, he said he'd be donating half of the money to five different charities.
Sexton saw charitable donations as a way for poker to build goodwill in communities and cast off negative reputations some held for the game.
He championed events like the inaugural $1,000,000 Big One for One Drop — which he min-cashed for $1.1 million — and regularly participated in charity-focused tournaments like the WPT's Tiger Jam and WSOP's Salute to Warriors.
"The most ardent adversaries of poker could not be against poker if we were to start donating huge bucks to worthwhile charities," he said in 2006. "And why not? It's the right thing to do."
End of a Poker Life
Sexton once told PokerNews that he "made poker my life" and there's certainly no other way to describe the decades he spent in the industry. He filled a variety of roles in and around the game, touching countless lives with his gregarious personality, ready humor, and instantly recognizable voice.
According to The Hendon Mob, Sexton amassed $6,708,146 in lifetime live tournament earnings dating back to 1981. In 2016, he had a dream come true when he captured a WPT title by taking down the WPT Montreal Main Event for $317,817. As a result, his name was etched on the prestigious Champions Cup, which earlier this summer was renamed the Mike Sexton WPT Champions Cup in his honor. He called it humbling and the "highest peak" of his career.
Sexton won his first and only gold bracelet at the 1989 World Series of Poker when he took down Event #11: $1,500 Limit Seven Card Stud Hi-Lo for $104,400. He also had two runner-up finishers, four fourth-place finishes, and a dozen more final table appearances. That included ninth in the inaugural Big One for One Drop for $1,109,333, his largest career score.
His trademark sign-off from the WPT broadcasts will ring familiar in the ears of poker fans everywhere and remain his signature quote:
"May all of your cards be live and may all of your pots be monsters."
Statement from Family
Sexton's family has also released the following statement and asked PokerNews to share it with the poker world:
Mike Sexton, Chairman of Party Poker and a long-time commentator for the World Poker Tour, died peacefully on September 6 at his home in Las Vegas after a valiant struggle with cancer. He was 72.
Multifaceted as a player, commentator, promoter, raconteur, columnist, and author, Mike played a seminal role in the explosive growth of poker in the United States and around the world through his work with Party Poker and the World Poker Tour. His skill in popularizing the game and his philanthropic work earned him the sobriquet "Ambassador of Poker" in 2006 and induction into the Poker Hall of Fame in 2009. He was the recipient of a Lifetime Achievement Award at the American Poker Awards in 2016. In 2017, Mike was the second person to be inducted into the World Poker Tour Honors Society. In 2020 the World Poker Tour honored Mike by renaming its traveling WPT Champion's Cup the "Mike Sexton WPT Champion's Cup.
Born in Shelbyville, Indiana on September 22, 1947, Mike began seriously playing poker while attending Ohio State University on a gymnastics scholarship. After serving with the U.S. Army's 82nd Airborne Division from 1970 to 1972, he settled in Fayetteville, North Carolina, working as a sales rep by day and honing his poker skills in home games at night. He turned pro in 1977 and moved permanently to Las Vegas in 1985, earning a World Series of Poker bracelet in Seven-Card Stud/8 in 1989.
Among his many achievements as a player, Mike won the inaugural World Poker Finals $10,000 buy-in No-Limit championship at Foxwood's in 1992; successfully defended his previous year's victory in the Summer Four Queens No Limit championship in 1997; won the Grand Prix de Paris championship in Paris, France in 2000 (at the time the largest poker event in Europe); won the World Series of Poker Tournament of Champions in 2006, beating Daniel Negreanu for $1,000,000 in a seven-hour heads-up battle; cashed in the first two World Series of Poker One Drop tournaments in 2012 and 2013, the only player other than Antonio Esfandiari to do so; and won the World Poker Tour Montreal Main Event in 2016.
Mike was the creator of two mega events in poker, the groundbreaking Tournament of Champions in 1999, and the Party Poker Million in 2001, an event that helped Party Poker become the number-one online poker site in the world. Mike was also active in philanthropy, founding PokerGives.org in 2009 with Linda Johnson, Jan Fisher and Lisa Tenner. In 2008 Mike received a Patriot Award from Paralyzed Veterans of America for his work in supporting veterans' causes.
In addition to his many columns for Card Player Magazine and other industry publications, Mike authored two books: Shuffle Up and Deal (HarperCollins, 2005), and Life's a Gamble (D&B Publishing, 2016), a colorful memoir about the personalities and vicissitudes of the gambling life. In the course of his 50-year career as a poker player, Mike met and befriended most of the biggest names in the business, many of whom are featured in Life's a Gamble. Mike's personal values, loyalty, and hard work made him a widely beloved and respected figure in the poker world.
Mike was deeply devoted to his family. He is survived by his son, Ty Michael Sexton, and Ty's mother, Karen Sexton, as well as his siblings Loni Wieland Minich, Jeff Sexton, Stephanie Sexton, Rodney Sexton, and Lance Sexton. Mike's older brother, Tom Sexton, died in 2013. In addition to his joy in being a father to Ty, Mike was an incredible uncle to his ten nieces and nephews. His efforts to nurture his family relationships were as extraordinary as his poker achievements.
PokerNews joins the rest of the poker world in expressing their condolences to Sexton's family and remembering all he did for the game of poker.
Executive Editor US, PokerNews Podcast co-host & 2013 WSOP Bracelet Winner.