WPT World Online Championship a "Great Partnership" Between WPT and partypoker says Mike Sexton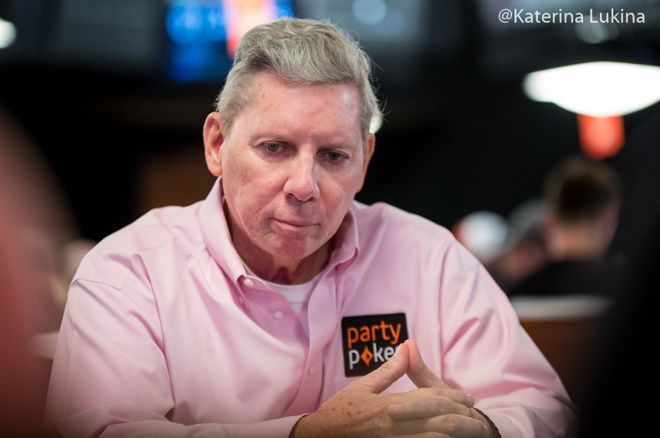 Mike Sexton is unquestionably one of the most influential poker players alive today. Having enjoyed a long career as a commentator for the World Poker Tour since its inception in 2002, Sexton went on to become a Champions Club member himself in 2016. In 2017, he left the WPT to take up the role of partypoker Chairman.
Elected to the Poker Hall of Fame in 2009, ahead of the likes of Phil Ivey, Daniel Negreanu and Barry Greenstein, Sexton has amassed over $6m in lifetime earnings, a WPT title and a WSOP bracelet.
Now, with the World Poker Tour World Online Championships taking place on partypoker, PokerNews caught up with the legend of the game to talk about the festival, his poker past and what the poker legends of yesteryear would make of the current poker landscape.
Head to the WPT World Online Championships Hub!
Get all the latest information about the World Poker Tour World Online Championships right here on PokerNews
The Changing Face of Poker
Over the course of his career, Sexton has seen not just the WPT change, but poker in general. The global expansion, online boom and bigger and better live fields have seen the face of the game constantly change. Sexton says no small part of that was down to the WPT.
"As everyone knows - or should know - The WPT changed poker forever. Yes, online poker and Moneymaker's win certainly helped, but it was the WPT that was the primary cause of the "poker explosion".
Alex Manzano wins Event #2: $3,200 Pot Limit Omaha Championship
"Prior to the WPT, you couldn't find a NLH game in any casino in the country on a regular basis (it was all limit poker) and all poker rooms were cutting back and/or shutting down. Then, thanks to the genius of WPT Founders Steve Lipscomb and Lyle Berman (pictured), the WPT was born and everyone wanted to play the game that was on TV. The poker world exploded."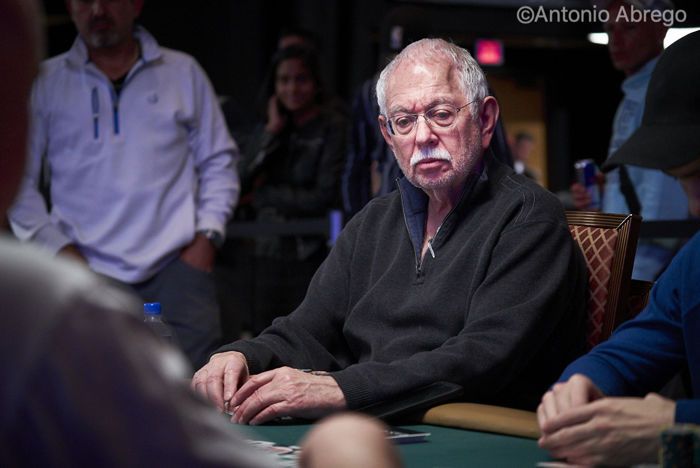 "Poker used to be America's game - no more as poker has gone extremely global. Poker is not going anywhere and I'm sure new products like Twitch and streaming and others will continue to help grow our game."
Sexton says he has two immediate hopes for poker:
"I hope that online poker comes back BIG in the United States!"
"I hope that we can find major sponsors to supplement prize pools and player entry fees."
---
---
Sexton Among the Poker Legends
Sexton has been privileged enough to play with and be close with some of the great names in poker, some of which are sadly no longer with us, but what does he think they would make of the current poker landscape.
"I think those old road gamblers who started the WSOP would be 'wowed' to see how many players enter the $10k Main Event at the WSOP today, to say nothing as to how big the entire event has gotten. I think they'd be perhaps even more 'wowed' by how big some of these 'Hi-Roller' events around the world are now.
"The highest buy-in at the WSOP was $10k for its first 36 years! Then they held the first Poker Players Championship in 2006 which was a $50k buy-in. I remember clearly the buzz that event created. Then move to 2012 and The ONE DROP originated and that was a $1m buy-in! I was fortunate enough to play in those two historical events and I get goosebumps now just thinking about them, especially cashing in The ONE DROP!"
---
---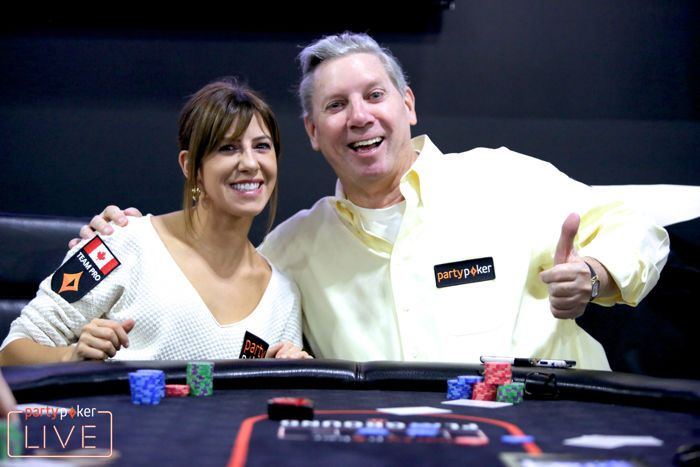 partypoker and the World Poker Tour
Sexton says that the WPT and partypoker go way back in terms of working together.
"The partypoker MILLION was a Charter Member when the WPT was formed and even owned the WPT for several years," Sexton told PokerNews. "A few years back, when the WPT was holding more and more WPT events outside the U.S., it only made sense to partner with partypoker where they would run satellites online. This gave more players the opportunity to play in WPT events as they could win packages on partypoker.
"That went well so the next step was to have a WPT Online Series - which they did for the first time a couple of months ago. And although some people may think they paired up and went online because of the cancellation of live events this year, this decision to hold the first-ever WPT Online series was made prior to this. The WPT World Online Championship is just the latest in a partnership that is working out great for both companies."
10 reasons you need to play in the WPTWOC events
The prestige of the World Poker Tour cannot be understated, and a lot of effort has gone in to ensuring that the prestige remains during the Online version. Sexton says it was vital that the WPT World Online Championships be as close to a 'live' WPT event as possible.
This includes:
Using real names instead of screen names
Allowing only one re-buy
Having a maximum of two starting days
Cutting back on late registration
Additionally, the WPT plan to award the same trophies in the No Limit Hold'em Championship Events as they do at live events.
"The five Championship Event winners will also get a beautiful Baccarrat crystal, a luxurious Hublot watch, an entry into the WPT TOC ($15k value), as well as their name engraved on the 'Mike Sexton WPT Champions Cup'"
The Mike Sexton WPT Champions Cup
Yes, you heard the correctly. The Mike Sexton WPT Champions Cup. Just one week ago the trophy was renamed to honor the former commentator and WPT Champions Club member, something Sexton himself called humbling and the "highest peak" of his career.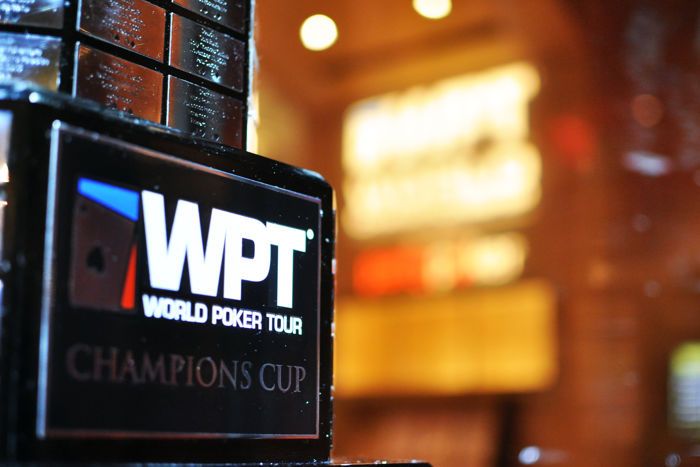 He told PokerNews that it was the highest honor he could ever receive in poker.
"I said [at the time] I didn't think anything in poker could ever top being inducted into the Poker Hall of Fame, but to me, this tops it. There's a lot of reasons/connections for me. I accomplished a dream when I created the original Tournament of Champions of Poker back in the 90's, then worked as a commentator for the first 15 years of the WPT, won the WSOP TOC in 2006 ($1m), and then fulfilled another HUGE dream of mine when I got my named engraved on the Champions Cup after winning WPT Montreal in 2016.
"I truly believe having the WPT Champions Cup re-named after me is the greatest honor I could ever receive in poker. I just want to thank the WPT for this incredible recognition."
World Poker Tour World Online Championships
The first major No-Limit Hold'em tournaments of the WPT World Online Championships festival start this week, with an extra $150,000 in value being given to players.
There are 12 championship events included within the WPT World Online Championships; five of these are WPT Champions Cup events. The champions will win a $15,000 added value ticket to the next WPT Tournament of Champions (TOC), presented by Baccarat Crystal. Their name will be engraved on the Mike Sexton WPT Champions Cup trophy and they will receive a replica version. They will also join the exclusive WPT Champions Club.
| Date | Buy-in | Event | GTE |
| --- | --- | --- | --- |
| Sat Aug 1 | $3,200 | WPT 8-Max Championship | $3,000,000 |
| Sat Aug 8 | $3,200 | WPT 6-Max Championship | $3,000,000 |
| Sat Aug 15 | $3,200 | WPT Knockout Championship | $3,000,000 |
| Sat Aug 22 | $3,200 | WPT Mix-Max Championship | $3,000,000 |
| Sat Sep 5 | $10,300 | WPT World Championship Online Main Event | $10,000,000 |
---
Grab Up To $30 Worth of SPINS Tickets
Download partypoker via PokerNews and you can receive up to $30 worth of SPINS tickets when you make your first desposit.
Deposit $10 to receive $10 worth of free play, made up of:
Day 1 = 1 x $5 SPINS ticket + 5 x $0.25 SPINS tickets
Day 2 = 5 x $0.25 SPINS tickets
Day 4 = 5 x $0.25 SPINS tickets
Day 6 = 5 x $0.25 SPINS tickets
Up your initial deposit to $20 and $30 worth of free play is yours, made up of:
Day 1 = 1x $5 SPINS ticket + 5 x $1 SPINS tickets
Day 2 = 1 x $5 SPINS tickes + 5x $1 SPINS tickets
Day 4 = 4 x $1 SPINS tickets
Day 5 = 2 x $3 SPINS tickets