Tournament of Champions: Mike Sexton's Dream Fulfilled After 20 Years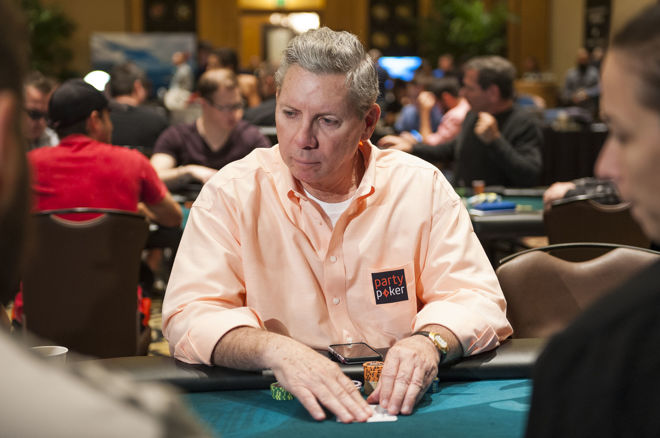 The World Poker Tour's Tournament of Champions, with its unique format, special qualifying system and value-added prize pool may be a hot, buzz-worthy topic in the industry, but the idea of a tournament of champions isn't new.
Many modern poker fans can recall the old World Series of Poker Tournament of Champions, a short-lived event that ran from 2004 through 2006 and the made a brief return in 2010. Players could qualify by winning WSOP Circuit events or making the WSOP Main Event final table, and some celebrity players were simply invited to make the event more appealing for TV.
What most fans likely don't know is that Mike Sexton masterminded the original Tournament of Champions in the late 1990s.
A golf fan, Sexton loved the PGA tour's Tournament of Champions, which was exclusive to players who had won a PGA tour event in the given season. He wanted to port the idea over to poker, but he needed to figure out the best way to make it work. He needed prestige, but he needed to make it affordable enough for recreational players who had won tournaments to take a shot.
In the end, he settled on a $2,000 buy-in and the stipulation that players needed to have won a tournament of at least $200 entry anywhere in the world. He also wanted to use a mixed format, ultimately deciding on a three-game mix of limit hold'em, seven-card stud and Omaha hi-low, with a switch to no-limit hold'em for the final 27 players.
In order to entice more entries, make the event more star-studded and draw the likes of Doyle Brunson and Chip Reese, Sexton also decided to allow anyone who had ever won a WSOP bracelet the option to enter.
"I thought it was the greatest idea in the world."
Armed with his idea, he set about trying to sell venues on hosting his grandiose event. The reception he got was less than welcoming.
"People said, 'You're crazy,'" Sexton recalled. "I thought it was the greatest idea in the world."
After major properties on the Las Vegas strip rebuffed him, Sexton nearly gave up but decided to contact The Orleans as a last resort. The folks at The Orleans agreed to host Sexton's Tournament of Champions, attaching it to the end of their summer festival in late July of 1999. The Orleans reaped a benefit right away, with numbers on the festival-ending $540 event nearly doubling from the year before.
When it came time for the Tournament of Champions, Sexton did everything in his power to make sure it looked and felt the part of a special event.
"I put collages of famous poker players all over the walls," he remembered. "I had people march in like the Olympic games. I had a big trophy for whichever country outside the U.S. had the best results. I had a lounge set up for the players; there was a band every night."
Sexton's efforts and ideas paid off. The first Tournament of Champions drew a hefty 664 entries, almost unheard of in those days; the WSOP Main Event drew 393 that year. And the Doyle Brunsons and Chip Reeses of the world turned up and played, just as Sexton expected and hoped. David Chiu ended up taking it down for over $200,000.
"It was a fantastic event," he said. "A really big, beautiful event. I'm very proud of it. I still think it was the classiest event in the history of poker."
Unfortunately for Sexton, a gala atmosphere does not alone make for a successful event. There's a bottom line to these things, and that's where his Tournament of Champions fell short. In the days before TV money and sponsors flooded poker, Sexton's brainchild turned out to be a bit of a money sink. He lost money on it for three straight years before he folded up shop.
Sexton's next experience with the Tournament of Champions proved to be quite a bit more profitable. In 2006, he received a sponsor's exemption into the WSOP's version of the prestigious event, which was in its third year of existence. Sexton navigated to the end of the 27-player field and defeated Daniel Negreanu in a marathon heads-up match to pocket the $1 million first-place prize.
After that, the Tournament of Champions went on hiatus. Aside from a brief return in 2010, the event faded from the minds of poker fans like some long-forgotten beat.
Sexton, meanwhile, was enjoying his Hall-of-Fame career as a WPT announcer. However, the WPT had a bit of a problem on its hands.
Numbers were on the decline for its season-ending $25,000 event, with just 146 showing up for Chino Rheem's win in 2013.
A decision to move the event to Borgata in Atlantic City and reduce the buy-in to $15,400 bore little fruit. In 2014, there was a decent bump to 328 runners, and the prize pool burgeoned from about $3.5 million to about $4.9 million. The next year, 239 turned out and the prize pool sank back to $3.6 million.
"The tournament of champions was the answer, and truthfully, it was a great answer."
"The numbers were down," Sexton said. "We thought, 'This is not good for us. It looks like poker's diminishing, and the Main Event's getting worse.'
"They wanted to come up with something that was different, that didn't matter what the numbers were. You didn't have to have a number for an event to be successful. The tournament of champions was the answer, and truthfully, it was a great answer."
The tournament debuted in 2016, after much encouragement from Sexton. The new format allowed all former WPT champions to buy in for $15,000, with no rake, and a value-added prize pool featuring sponsored additions ranging from a Corvette to a round of golf with Matt Savage. All champions from the current season were automatically entered via the seats they won as part of their prizes.
The format featured the WPT debut of the Action Clock from Protection Poker, now GAME, LLC. Players were given 30 seconds to act per turn and received a set number of time extensions.
Sexton himself was a proponent of the devices, and player feedback was mostly positive.
"I've been a fan of the Action Clock for a long time," Sexton said. "I've felt for a long time, every game should use an action clock. I don't care what size the buy-in is.
"It speeds up the game. There's a reason every spot has a shot clock. It's better for the spectators. It's better for the participants. It makes it so much more fun to play. You don't have all these staredowns, all these five-minute thought processes."
I've been a fan of the Action Clock for a long time,"
Plus, all the added value in the prize pool adds to the prestige and worth of being a WPT champion. Whereas before, players got their names inscribed on a piece of history and received a special identifying label in WPT live updates, now, they get the ability to play in a tournament with $100,000 in added cash this year plus other prizes that include a 2018 Audi S5 Coupe.
While Sexton was proud of what the idea he hatched almost 20 years ago had become, he seemed destined to be only an emcee and commentator for the event. Reprising his role as the champion of champions would require Sexton himself joining the exclusive WPT Champions Club.
A funny thing happened shortly after that first WPT Tournament of Champions in 2016, though. After years of participation in WPT events, including a few near-misses at final tables, Sexton caught an incredible heater. Sandwiched between a couple of top-22 finishes, Sexton made two final tables. At WPT Montreal, Sexton finally broke through, winning the tournament and lifting the WPT trophy as a player for the first time.
"What's been behind the success is that lady luck's been on my side," Sexton said of his hot run. "Never took any bad beats, won all the races I was in, and out drew people a couple of times. There's no other secret to it. I don't think I've played any differently this year than I have in the past.
"It was just destiny. It was just my time, I guess."
Whether it was indeed destiny, luck or something just clicking in Sexton's game years past what should have theoretically been his prime, one thing's for sure: A fitting ending has been reached to Sexton's long, winding Tournament of Champions story arc.
After creating the first one and then winning the second one, Sexton is a participant once again, as the tournament he once tried and failed to turn into a grand poker spectacle builds into a success story, at least with the WPT.
"It was just destiny. It was just my time, I guess."
Many of Sexton's dreams for the Tournament of Champions lived on, and vestiges of his vision can be found throughout the room at Seminole Hard Rock. There may not be flags and bands, but there is a generous food spread catering to the players, no open entry and a collage of poker champions — this time in video form — adorning a big screen that dominates the room.
This exclusivity breeds contempt among some players, but Sexton feels they're just calling the grapes they can't get to sour.
"Everybody out there, all the complainers, they want to be in there," Sexton said. "All of them are dying to get in it. I promise you, I'm probably more excited than anyone to play in this tournament."
Sexton's first "big, beautiful event" may have ultimately failed, but maybe he and the rest of the WPT have finally delivered on Sexton's long-ago dream of hosting the classiest event in poker.
WPT event photos courtesy of WPT