Daniel Negreanu Dominates Doug Polk in Opening 200 Hands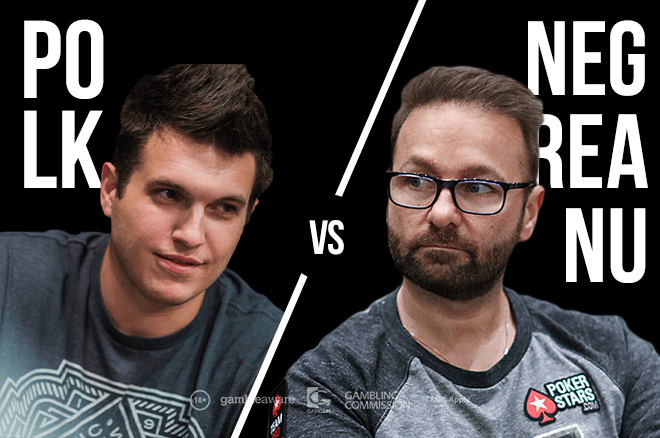 Table Of Contents
The time for talk has ended, as Daniel Negreanu and Doug Polk finally took to the felt to begin the process of settling their much-anticipated grudge match.
Twenty-five thousand hands of heads-up $200/$400 no-limit hold'em awaited, and Wednesday saw the first 200 play out live at the PokerGO studio in Las Vegas, a special treat for fans before everything moves online.
Tens of thousands tuned in across Poker Central's various media, and they were treated to an entertaining brand of poker, even if the trash talking fell far short of what may have been expected.
Learn everything there is to know about Polk vs. Negreanu!
Negreanu Races Ahead Early
Fireworks started early — as early as possible, in fact. On the very first hand of the match, Polk defended the big blind from a raise to $1,000 and the flop came K♦2♠9♥. The players checked to the river as the 6♣ and 8♠ hit the board, and there, Negreanu finally bet his K♠3♥ for $1,500. Polk woke up with a raise to $8,500 holding A♥4♣ for total air, perhaps looking to set the tone right off the bat.
Unfortunately for him, Negreanu found the call button after some thought to jump out to an immediate lead.
Just a few hands later, another big pot developed after a Polk three-bet. Polk opted to check-call the 6♣J♦7♦ flop with 8♥6♥ when Negreanu used a small sizing with 6♦5♦. Both players checked the Q♦ and the river was an 8♠, improving Polk to two pair. He went for value with $4,000 and Negreanu blasted in $17,000. Polk paid it off and found himself in a big hole of $30K.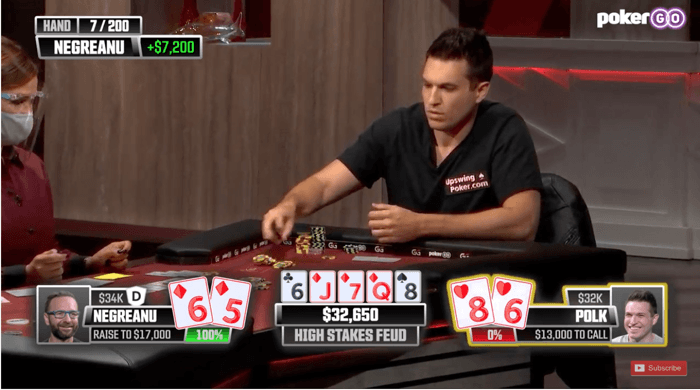 Polk Asserts Himself
In general, Negreanu seemed content to play a relatively passive strategy, perhaps hoping Polk would continue his bluffing ways.
That bit him hard as they approached the halfway point, when Negreanu opted to check back a turned nine-high straight with a queen-high flush draw as backup on a board of 9♣5♦8♥7♥. Unfortunately for him, Polk smashed the nuts on the J♠ river and got a big check-raise paid off.
On the 127th hand, Polk made a big flush with 10♣4♣ and collected some bluff barrels from Negreanu. With that, he grabbed his first lead of the match.
However, it wouldn't last long.
Negreanu Crushes Final 70 Hands
Polk's luck turned right after that, and not for the better.
First, he found a dominating spot with ace-queen against the ace-jack of Negreanu. He called a three-bet only for Negreau to flop top two. Polk value-owned himself with a flop raise and wound up losing a $36K pot.
Negreanu then showed off his own bluffing chops with a savage move. On the 170th hand, he put in a four-bet to $9,600 preflop with K♣9♥ but was trailing the A♠Q♦ of Polk. Polk called and faced a continuation-bet of $4,000 on the 10♦3♦J♠ flop. He called again, bringing a 6♥ turn. Negreanu bet small again with $5,600, and Polk called once more.
On the 4♣ river, Negreanu announced all in for $34K. Polk could only send his cards to the muck with a sigh.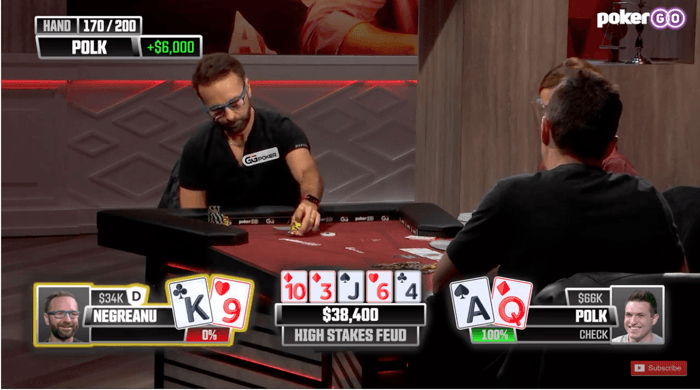 Things only went further south for Polk from there. Down a disappointing but modest-for-the-stakes $40,000, he proceeded to bluff off about $55K into Negreanu's trips on one of the final hands, an ill-fated river overbet the most costly blow yet.
"Shoulda quit early," he said with a rueful laugh after one final bluff gone bad, booking a loss of $117K after the final hand ended.
Players Offer Brief Thoughts
After the introductory round ended, both players offered their thoughts to Poker Central's Brent Hanks.
"What can I say?" Polk said. "I had some spots to bluff that I thought were good, and they weren't.
"I thought he played a couple nice lines that panned out. I thought he played fine, he played well."
Negreanu was happy with his performance.
"I know that we've got a long road ahead and we're gonna be walking into his arena," he said. "Felt like I played well, I executed my strategy and it worked out as good as it could."
Polk was able to look at the situation with some levity afterward as well.
Getting ready for bed and I get a text from my dad "Doug had a rough night, lost 100k". Then texted back, oh wrong person.

— Doug "Truck Driver" Polk (@DougPolkVids)
The match continues on WSOP.com on Friday at 2:30 p.m. local time.