Polk, Negreanu Agree on Parameters for Heads-Up Duel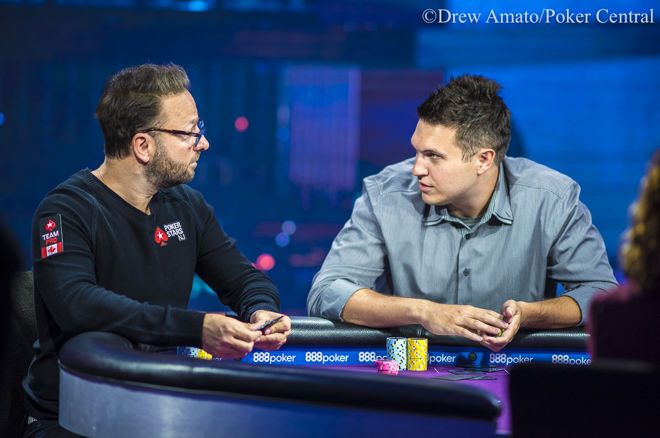 Table Of Contents
When Doug Polk and Daniel Negreanu started slinging Twitter flames at each other amidst discussion of a heads-up grudge match, many eyes rolled as skeptics expected it was all a bunch of hot air from two guys known as much for their super-sized personalities as their stellar poker skills.
However, it seems the clash may be starting to take shape.
After some more Twitter back-and-forth, details have been agreed upon by both parties, including a start date for the match: Nov. 1.
Parameters Set
The two combatants will meet on that date to begin playing two tables of $200/$400 no-limit hold'em. Negreanu said he hoped to play on GGPoker if suitable play money tables could be set up, but he announced on Tuesday they'd be going at it on WSOP.com.
They'll be playing 100 big blinds deep with automatic top-up when someone falls below that number. Each session will last a minimum of two hours with the option for both to agree to subsequent hours.
As heads-up tables usually deal in excess of 150 hands per hour, the match should take around 80 hours, potentially more if the pace proves slow.
At the halfway mark of 12,500, the loser can wave the flag. Alternately, the players may agree to raise the stakes at that point.
They agreed the match could be streamed with commentary. He referenced "talking to Mori and Brent," so it sounds like some sort of coverage may run on Poker Central, where Mori Eskandani and Brent Hanks manage content.
Negreanu did decline any showing of his hole cards.
"I don't see how it makes any sense," he said in a recent podcast appearance. "It seems like it would be a massive mistake.
"I'm not gonna give him cards up, the capability to dissect my betting percentages and stuff like that so him and his team can break it down."
Negreanu also agreed to an unspecified "inspection" to be sure he isn't making use of real-time assistance.
Divergent Paths to Match
While both Negreanu and Polk are known for titanic accomplishments at the felt, they've gone about building their legends in very different ways.
Though Negreanu came up as a cash player in the 1990s, he has become known as one of the best tournament players of all time. While his 41 recorded first-place live finishes can attest to a heads-up game that's just fine, that's not the facet of poker for which he's known.
Quite the opposite for Polk. While he once built up a bankroll as a full-ring grinder as "WCGRider" on PokerStars, he'd have been just another anonymous mid-stakes pro if not for a switch to heads-up games in 2009. Polk proceeded to become one of the most successful heads-up cash players in history, even besting the legendary Ben Sulsky in a famous challenge match.
Given Polk's vast edge in experience at heads-up no-limit hold'em, it's no surprise he's been installed as a significant favorite by PokerShares, where's been installed as just shy of a 5-to-1 favorite.
Still, Negreanu has been around the game a long time, and he undoubtedly has access to players and resources who can bring up to competitive speed.
As for Polk, he's been trying to knock off the rust in the wake of his retirement from the industry. He began playing some medium-stakes matches online and has worked his way up to high stakes again.
However, it it took him 30,000 hands to get back in the green after he lost more than 3,000 blinds initially, according to a graph he shared. A subsequent foray into $50/$100 went poorly as well, as Polk said he dropped $100,000.
Still, a win at $200/$400 against Negreanu would be almost sure to wipe out all of that with ease, so he'll have his chance to make that a distant memory come Nov. 1.