The Muck: Daniel Negreanu Vs. Doug Polk Grudge Match?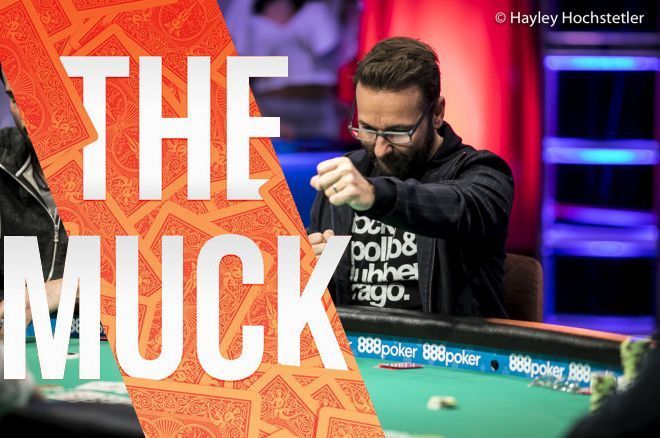 Table Of Contents
He may call himself retired and sick of the game of poker, but it seems there's still one thing left that can draw Doug Polk back in: his long-time grudge with Daniel Negreanu.
The two high-level players, who have been at odds for years, were back at it over the past few days on Twitter after Polk diverged from his mainstream focus to take some shots at Negreanu once again.
After some back-and-forth, with the flames stoked by Joe Ingram, discussion of a potential heads-up grudge match has commenced. Here's a look at how the most recent feud has developed.
Follow all the latest from the WSOP - LIVE!
The cards are in the air in the WSOP.com portion of the event. The PokerNews live reporting team is on top of all things WSOP. Don't miss a beat!
Negreanu Becomes a Target
With Polk stepping away from the game, it would seem his days of antagonizing Negreanu, a favorite target over the years, were finally in the past. However, he couldn't resist after Negreanu stepped out of line on livestream, cursing like a sailor and eliciting the ire of Twitch.
As if Negreanu's subsequent ban wasn't annoying enough, he had to deal with pockets of social media coming after him, and Polk joined in the chorus. He released a short but biting video that has since been taken down by YouTube, but it essentially cut Negreanu's ubiquitous MasterClass commercial with some of his choice swearing from his on-stream rants.
To Ingram, there was only one solution to this long-festering feud:
Haggling Begins, Needles Fly
Polk seemed up for the idea.
If this tweet gets 1k retweets I will come back to poker for a No Limit Hold'em heads up for rolls grudge match aga… https://t.co/MNyTO8nHzg

— Doug Polk (@DougPolkVids)
Naturally, he wanted heads-up no-limit hold'em, the game where he built his legend, climbed the mountain, and became one of the world's very best. Negreanu cast a skeptical eye on this idea, given that his all-around prowess has been a calling card over the years.
Polk suggested they compromise: each would pick a game and the challenge would be split between their chosen formats.
Then, things devolved into more needles. According to Negreanu, he's the Michael Jordan to Polk's Clyde Drexler.
@Joeingram1 @DougPolkVids Remember in The Last Dance when media compared MJ to Clyde Drexler in the NBA Finals and… https://t.co/P2AHXxi5Y3

— Daniel Negreanu (@RealKidPoker)
I get it. He looked up to me growing up. I was his favorite player. Then he starting making some click bait videos… https://t.co/wnO7lQ0cwD

— Daniel Negreanu (@RealKidPoker)
You were one of my favorite players. But that didn't end because I made videos online, it ended because somewhere a… https://t.co/hidNs9HO63

— Doug Polk (@DougPolkVids)
Negotiations Continue, Match on the Horizon?
Ingram has kept clinging to the idea of the match, and it seems like the door isn't totally shut. Ingram threw out the idea of a heads-up sit-n-go series, best-of-seven, with agreed-upon structures and some of the money going to charity.
Polk nixed that idea.
I am willing to settle for half nl and half a game of his choice. Also willing to settle from 4 down to 2 tables.… https://t.co/9GOhGlojnx

— Doug Polk (@DougPolkVids)
Betting site PokerShares installed both players as close to even money in a prospective match, but the betting public has come in on Polk so far, moving the line to -119, about a 54% implied probability of winning.
However, while the idea of a heads-up grudge match between two of the biggest names in the game would appeal to many, Polk seems confident it won't come to pass.
Of course he isn't. Hes just gonna talk a bunch of shit on twitter and then make excuses. I havent played any serio… https://t.co/73MTk9G2nI

— Doug Polk (@DougPolkVids)
UPDATE: Negreanu has accepted in principle a match of heads-up no-limit hold'em.
Sign Up for a GGPoker Account Through PokerNews
If you want to play in the WSOP 2020 Online on GGPoker, you'll need to sign up for an account. By downloading GGPoker via PokerNews entitles you to a welcome bonus worth up to $600. Your first deposit is matched 200% up to a maximum of $600, setting you up nicely in time for the WSOP Online.
The bonus releases into your account in $10 increments each time you earn 6,000 Fish Buffet Points, which is the equivalent of $60 in rake or tournament fees.