Triple Tourneys on Tap: CPP, HRW and EPT Online Overlap This Weekend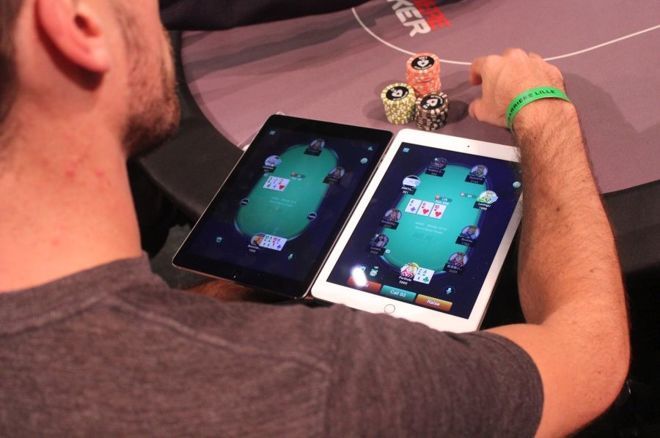 Thanksgiving is coming up, but online poker tournament players need not wait to feast as they've been offered a smorgasbord in advance.
This weekend, three operators go head-to-head with major series. All are offering guarantees of mid-six-figures or larger on nearly every tournament, meaning untold prize money awaits for anyone who can find a run of good fortune and/or summon their strongest play over the next few days.
Here, PokerNews will take a look at the options galore on tap for players from Nov. 13-15 as the three series overlap, with almost $25 million in total guarantees.
Friday, Nov. 13
On Friday, to kick things off, a total of $2.5 million will be guaranteed across the three series.
Starting on PokerStars with EPT Online, two tournaments will run. The first will be a $1,050 six-max no-limit hold'em progressive knockout event with $500,000 guaranteed. Then, the site will stick its neck out a bit with $400,000 guaranteed in a 6+ hold'em event at a $10,300 price point.
GGPoker, in the High Rollers Week, is getting even more aggressive on the short deck front with a $10,300 Short Deck High Roller that same day, bumping it up to $500K on the guarantee. That goes along with another mirroring event in a $1K PKO earlier in the day with $600K guaranteed.
At partypoker, meanwhile, they'll be getting the ball rolling on the Caribbean Poker Party with the $1,050 The Opener Day 1a, the first of three flights for a $500K guarantee.
Major Friday Events
| EPT Online | High Roller Week | Caribbean Poker Party |
| --- | --- | --- |
| $1,050 6-Max NLHE PKO ($500K GTD) | $1,050 6-Max NLHE Bounty ($600K GTD) | $1,050 The Opener Day 1a ($500K GTD) |
| $10,300 6-Max 6+ NLHE ($400K GTD) | $10,300 Short Deck High Roller ($500K GTD) | |
Follow the EPT Online live coverage at PokerNews!
Saturday, Nov. 14
The ante will be upped a bit on Saturday with $2.7 million guaranteed.
PokerStars continues its efforts to bring online players a taste of its live experience with the $215 EPT Cup. A staple of the EPT stops these days, the EPT Online Cup will guarantee $500K and play out nine-handed in the traditional manner. The deeper-pocketed players will also get their fill with a $10K six-max guaranteeing another $500K.
GGPoker will look to cater to those same bigger bankrolls with a $5K of the traditional no-limit variety and another $10K short deck, each offering $600K in promised monies.
partypoker will try to build on Friday's Day 1a with another round of $1K action on Day 1b.
Major Saturday Events
| EPT Online | High Roller Week | Caribbean Poker Party |
| --- | --- | --- |
| $215 EPT Online Cup ($500K GTD) | $5,200 NLHE High Roller ($600K GTD) | $1,050 The Opener Day 1b ($500K GTD) |
| $10,300 6-Max NLHE High Roller ($500K GTD) | $10,300 Short Deck High Roller ($600K GTD) | |
Read about these $0.01 qualifiers to the CPP!
Sunday, Nov. 15
Sunday, of course, will be the biggest of all. Each site will dwarf the rest of the days combined totals on its own. PokerStars has $6 million in guarantees, GGPoker offers a whopping $7.2 million, while partypoker has events with $6.15 million, though not all will be distributed that day.
PokerStars has its $5 million guaranteed EPT Main Event, played eight-handed in the usual manner of its championship events. What's changed is there will be just a single starting day rather than the usual two. Side action is available in the form of a $2K PLO and a $1K PKO.
GGPoker has an identical $5M guarantee but it comes at a pricier tag of $10,300. There will also be a special $1K version of its weekend major, GGMasters with the guarantee doubled from the usual $500K to $1 million. PLO and PKO fans will get side action here as well with two more events.
The biggest jump will come at partypoker, where The Opener will see a final flight play out and then a winner crowned from the combined field. Of most import will be the start of the $5 million guaranteed CPP Main Event with its $5,300 buy-in, as well as smaller versions for $530 and $55.
Major Sunday Events
| EPT Online | High Roller Week | Caribbean Poker Party |
| --- | --- | --- |
| $5,200 EPT Main Event ($5M GTD) | $1,050 GGMasters High Roller ($1M GTD) | $1,050 The Opener Day 1c ($500K GTD) |
| $2,100 6-Max PLO ($500K GTD) | $10,300 SUPER MILLION$ ($5M GTD) | The Opener Final Day |
| $1,050 8-Max NLHE PKO ($500K GTD) | $2,100 PLO ($600K GTD) | $5,300 Main Event Day 1a ($5M GTD) |
| | $1,050 NLHE Bounty ($600K GTD) | $530 Mini Main Event Day 1a ($500K GTD) |
| | | $55 Micro Main Event Day 1a ($150K GTD) |
Raise your game for the GGMasters With these tips!
Fierce Competition
What does it mean when three competing operators go head-to-head-to-head with major series in the same time frame?
For players, it's great news if their bankrolls can stomach the action. More competition means a better product for the customer, and that can be seen when looking at some of the guarantees, particularly those at GGPoker on Friday and Sunday.
On each of those days, GGPoker has scheduled tournaments that mirror those run by PokerStars almost exactly. The only difference is they've bumped each guarantee by $100,000. It's hard to believe that's a coincidence, and it seems to be a clear message that they're ready to step up and compete on equal footing with the world's biggest operator.
There should also be ample satellite opportunities for those with smaller bankrolls as each operator seeks to meet the demands of their own guarantees. Already, players have qualified for major weekend events for as little as $0.01.
No matter if the target totals are met or not, the only sure thing is that tons of money is up for grabs this weekend with one of the biggest convergences of guarantees ever seen in the industry.
The Stars Group is a majority shareholder in Oddschecker Global Media, the parent company of PokerNews.