LearnWPT Announce Player-First Educational Program with partypoker US Network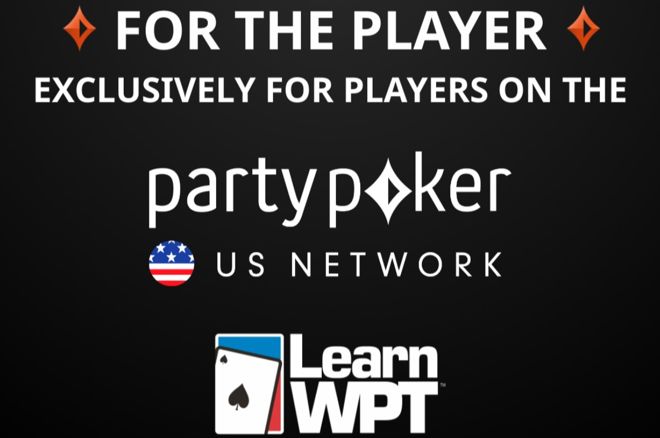 Fresh on the heels of New Jersey's $1M guarantee-smashing $3,500 WPT Main Tour Event powered by partypoker US Network, the organization has announced an exciting educational partnership with LearnWPT: 'For The Player.'
LearnWPT and partypoker US Network have teamed up through 'For The Player' to make poker education more accessible to online poker players. The program is dedicated to helping players have more fun by learning poker strategy and developing their own style of play.
Introducing 'For The Player'
Through LearnWPT, the official poker education platform of the World Poker Tour, partypoker US Network players will receive free strategy content including playable WPT GTO Trainer hands and video strategy episodes from Team LearnWPT Pros Andrew "LuckyChewy" Lichtenberger, Tony Dunst, Vanessa Selbst, Jared Tendler, and Nick Binger.
'For The Player' will also feature opportunities to win additional training sessions with Team LearnWPT, including interactive Workshops and Lab Day Sessions, while playing on partypoker US Network.
---
Related: Check out more WPT GTO Trainer Hands of the Week!
---
In addition to free training and strategy content, the partypoker US Network will host special events and tournaments featuring Team LearnWPT. The first, LearnWPT Progressive Knockout ("PKO") Bounty event powered by partypoker US Network, is set to kick off on February 21. This featured event is part of the partypoker US Network Progressive Knockout Bounty Online Series, which runs from February 21 through 28. Team LearnWPT will provide in-depth strategy content for PKOs leading up to the event and analysis of key hands across social.
@LearnWPT is excited to announce a new program "For The Player" exclusively for @partypokerUS network players! ⟡⟡… https://t.co/Iq53ZnfU0I

— LearnWPT (@LearnWPT)
A Familiar Partner
Ray Stefanelli, director of poker for partypoker US Network, and Nick Binger, LearnWPT lead instructor, were at the beginning of their poker careers when they met at Borgata in Atlantic City, New Jersey. Binger was a player and Stefanelli was the casino's director of poker marketing. Binger, whose second WPT Main Tour event was at Borgata in 2007, remembers noticing Stefanelli's attention to detail and player-first mentality.
"Ray was always concerned with our needs as players and made you feel like Borgata was home," said Binger. "He was a big part of why I spent time playing live poker there in the early days of my career and why, today, I'm so dedicated – with the LearnWPT team – to teaching the game."
"LearnWPT is thrilled to work with partypoker US Network to bring the latest in educational poker content to its network of players."
Teaching poker is a natural extension for Binger, whose career as a player includes two WSOP bracelets, several other high-profile tournament titles, and thousands of hours at the cash game tables. "I truly enjoy teaching and developing new methods to help students learn faster and have more fun playing. LearnWPT is thrilled to work with partypoker US Network to bring the latest in educational poker content to its network of players."
As president and founder of LearnWPT, Binger stays dedicated to finding new ways to make learning poker fun. Recently, this mission has included demystifying the role of technology in poker study – a feature of the training materials offered to players as a result of 'For The Player.' Binger says that "solver study is part of modern poker, but the learning curve can be steep. Tools like the WPT GTO Trainer are the types of innovation we are focusing on to make learning easier, and subsequently more fun, for new and seasoned players alike."
Building a Community
Along with the explosive growth of legalized sports betting, the expansion of online gaming is happening fast in the United States. At the same time, the thirst for legalized online poker is surging. With the states currently online and the additional handful considering regulation, many more Americans will soon have the opportunity to sit down and legally enjoy a game of online poker.
During his time in both live and online poker operations, Stefanelli has witnessed the expansion of the game and the need for poker education to support the continued growth. Currently available in New Jersey through BorgataPoker, BetMGM, and partypokerNJ, partypoker US Network is poised to be a key player in the expansion of online poker.
"The partypoker US Network team believes that providing players a path to education is crucial to sustaining the ecosystem; this is supported by our new partnership with LearnWPT," said Stefanelli. "Poker is a complex game with many paths to learn and should be fair, fun, and empowering to the player."
"Paths to learn should be fair, fun, and empowering to the player"
Stefanelli is focused on building an educated community.
"Customers want a safe environment where they can enjoy a friendly game and have a chance to compete on their own terms," he said. "Educating customers means giving them the ability to choose how to have fun when playing on partypoker US Network. We want our customers to be educated customers."