Bord's Blasting, Big Bluffs Highlight Latest "Poker After Dark"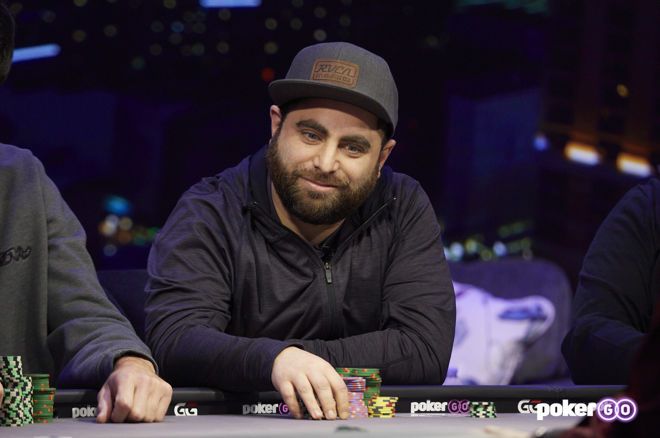 Table Of Contents
While "High Stakes Poker" may be no more for the moment with the conclusion of the latest season, that doesn't mean the PokerGO Studio has closed up shop on high-stakes action.
"Poker After Dark" aired its latest episode on Monday, featuring $50/$100 no-limit hold'em with a $100 big blind ante and the title "Not About Nick," a reference to sometime commentator Nick Schulman who moved from the booth to the felt. Tons of hands were crammed into the 45-minute episode, which you can watch in full at PokerGO.
In lieu of that, here are a few highlights from the show, which featured bluffing and straddling aplenty, and consequently didn't lack for action.
Quads Early on
With the straddle on, Matt Berkey opened for $600 in the cutoff with
and Terry Fleischer reraised to $2,100 holding
on his left. James Bord called with
in the big blind and everyone else cleared out.
Bord flopped very little on
but nonetheless check-called a small bet of $1,100. He found a backdoor draw on the
that left him drawing dead, but he bet out $3,000. Fleischer slid in three stacks of chips to call, and he had only about $3,500 left to play on the
river.
Bord gave it up after missing and folded to Fleischer's jam.
Bord Bluffs All-in
Schulman opened for $400 in the cutoff with
and Bord made it $1,500 with
on the button. Jeremiah Williams woke up with
and fired in a cold four to $4,500 out of the big blind.
Only Bord continued with him to the
flop. Williams continued for $4,000 and the bet had barely been released before Bord said he was all in. He had about $17K in his stack with Williams covering.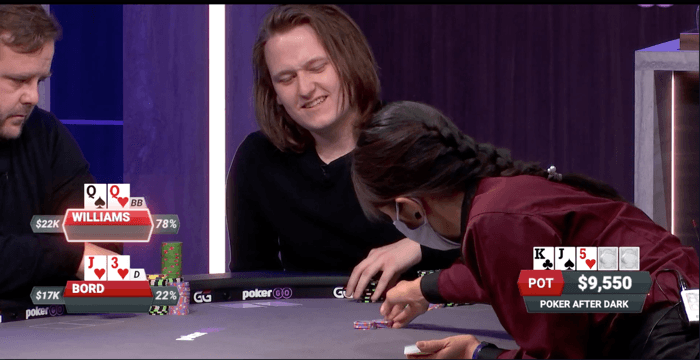 "Come on, you didn't even think about it," Williams said with a smile.
"I don't mind what you do," came the response.
Williams pursed his lips and folded after a moment, and Bord showed.
"Argh, I'm the worst player ever," Williams said with a shake of the head.
Overbet Bluff from Schulman Works
Schulman opened under the gun for $400 with
, Bord called on his left with
, and Scott Ball squeezed to $1,800 with
.
They went three ways to
for that price and Ball continued for $2,000. Only Schulman peeled, and the
checked through to a
river.
With just shy of $10K in the middle, Schulman led out for $13,500. Ball let it go pretty quickly.
Fleischer Runs into the Blades
Action folded to the button, where Williams opened for $300 with
. Fleischer made it $1,500 in the big blind with
and faced a four-bet to $4,300. Fleischer peeled, leaving only $7,000 or so back with $8,750 in the middle.
Both players had to like the
flop. Fleischer liked it enough to open-jam for $7,025 and Williams quickly called, offering to run twice and saying he had aces.
"Once is fine," Fleischer said with a defeated smile. "If I get lucky, I get lucky."
He did not, as Williams ran out a wheel to boot and scooped a $22,800 pot, forcing Fleischer to reload.
The Seven-Deuce Game
The players agreed early on to run what's known as the seven-deuce game, meaning anyone who won with poker's acknowledged worst hand would earn an extra payoff from everyone else.
A relevant moment came up with Bord opened for $300 with
in the cutoff and Ball three-bet to $1,200 with
on his left. Bord came back with $5,000 and Ball opted to see the flop.
It came
and Bord immediately announced all in. He had about $18K left and Ball quickly dumped his worthless hand.
"Pay me," Bord said, flipping over his rags.
Everyone tossed over what looked to be $1,500, making for a handsome payout for the blasting Brit.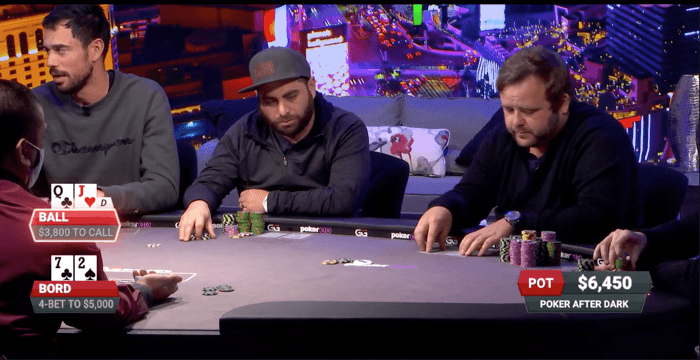 Remember, High Stakes Poker will air every Wednesday but is only available to PokerGO subscribers. If you're not currently subscribed, you can get a monthly subscription for $14.99, a three-month plan for $29.99, and an annual subscription for $99.99. You can also save $10 off an annual subscription by using promo code "PokerNews" at checkout.
Photos courtesy of PokerGO.