International Women's Day 2021 - Growing the Game Internationally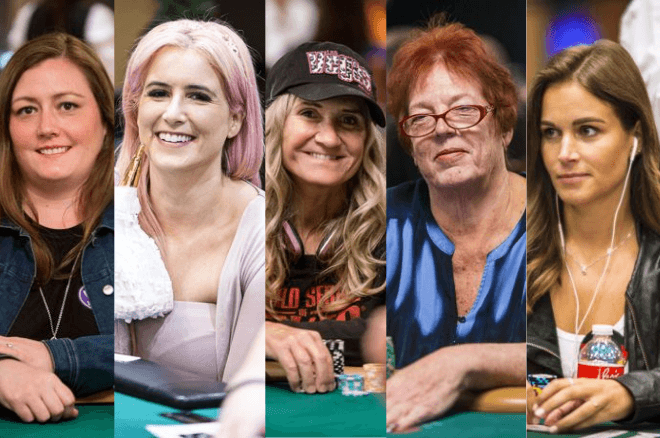 The world celebrates International Women's Day every year on March 8. This year's theme is #choosetochallenge.
As part of the celebrations, we wanted to celebrate the people and programs in poker who are helping to carve a way for more women in poker. While researching for this article we came across many personalities and groups that support women in poker, we could only highlight so many in one article and wanted to highlight international initiatives. We encourage you on social media to share this article and tell us about more women and initiatives in this space.
Maureen Bloechlinger, the Founder of the Facebook group Globetrotting Poker Ladies contacted PokerNews and wanted to focus on international measures for growing the game.
Read on to learn what she had to say on International Women's Day.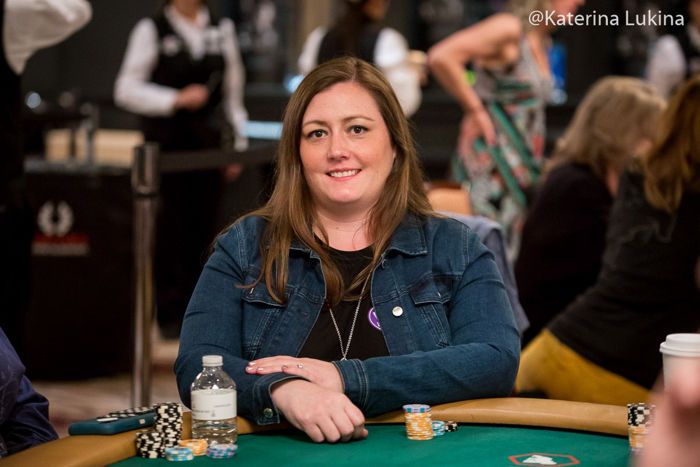 Starting the Journey
In her 2018 acceptance speech into the Women in Poker Hall of Fame, Maria Ho accredits her poker success to the boys who said "no girls allowed" at their college poker game and her passion grew from there. This story seems to repeat itself and is the basis for many poker beginnings.
---
Related: Maria Ho, Lupe Soto Honored at Women in Poker Hall of Fame Luncheon
---
One company, Poker Powher is led by women for women with the goal of teaching a million women how to play the game of poker, and the skills required to play that also predict success in work and in life. The Poker Powher team includes Melanie Weisner, and instructors include Xuan Liu and writer Amanda Botfeld.
AJ Rudolph states: "Poker Powher isn't just about teaching women to play poker. Anyone can watch an online tutorial or take a class. What we do is use poker as a gateway for developing the skills that predict success in life and in the workplace, educating our students on why poker is such a unique model for thinking about making decisions, evaluating situations, and reading people. I worked my way up the corporate ladder in a male-dominated tech field using the skills I learned from playing poker for 15 years, and I am honored to now empower other women doing the same."
For those searching for a structured self-study course, Former WSOP Ladies Champion Marsha Wolak founded Epic Poker Training to help take you to the next level.
These tools for beginners can potentially accelerate women into our next category in live events because once you learn poker, you will want to put your skills to the test in a game.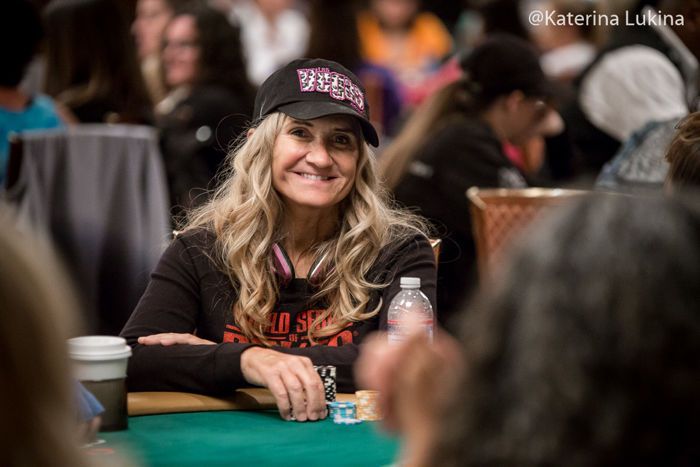 Live Events
Live poker has been challenging during the pandemic. The 2020 WSOP went online and we didn't see the usual Ladies Week in Las Vegas and the $10K WSOP Ladies Championship nor did we see many WSOP Circuit Series in the United States but we did see some events internationally for the Ladies.
The female poker community is eagerly awaiting news on a 2021 WSOP and if a Ladies Week will occur. In the meantime, the ladies can look forward to the Nevada State Championships being presented by LIPs, taking place at South Point Casino from April 15-18. Poker icons Linda Johnson "The First Lady of Poker" and Jan Fisher both Women in Poker Hall of Famers (class of 2008 and 2009 respectively) will be hosting the series adding an extra element to the three-day, action-packed schedule.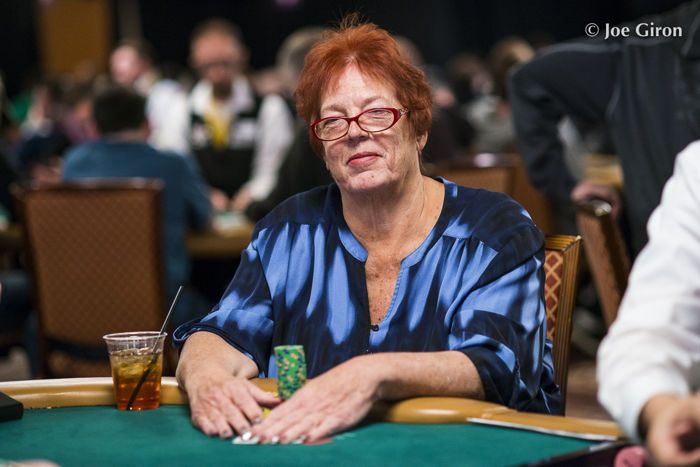 The Australian Poker Tour hosts a Ladies Event at each of their series stops across Australia. David Miles, APT CEO, told us that women represent only nine per cent of the overall APT field and he would like to see this grow to 20 per cent.
"We just want the ladies who participate to feel comfortable and accepted into our tournament series," said Miles. "It is also about continuously growing the game." He also pointed out that he believes that women have a great advantage as they are great readers of body language. According to Hendon Mob, the Ladies Event during APT Brisbane had 90 entries!"
Other events and series hosting ladies include:
CTP Tawainese Millions
bestbet Florida
MSPT
WPT Tour, most recently WPT Russia
Other tours and series which have been impacted by the COVID-19 pandemic but are historically known for Ladies Events and Championships include:
Unibet Queen Rules
Battle of Malta
Malta Poker Festival, Event Director Ivonne Montealegre
Norway in particular was a casualty to the Coronavirus, as their regulation is quite strict. Both the Norwegian Championships in Dublin, which normally coincides with the Irish Open, and their own tournament on Norwegian soil were cancelled.
The Ladies Events are known for their high participation numbers whereby the €440 Ladies Event at the 2019 Norweigan Championships recorded 137 entries even though players required to have a Norweigan passport to be able to play.
On the open seas, there are two operators hosting games specifically for the Ladies. Ship It Poker Cruises told us that they can't wait to host one of our funniest events again with "The Ship It Bitches" always being a blast.
Zack Lawmater, Co-Founder/Director of Operations states: "We always have a great group of ladies that just love to have a great time and play poker. So make plans to join us, the memories you will make will last a lifetime."
The pandemic has made cruising quite challenging and has impacted sailings. Card Player Cruises, who have been operating more than two decades, have a seven-night Lips Western Caribbean Cruise scheduled for May 9 which includes a $340 (open) Main Event as well as a $150 event and has hosted the dates for a 2022 Lips & Chic Championship at Seas locked in for April 3, 2022.
For the ladies with a competitive spirit, the Women's Poker Association runs a WPA Player of the Year program that offers recognition of winning women and highlights their achievements in the game of poker. This POY program includes all women's events around the globe and those that have at least 40 entries and a $100 buy-in, are eligible for points. Complete details and qualifying tournaments are listed online.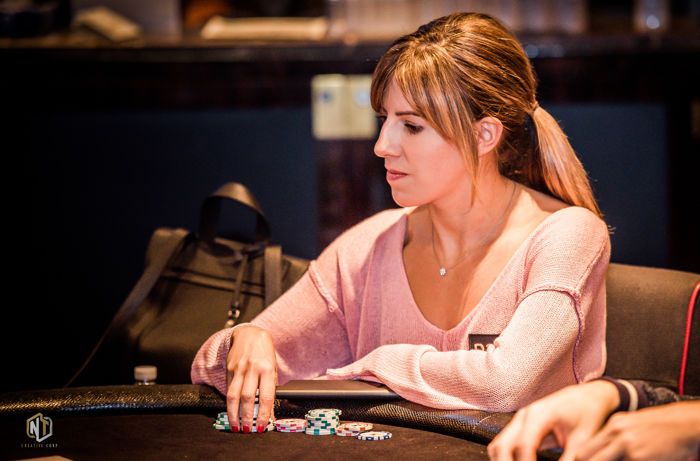 For Ladies playing in open events, the GPI Female Player of the Year, won by Kristen Bicknell for three consecutive years, is another ranking system which awards points on all open events based on buy-in and the number of participants. GPI canceled the rankings for 2020 and we are still waiting to see if they restart in 2021.
---
Related: Kristen Bicknell Reminisces on her WSOP Memories
---
Online Poker and Streamers
There are also many options to play poker online in Ladies only games including the PokerStars Women's Sunday on Sunday, March 7 which saw Poker Stars give away three $215 Sunday Millions Tickets for International Women's Day.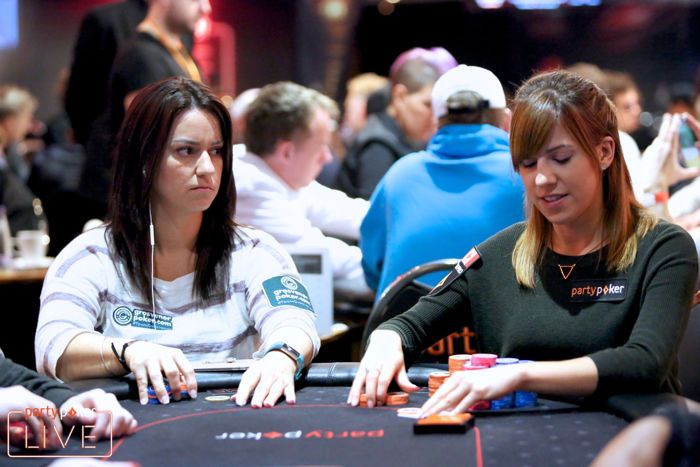 For Ladies in the UK and Ireland, Grosvenor Poker hosts the Katie Swift's Women's Weekly online poker game on Wednesdays. According to Swift's announcement, the league will run for one month and the winner of the league will receive £100 cash prize, plus an exclusive entry into a "Pro sit and go" game where winners will battle Grosvenor Sponsored Pros in an exclusive event to win more prizes. This League is straight off of one month of Ladies Only Games in February.
Online poker naturally encourages streamers and there are many women operating in this space. We found some popular streamers in South America and these women have many followers. Natural8 Ambassador Laura Cintrahas over 65.9K followers at her Twitch channel. Meanwhile, WSOP Ring winner Carol Dupre has over 16K followers on IG and streams under "CarolDupreS2".
Canada has many female streamers including partypoker team online Courtney Gee and the bilingual Chechiing.
Continuing your Journey and Growing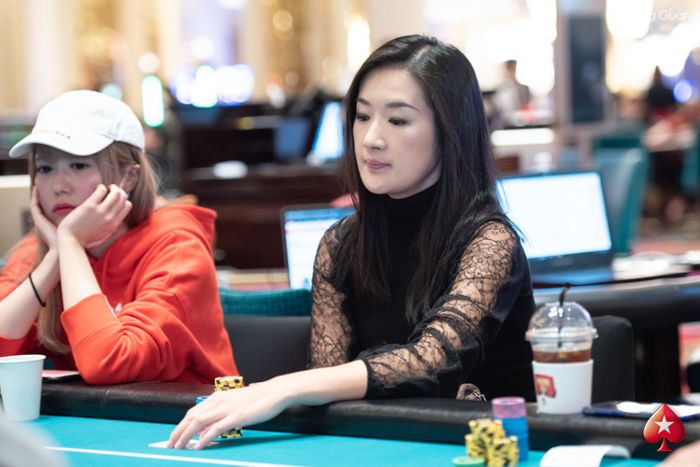 For women wanting to improve their skills and belong to a women's community, the options are numerous.
While traveling and reporting from live events, I have come across the group, Team Queens Japan, founded in June 2018 by Mii Miyoshi and now has over 100 members including the Japanese professional Yuri Ishida. The main language for the group is Japanese and they share useful poker information over their dedicated Line group and host tournaments around the world.
New to the mix is the Herzdamen Club, founded by Natalie Hof Ramos and Mila Monroe in December 2019 which runs both a national, German-speaking and an International, English speaking community with just over 200 members combined. They run weekly calls so that women can improve their game through guest speakers like Ana Marquez, Kristen Bicknell, Maria Ho, and Fedor Holz and have in depth study calls. Women empowering women is one of their global missions besides building a global community to connect women and to ensure a safe space for those who might otherwise have been too shy to find their way to the poker table.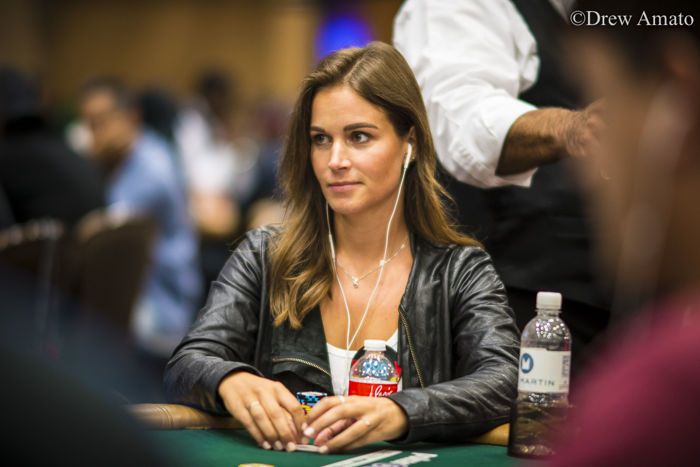 The Twitch channel has over 600 followers and six streamers and is growing including a third league that will start in March. Ramos mentioned that they are organizing poker trips that combine playing and coaching, but the pandemic has currently put this planning on the sidelines.
If we look further within Europe we see other groups offering programs based on location.
In neighboring Switzerland, the Swiss Poker Ladies, founded by Gabi Wirth Bieri and with over 100 members, will be hosting their fourth Swiss Poker Ladies Championship, as soon as COVID-19 regulations allow. They run leaderboards throughout the year to qualify for the Championship.
Head of Poker at The Hippodrome Casino Kerryjane Craigie created the Ladies Who Poker at the Hippodrome Group in 2015 and has hosted monthly poker meetups as well as Ladies only events in London, England. The Hippodrome is set to reopen in May 2021, with updates posted at their Facebook group or information on upcoming events.
Respect and Zero Tolerance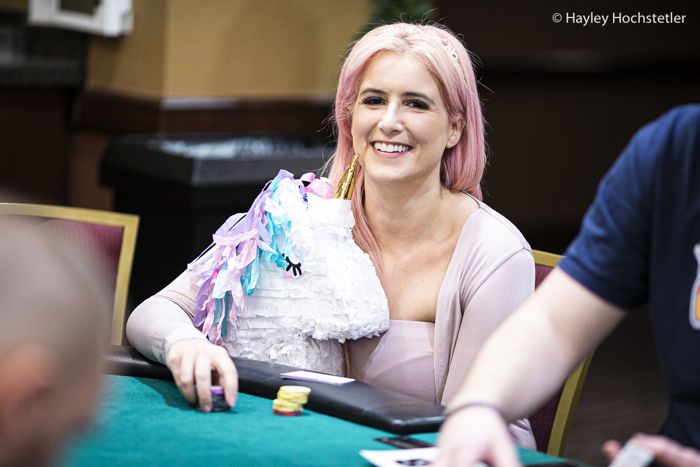 Most readers would have expected Vanessa Kade to be listed under Streamers but her recent tweets are turning to advocacy and zero-tolerance policy in poker rooms.
Katie Stone, advocated in 2019 to the Tournament Directors Association and has worked with Borgata Poker to implement some of her ideas. She is a partypoker US pro but well known by men and women for her advocacy.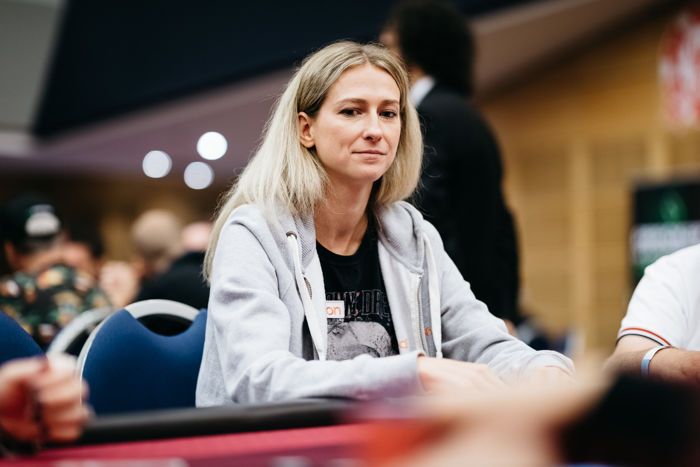 Meanwhile, Daiva Byrne, the newly named Outreach & Community Advocate at GGPoker and owner of Fantastic Ladies in Poker, explains to us that Flip is all about celebrating and supporting women in poker. The goal has always been to create a friendly & inclusive female community where like-minded people can get together for networking, playing, traveling opportunities as well as sharing their success & supporting each other.
The Women's Poker Association is a global membership-based, all-volunteer, professional organization with over 4,500 members in their public Facebook group. According to Tara Windsor Smith, VP Women's Poker Association the WPA creates specific programs and are working to elevate the experience of poker. The Raise It Up program & movement addresses this directly.
The Raise It Up global movement recognizes the need to raise the RESPECT and FUN in poker. From players to poker rooms, it is up to us to change and support our industry. It starts with awareness and a demand for change. We must declare a zero-tolerance environment of abuse and expect better behavior from everyone involved. Only then will we have a chance at growing the game we love.
"There are so many fantastic organizations, groups, and individuals that focus on bringing more women to the game of poker as well as providing resources for those seeking to play or those looking to learn! The WPA supports those who support women. In 2021 and beyond, we want that message to be continually amplified! Through supporting other women's organizations and groups as well as the WPA mission and programs, we know the opportunities to empower more women in poker and bring more women to the game, will be limitless!"
– Tara Windsor Smith, VP Women's Poker Association
Content Creators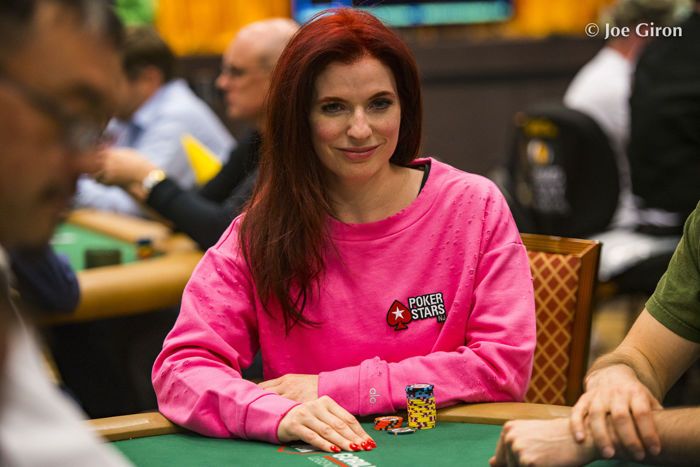 In addition to the streamers on twitch, there are many women active in content creation.
PokerStars Ambassador Jennifer Shahade produces The Grind Podcast which has won the GPI Podcast of the year award and is currently on its 54th episode whereby she is covering all NLH starting hands through guests telling their stories with these hands.
Jamie Kerstetter was a feature commentator for the 2019 WSOP Main Event and she returned in 2020 to commentate the hybrid 2020 Main Event. Fans of Jamie can catch her on The Rake Podcast, which recently saw the departure of their female co-host, Marle Cordeiro. Marle is known for her satirically poker VLOGS and it is still unknown which projects she will pursue since leaving the podcast.
For German speakers, Christin Maschmann, started the Side Pod in September 2020 and delivers poker news, interviews and information about current events and gossip in the 1st ever German-speaking podcast.
Poker and More
The Poker League of Nations, offers staking to its members. According to their website: "Our active staking initiative provides women the platform to play in open fields, in major Main Events and High Rollers that they would be unable to enter without backing. The PLON community backing ladies playing in open fields is much more valuable than simply the financial benefit. The women share in succeeding together, and our players have the added support of a tremendous PLON cyber-rail!"
In other words, in the poker community, we have many women working behind the scenes.
Conclusion
The year 2020 proved to be a trying year for poker across the world but women's initiatives battled through and we are also seeing live games back. While researching for this article we have found the support system for women is there but needs to be utilized. We have only touched the surface and reported on initiatives operating in the public space. We have learned that there are also many private groups and initiatives available to women and by joining different organizations and communities, more doors will open.