$150 Million Guaranteed in GG Spring Festival This April on Natural8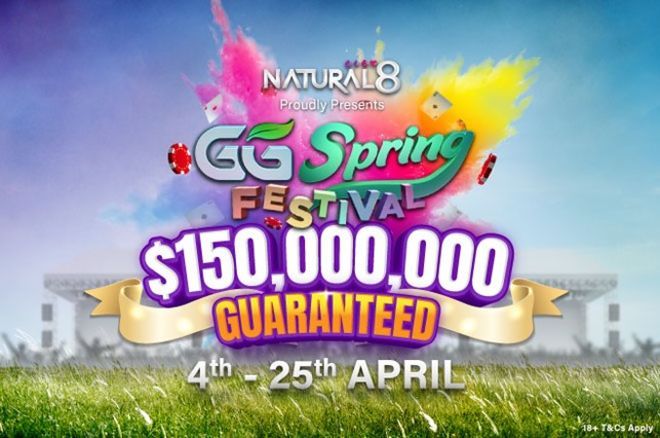 The biggest festival in online poker history is arriving on Natural8. Running until April 25, Natural8 will be hosting the GG Spring Festival (GGSF) with a massive $150 million in guarantees. The last time an event of this magnitude was held was during 2020's WSOP Winter Online Circuit.
There will be 330 multi-tier tournaments and headliner events, separated into "Low", "Medium", and "High" tiers. This will give players a chance to take part no matter the size of their bankroll. Plenty of satellites will be available, and the tournament will kick off with a $100,000 Houseparty Freeroll hosted by legendary DJ Deadmau5.
As a leading operator on the GGPoker Network, Natural8 will also be hosting promotions exclusively for their players.
Head to the NEW Natural8 Hub
Want to stay up-to-date on all the latest Natural8 news right here on PokerNews? Why not try out the new Natural8 Hub!
Natural8-Exclusive GGSF Promotions
As is customary for all major GGPN tournaments, Natural8 will be offering its players exclusive promotions that will not be found on any other skins.
GGSF-Themed Freerolls
All the existing freerolls on Natural8 will now offer GGSF tickets in their prize pool. Players can look forward to four different freerolls:
GGSF First Depositors Freeroll
This freeroll is open only to players who make their first deposit with Natural8. Running every Saturday (April 10, 17, 24) at 11:00 and 22:00 UTC, players can win one of 10 x GGSF $25 tickets per freeroll.
Natural8 Hourly Freerolls
These hourly freerolls are open to all Natural8 players. From Monday to Saturday, there are 10 x GGSF $1 Satellite tickets available for you to win.
Natural8 GG Spring Festival Freeroll
Running every Saturday (April 10, 17, 24) at 10:00 UTC, players can win GG Spring Festival tickets!
April 10: 20 x GGSF $80 Opening Act tickets
April 17, 24: 30 x GGSF $50 tickets
GGSF N8 VIP Deposit Freeroll
This freeroll is open to all players who sign up directly with Natural8. It runs every Saturday at 10:00 and 22:00 UTC with 10 x GGSF $25 tickets up for grabs.
$50,000 LiveX Sponsorship
Any Natural8 player who wins the GGSF Main Event-H $1,500 NLHE will be rewarded with a LiveX Sponsorship worth $50,000.
This package includes:
$15,000 for a trip to Las Vegas ($10,000 for buy-ins + $5,000 for expenses)
$35,000 for live event sponsorships over 12 months
Winner represents Natural8 as a LiveX crew member for 12 months
Natural8 GGSF Flipouts (worth $50,000!)
Natural8 players will receive one entry into a Natural8-exclusive GGSF Flipout, for every entry they make into a GGSF event. They will receive chips for every entry and can multiply their stacks. Re-entries into GGSF events will also count towards the chip stack multiplier. The starting stack for each tier begins at 1,000 chips and players can multiply their chip stacks by participating in more GGSF tournaments within the same tier. Cut-off time for each weekly flipout will be midnight on Fridays.
The flipouts will take place every Saturday (April 10, April 17, April 24) at 2pm (UTC+0). Each of the three tiers will have their own separate Flipout.
"High" Tier: $10,000 Flipout
"Medium" Tier: $5,000 Flipout
"Low" Tier: $2,000 Flipout
Millions in Prize Pools Throughout the Festival
The $1,500 GGSF Main Event-H will certainly be one of the biggest highlights, with the multi-flight flagship tournament offering a massive $10 million guarantee.
Starting days will commence on April 18, while Day 2 is scheduled for April 25. The same also applies for the GGSF Main Event-H: $1,500 PLO-NL, which will pay out at least $2 million in prizes.
The other tournament with a $10 million guarantee is the special edition of the $10,300 Super MILLION$. Featuring a total of five starting days, this weekly high-stakes showdown will see all Day 1 survivors return on April 18 and play down to the money.
April 18 will also feature Day 2 of the Headliner-M $400 Events, which come in both the NLHE and PLO-NL formats. The Hold'em edition comes with a guarantee of $2.5 million, while the Omaha edition guarantees at least $1 million.
Another two $10,300 Super MILLION$ events will take place on April 4 and April 25 respectively. Both come with a $3 million guarantee and will play down to a winner the following Tuesday.
High stakes players can look forward to nine editions of the $25,500 Super High Roller, which are certain to attract some of the biggest names in the international poker circuit. Each Sunday of the festival will feature a $25,500 Sunday Five Million with a cool $5 million guaranteed.
Not only the high stakes crushers will be playing for seven-figure prize pools. In total, the entire festival includes 39 tournaments with $1 million or more in prizes up for grabs.
The opening weekend also includes first flights for two bargain events, with a price tag of just $80. You can already find the Opening Act-L tournaments in the Natural8 lobby; just pick your preferred starting day. All those that make it through their respective Day 1s will return for Day 2 on April 11. Both NLHE ($1,000,000 GTD) and PLO-NL ($500,000 GTD) formats are available.
Weekly Leaderboards With $1M in Prizes
Each of the three weeks will also feature a leaderboard for each tier. A total of $1 million in prizes will be awarded, and the most successful players in each "Low", "Medium", and "High" tier will boost their bankroll further.
In the first two weeks, $300,000 in leaderboard prizes will be awarded. The "High" tier will see a total of $150,000 in prizes, while the "Medium" and "Low" tiers will pay out $100,000 and $50,000 respectively.
In the third week, leaderboard prizes will be boosted to $400,000 in total. The "High" tier will receive $200,000 in prizes, while the "Medium" and "Low" tiers will pay out $125,000 and $75,000 respectively to the most successful grinders.
New "Low" and "Medium" Stakes Events
Thanks to the new three-tier system which has proven to be highly popular, players with a smaller bankroll can also take a shot at glory in their favorite events. GGSF tournaments start for as little as $5, with the most expensive "Low" tier tournament being the $250 Mini High Roller.
"Medium" tier GGSF tournaments will commence for as little as $50, for example in the Forty Stack. Depending on the price range, this can go all the way up to $2,625 in High Roller Events.
For all those attempting to take a shot at buy-ins out of their usual range, there will be plenty of satellites as well. Qualifiers to "Low" tier events will take place for as little as $1, while step satellites are listed from just $3. Head on over to the GGSF tab in the Natural8 client and set your filters to "GGSF" in order to see your preferred events.