The Inaugural PokerStars Summer Stacks Begins This Weekend in Pennsylvania, Michigan, & New Jersey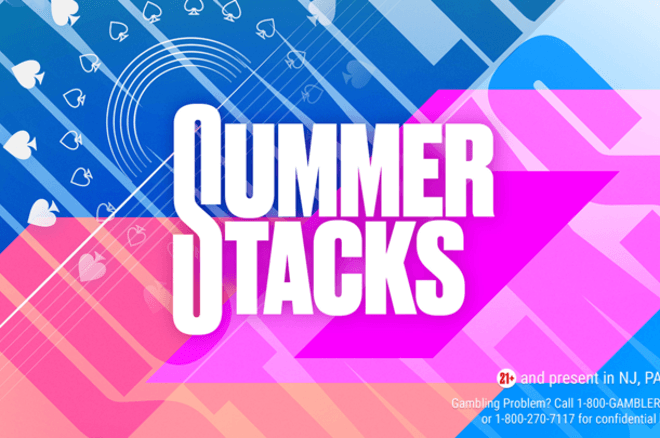 After a successful Spring Championship of Online Poker (SCOOP) series in Pennsylvania, New Jersey, and Michigan, PokerStars will be hosting a brand new online poker series in these three states in the Summer Stacks Festival from June 12 to June 28.
Each state boasts a schedule of 100 events with affordable buy-ins. The festival will guarantee $1 million in Pennsylvania with another $1 million guaranteed in Michigan, while the festival in New Jersey guarantees at least $500,000 in prize money.
This festival is a bit different than what we have witnessed from PokerStars in the past as the online poker operator aims to provide a casual series format featuring a number of turbo formats, shorter events, and affordable buy-ins ranging from $5 to $100. The highlight in each state will be the two-day $100 Main Event on June 27-28 with guarantees in Pennsylvania and Michigan slated for $100,000 each with the event in New Jersey guaranteeing at least $50,000.
This is not all is players can freeroll their way to the Main Event as PokerStars will be giving away $10,000 worth of Main Event tickets via a daily Depositor Freeroll for players who deposit a minimum of $30 with the "SUMMER21" bonus code.
In addition, players who are knocked out before the money in any event will be invited to take part in daily Second Chance Freerolls where a total of $10,000 worth of Summer Stacks tournament tickets will be awarded for future events.
PokerStars Pennsylvania Summer Stacks Schedule
| Date | Time | Event # | Event | Buy-In | Guarantee |
| --- | --- | --- | --- | --- | --- |
| June 12 | 16:00 | 1 | Summer Stacks 01: $10 NLHE [Summer Stacks Warm Up: Stars-B-Que], $4K Gtd | $10 | $4,000 |
| June 12 | 18:00 | 2 | Summer Stacks 02: $100 NLHE [Summer Stacks Kick Off], $30K Gtd | $100 | $30,000 |
| June 12 | 19:00 | 3 | Summer Stacks 03: $30 NLHE [Summer Stacks Mini Kick Off], $10K Gtd | $30 | $10,000 |
| June 12 | 19:30 | 4 | Summer Stacks 04: $50 NLHE [8-Max, Nightly Summer Stack], $12.5K Gtd | $50 | $12,500 |
| June 12 | 20:00 | 5 | Summer Stacks 05: $5 PLO [6-Max, Progressive KO], $1K Gtd | $5 | $1,000 |
| June 12 | 21:00 | 6 | Summer Stacks 06: $50 NLHE, $8K Gtd | $50 | $8,000 |
| June 12 | 21:30 | 7 | Summer Stacks 07: $10 Razz [6-Max], $1K Gtd | $10 | $1,000 |
| June 13 | 15:00 | 8 | Summer Stacks 08: $50 Stud Hi/Lo [6-Max], $3.5K Gtd | $50 | $3,500 |
| June 13 | 17:00 | 9 | Summer Stacks 09: $10 NLHE [6-Max, Progressive KO, Sunday Storm: PKO Edition], $3K Gtd | $10 | $3,000 |
| June 13 | 18:00 | 10 | Summer Stacks 10: $100 NLHE [Sunday Special], $60K Gtd | $100 | $60,000 |
| June 13 | 18:00 | 11 | Summer Stacks 11: $25 NLHE [Mini Sunday Special], $10K Gtd | $25 | $10,000 |
| June 13 | 18:00 | 12 | Summer Stacks 12: $5 NLHE [Micro Sunday Special], $3.5K Gtd | $5 | $3,500 |
| June 13 | 19:30 | 13 | Summer Stacks 13: $50 NLHE [8-Max, Nightly Summer Stack], $12.5K Gtd | $50 | $12,500 |
| June 13 | 20:30 | 14 | Summer Stacks 14: $100 NLHE [The Big Freeze], $15K Gtd | $100 | $15,000 |
| June 13 | 21:00 | 15 | Summer Stacks 15: $30 PLO [6-Max], $4K Gtd | $30 | $4,000 |
| June 14 | 18:00 | 16 | Summer Stacks 16: $10 NLHE [6-Max, Progressive KO, Battle Royale Early Edition], $3.5K Gtd | $10 | $3,500 |
| June 14 | 19:30 | 17 | Summer Stacks 17: $50 NLHE [8-Max, Nightly Summer Stack], $10K Gtd | $50 | $10,000 |
| June 14 | 20:00 | 18 | Summer Stacks 18: $50 NLHE [6-Max, Progressive KO, Battle Royale], $20K Gtd | $50 | $20,000 |
| June 14 | 20:30 | 19 | Summer Stacks 19: $5 NLHE, $1.5K Gtd | $5 | $1,500 |
| June 14 | 21:00 | 20 | Summer Stacks 20: $20 PLO8 [8-Max], $2.5K Gtd | $20 | $2,500 |
| June 15 | 18:00 | 21 | Summer Stacks 21: $10 NLHE [Super Tuesday Early Edition], $3.5K Gtd | $10 | $3,500 |
| June 15 | 19:30 | 22 | Summer Stacks 22: $50 NLHE [8-Max, Nightly Summer Stack], $10K Gtd | $50 | $10,000 |
| June 15 | 20:00 | 23 | Summer Stacks 23: $30 NLHE [Mini Super Tuesday], $10K Gtd | $30 | $10,000 |
| June 15 | 20:30 | 24 | Summer Stacks 24: $50 NLHE [Summer Freeze], $5K Gtd | $50 | $5,000 |
| June 15 | 21:00 | 25 | Summer Stacks 25: $10 NLHE [8-Max, Turbo, Progressive KO], $1.5K Gtd | $10 | $1,500 |
| June 16 | 18:00 | 26 | Summer Stacks 26: $20 NLHE [6-Max], $5K Gtd | $20 | $5,000 |
| June 16 | 19:30 | 27 | Summer Stacks 27: $50 NLHE [8-Max, Nightly Summer Stack], $10K Gtd | $50 | $10,000 |
| June 16 | 20:00 | 28 | Summer Stacks 28: $100 NLHE [6-Max], $20K Gtd | $100 | $20,000 |
| June 16 | 20:30 | 29 | Summer Stacks 29: $30 NLHE, $6K Gtd | $30 | $6,000 |
| June 16 | 21:00 | 30 | Summer Stacks 30: $50 8-Game, $4K Gtd | $50 | $4,000 |
| June 17 | 18:00 | 31 | Summer Stacks 31: $10 NLHE [Progressive KO, Thursday Thrill Early Edition], $4K Gtd | $10 | $4,000 |
| June 17 | 19:30 | 32 | Summer Stacks 32: $50 NLHE [8-Max, Nightly Summer Stack], $12.5K Gtd | $50 | $12,500 |
| June 17 | 20:00 | 33 | Summer Stacks 33: $30 NLHE [Progressive KO, Mini Thursday Thrill], $10K Gtd | $30 | $10,000 |
| June 17 | 20:30 | 34 | Summer Stacks 34: $25 NLHE [Summer Freeze], $3.5K Gtd | $25 | $3,500 |
| June 17 | 21:00 | 35 | Summer Stacks 35: $5 PLO [6-Max, Turbo], $1K Gtd | $5 | $1,000 |
| June 18 | 18:00 | 36 | Summer Stacks 36: $10 NLHE [4-Max, The Big $10: 4-max Edition], $3K Gtd | $10 | $3,000 |
| June 18 | 19:30 | 37 | Summer Stacks 37: $50 NLHE [8-Max, Nightly Summer Stack], $10K Gtd | $50 | $10,000 |
| June 18 | 20:00 | 38 | Summer Stacks 38: $100 NLHE [8-Max, Mega-Stack Turbo], $20K Gtd | $100 | $20,000 |
| June 18 | 20:30 | 39 | Summer Stacks 39: $20 NLHE, $4K Gtd | $20 | $4,000 |
| June 18 | 21:00 | 40 | Summer Stacks 40: $5 NLHE [6-Max, Hyper-Turbo, Progressive KO], $1K Gtd | $5 | $1,000 |
| June 19 | 15:00 | 41 | Summer Stacks 41: $10 NLHE, $3K Gtd | $10 | $3,000 |
| June 19 | 17:00 | 42 | Summer Stacks 42: $20 NLHE [6-Max, Saturday Warm Up], $5K Gtd | $20 | $5,000 |
| June 19 | 19:30 | 43 | Summer Stacks 43: $50 NLHE [8-Max, Nightly Summer Stack], $12.5K Gtd | $50 | $12,500 |
| June 19 | 20:00 | 44 | Summer Stacks 44: $100 NLHE [8-Max, Progressive KO, Bigstack], $30K Gtd | $100 | $30,000 |
| June 19 | 20:00 | 45 | Summer Stacks 45: $30 NLHE [8-Max, Progressive KO, Bigstack], $10K Gtd | $30 | $10,000 |
| June 19 | 20:30 | 46 | Summer Stacks 46: $30 NLHE [6-Max, Summer Freeze], $4K Gtd | $30 | $4,000 |
| June 19 | 21:00 | 47 | Summer Stacks 47: $10 5-Card PLO [6-Max], $1.5K Gtd | $10 | $1,500 |
| June 20 | 15:00 | 48 | Summer Stacks 48: $50 HORSE [6-Max], $5K Gtd | $50 | $5,000 |
| June 20 | 17:00 | 49 | Summer Stacks 49: $10 NLHE [6-Max, Sunday Storm], $3K Gtd | $10 | $3,000 |
| June 20 | 18:00 | 50 | Summer Stacks 50: $100 NLHE [Sunday Special], $65K Gtd | $100 | $65,000 |
| June 20 | 18:00 | 51 | Summer Stacks 51: $30 NLHE [Sunday Special - Mid], $15K Gtd | $30 | $15,000 |
| June 20 | 18:00 | 52 | Summer Stacks 52: $5 NLHE [Sunday Special - Low], $3.5K Gtd | $5 | $3,500 |
| June 20 | 19:00 | 53 | Summer Stacks 53: $30 PLO [6-Max], $3.5K Gtd | $30 | $3,500 |
| June 20 | 20:30 | 54 | Summer Stacks 54: $20 NLHE [Summer Freeze], $3K Gtd | $20 | $3,000 |
| June 20 | 19:30 | 54 | Summer Stacks 55: $50 NLHE [8-Max, Nightly Summer Stack], $10K Gtd | $50 | $10,000 |
| June 21 | 18:00 | 56 | Summer Stacks 56: $5 NLHE [7-Max], $1K Gtd | $5 | $1,000 |
| June 21 | 19:30 | 57 | Summer Stacks 57: $50 NLHE [8-Max, Nightly Summer Stack], $12.5K Gtd | $50 | $12,500 |
| June 21 | 20:00 | 58 | Summer Stacks 58: $100 NLHE [6-Max, Progressive KO, Battle Royale], $25K Gtd | $100 | $25,000 |
| June 21 | 20:00 | 59 | Summer Stacks 59: $30 NLHE [6-Max, Progressive KO, Mini Battle Royale], $10K Gtd | $30 | $10,000 |
| June 21 | 20:30 | 60 | Summer Stacks 60: $15 NLHE, $3K Gtd | $15 | $3,000 |
| June 22 | 18:00 | 61 | Summer Stacks 61: $20 NLHE [Super Tuesday Early Edition], $6K Gtd | $20 | $6,000 |
| June 22 | 19:30 | 62 | Summer Stacks 62: $50 NLHE [8-Max, Nightly Summer Stack], $10K Gtd | $50 | $10,000 |
| June 22 | 20:00 | 63 | Summer Stacks 63: $75 NLHE [Mini Super Tuesday], $17.5K Gtd | $75 | $17,500 |
| June 22 | 20:30 | 64 | Summer Stacks 64: $15 NLHE [Summer Freeze], $2.5K Gtd | $15 | $2,500 |
| June 22 | 21:00 | 65 | Summer Stacks 65: $30 NLHE [4-Max, Turbo], $4K Gtd | $30 | $4,000 |
| June 23 | 18:00 | 66 | Summer Stacks 66: $10 NLHE [6-Max, The Big $10: 6-max Edition], $3K Gtd | $10 | $3,000 |
| June 23 | 19:30 | 67 | Summer Stacks 67: $50 NLHE [8-Max, Nightly Summer Stack], $12.5K Gtd | $50 | $12,500 |
| June 23 | 20:00 | 68 | Summer Stacks 68: $50 NLHE [6-Max], $10K Gtd | $50 | $10,000 |
| June 23 | 20:30 | 69 | Summer Stacks 69: $100 NLHE, $15K Gtd | $100 | $15,000 |
| June 23 | 21:00 | 70 | Summer Stacks 70: $15 NLHE [8-Max, Turbo, Progressive KO], $2K Gtd | $15 | $2,000 |
| June 24 | 18:00 | 71 | Summer Stacks 71: $20 NLHE [Progressive KO, Thursday Thrill Early Edition], $7K Gtd | $20 | $7,000 |
| June 24 | 19:30 | 72 | Summer Stacks 72: $50 NLHE [8-Max, Nightly Summer Stack], $12.5K Gtd | $50 | $12,500 |
| June 24 | 20:00 | 73 | Summer Stacks 73: $75 NLHE [Progressive KO, Mini Thursday Thrill], $17.5K Gtd | $75 | $17,500 |
| June 24 | 20:30 | 74 | Summer Stacks 74: $50 NLHE [6-Max, Summer Freeze], $6K Gtd | $50 | $6,000 |
| June 24 | 21:00 | 75 | Summer Stacks 75: $5 NLHE [6-Max, Hyper-Turbo], $1K Gtd | $5 | $1,000 |
| June 25 | 18:00 | 76 | Summer Stacks 76: $15 NLHE [6-Max, Turbo, Fast Friday Early Edition], $3.5K Gtd | $15 | $3,500 |
| June 25 | 19:30 | 77 | Summer Stacks 77: $50 NLHE [8-Max, Nightly Summer Stack], $12.5K Gtd | $50 | $12,500 |
| June 25 | 20:00 | 78 | Summer Stacks 78: $100 NLHE [6-Max, Turbo, Fast Friday], $15K Gtd | $100 | $15,000 |
| June 25 | 20:30 | 79 | Summer Stacks 79: $75 NLHE, $10K Gtd | $75 | $10,000 |
| June 25 | 21:00 | 80 | Summer Stacks 80: $20 NLHE [Heads-Up, Turbo, Progressive Total KO, Heads-Up Zoom], $6K Gtd | $20 | $6,000 |
| June 26 | 15:00 | 81 | Summer Stacks 81: $20 NLHE [8-Max, Afternoon Bigstack], $5K Gtd | $20 | $5,000 |
| June 26 | 16:00 | 82 | Summer Stacks 82: $50 Stud [6-Max], $3.5K Gtd | $50 | $3,500 |
| June 26 | 19:30 | 83 | Summer Stacks 83: $50 NLHE [8-Max, Nightly Summer Stack], $15K Gtd | $50 | $15,000 |
| June 26 | 20:00 | 84 | Summer Stacks 84: $100 NLHE [8-Max, Bigstack], $25K Gtd | $100 | $25,000 |
| June 26 | 20:00 | 85 | Summer Stacks 85: $15 NLHE [8-Max, Bigstack], $5K Gtd | $15 | $5,000 |
| June 26 | 20:30 | 86 | Summer Stacks 86: $30 NLHE [Summer Freeze], $4K Gtd | $30 | $4,000 |
| June 26 | 21:00 | 87 | Summer Stacks 87: $100 NLHE [4-Max], $15K Gtd | $100 | $15,000 |
| June 27 | 15:00 | 88 | Summer Stacks 88: $30 NLHE [Sunday Drive], $7.5K Gtd | $30 | $7,500 |
| June 27 | 17:00 | 89 | Summer Stacks 89: $5 NLHE [6-Max, Half Price Sunday Storm], $2.5K Gtd | $5 | $2,500 |
| June 27 | 18:00 | 90 | Summer Stacks 90: $100 NLHE [Main Event], $100K Gtd | $100 | $100,000 |
| June 27 | 18:00 | 91 | Summer Stacks 91: $30 NLHE [Main Event - Mid], $25K Gtd | $30 | $25,000 |
| June 27 | 18:00 | 92 | Summer Stacks 92: $10 NLHE [Main Event - Low], $7.5K Gtd | $10 | $7,500 |
| June 27 | 19:30 | 93 | Summer Stacks 93: $50 NLHE [8-Max, Nightly Summer Stack], $10K Gtd | $50 | $10,000 |
| June 27 | 20:30 | 94 | Summer Stacks 94: $75 NLHE [Summer Freeze], $7.5K Gtd | $75 | $7,500 |
| June 27 | 22:00 | 95 | Summer Stacks 95: $50 NLHE [6-Max, Hyper-Turbo, Bigstack], $8K Gtd | $50 | $8,000 |
| June 28 | 18:00 | 96 | Summer Stacks 96: $5 NLHE [6-Max, Mega Stack], $1.5K Gtd | $5 | $1,500 |
| June 28 | 19:00 | 97 | Summer Stacks 97: $100 NLHE [Summer Stars], $25K Gtd | $100 | $25,000 |
| June 28 | 19:30 | 98 | Summer Stacks 98: $50 NLHE [8-Max, Nightly Summer Stack], $15K Gtd | $50 | $15,000 |
| June 28 | 20:00 | 99 | Summer Stacks 99: $30 NLHE [4-Max, Shootout], $7K Gtd | $30 | $7,000 |
| June 28 | 20:30 | 100 | Summer Stacks 100: $10 NLHE [Summer Freezeout: Last Call], $1.5K Gtd | $10 | $1,500 |
PokerStars Michigan Summer Stacks Schedule
| Date | Time | Event # | Event | Buy-In | Guarantee |
| --- | --- | --- | --- | --- | --- |
| June 12 | 16:00 | 1 | Summer Stacks 01: $10 NLHE [Summer Stacks Warm Up - Stars-B-Que], $3.5K Gtd | $10 | $3,500 |
| June 12 | 18:00 | 2 | Summer Stacks 02: $100 NLHE [Summer Stacks Kick Off], $30K Gtd | $100 | $30,000 |
| June 12 | 19:00 | 3 | Summer Stacks 03: $30 NLHE [Summer Stacks Mini Kick Off], $8K Gtd | $30 | $8,000 |
| June 12 | 19:00 | 4 | Summer Stacks 04: $50 NLHE [8-Max, Nightly Summer Stack], $15K Gtd | $50 | $15,000 |
| June 12 | 19:30 | 5 | Summer Stacks 05: $5 PLO [6-Max, Progressive KO], $1K Gtd | $5 | $1,000 |
| June 12 | 21:00 | 6 | Summer Stacks 06: $50 NLHE, $8.5K Gtd | $50 | $8,500 |
| June 12 | 21:30 | 7 | Summer Stacks 07: $10 Razz [6-Max], $1K Gtd | $10 | $1,000 |
| June 13 | 15:00 | 8 | Summer Stacks 08: $50 Stud Hi/Lo [6-Max], $3.5K Gtd | $50 | $3,500 |
| June 13 | 17:00 | 9 | Summer Stacks 09: $10 NLHE [6-Max, Progressive KO, Sunday Storm - PKO Edition], $3K Gtd | $10 | $3,000 |
| June 13 | 18:00 | 10 | Summer Stacks 10: $100 NLHE [Sunday Special], $60K Gtd | $100 | $60,000 |
| June 13 | 18:00 | 11 | Summer Stacks 11: $30 NLHE [Mini Sunday Special], $10K Gtd | $30 | $10,000 |
| June 13 | 18:00 | 12 | Summer Stacks 12: $5 NLHE [Micro Sunday Special], $3.5K Gtd | $5 | $3,500 |
| June 13 | 19:30 | 13 | Summer Stacks 13: $50 NLHE [8-Max, Nightly Summer Stack], $10K Gtd | $50 | $10,000 |
| June 13 | 20:30 | 14 | Summer Stacks 14: $100 NLHE [The Big Freeze], $12.5K Gtd | $100 | $12,500 |
| June 13 | 21:00 | 15 | Summer Stacks 15: $30 PLO [6-Max], $4K Gtd | $30 | $4,000 |
| June 14 | 18:00 | 16 | Summer Stacks 16: $10 NLHE [6-Max, Progressive KO, Battle Royale Early Edition], $3K Gtd | $10 | $3,000 |
| June 14 | 19:30 | 17 | Summer Stacks 17: $50 NLHE [8-Max, Nightly Summer Stack], $10K Gtd | $50 | $10,000 |
| June 14 | 20:00 | 18 | Summer Stacks 18: $100 NLHE [6-Max, Progressive KO, Battle Royale], $20K Gtd | $100 | $20,000 |
| June 14 | 20:30 | 19 | Summer Stacks 19: $5 NLHE, $1.5K Gtd | $5 | $1,500 |
| June 14 | 21:00 | 20 | Summer Stacks 20: $20 PLO8 [8-Max], $2.5K Gtd | $20 | $2,500 |
| June 15 | 18:00 | 21 | Summer Stacks 21: $10 NLHE [Super Tuesday Early Edition], $3K Gtd | $10 | $3,000 |
| June 15 | 19:30 | 22 | Summer Stacks 22: $50 NLHE [8-Max, Nightly Summer Stack], $10K Gtd | $50 | $10,000 |
| June 15 | 20:00 | 23 | Summer Stacks 23: $50 NLHE [Mini Super Tuesday], $15K Gtd | $50 | $15,000 |
| June 15 | 20:30 | 24 | Summer Stacks 24: $100 NLHE [6-Max, Summer Freeze], $10K Gtd | $100 | $10,000 |
| June 15 | 21:00 | 25 | Summer Stacks 25: $10 NLHE [8-Max, Turbo, Progressive KO], $2K Gtd | $10 | $2,000 |
| June 16 | 18:00 | 26 | Summer Stacks 26: $20 NLHE [6-Max], $4K Gtd | $20 | $4,000 |
| June 16 | 19:30 | 27 | Summer Stacks 27: $50 NLHE [8-Max, Nightly Summer Stack], $10K Gtd | $50 | $10,000 |
| June 16 | 20:00 | 28 | Summer Stacks 28: $100 NLHE [6-Max], $17.5K Gtd | $100 | $17,500 |
| June 16 | 20:30 | 29 | Summer Stacks 29: $30 NLHE, $5K Gtd | $30 | $5,000 |
| June 16 | 21:00 | 30 | Summer Stacks 30: $50 8-Game, $5K Gtd | $50 | $5,000 |
| June 17 | 18:00 | 31 | Summer Stacks 31: $10 NLHE [Progressive KO, Thursday Thrill Early Edition], $3K Gtd | $10 | $3,000 |
| June 17 | 19:30 | 32 | Summer Stacks 32: $50 NLHE [8-Max, Nightly Summer Stack], $10K Gtd | $50 | $10,000 |
| June 17 | 20:00 | 33 | Summer Stacks 33: $50 NLHE [Progressive KO, Mini Thursday Thrill], $15K Gtd | $50 | $15,000 |
| June 17 | 20:30 | 34 | Summer Stacks 34: $25 NLHE [Summer Freeze], $3.5K Gtd | $25 | $3,500 |
| June 17 | 21:00 | 35 | Summer Stacks 35: $5 PLO [6-Max, Turbo], $1K Gtd | $5 | $1,000 |
| June 18 | 18:00 | 36 | Summer Stacks 36: $10 NLHE [4-Max, The Big $10 - 4-max Edition], $2.5K Gtd | $10 | $2,500 |
| June 18 | 19:30 | 37 | Summer Stacks 37: $50 NLHE [8-Max, Nightly Summer Stack], $10K Gtd | $50 | $10,000 |
| June 18 | 20:00 | 38 | Summer Stacks 38: $100 NLHE [8-Max, Mega-Stack Turbo], $15K Gtd | $100 | $15,000 |
| June 18 | 20:30 | 39 | Summer Stacks 39: $20 NLHE, $3K Gtd | $20 | $3,000 |
| June 18 | 21:00 | 40 | Summer Stacks 40: $5 NLHE [6-Max, Hyper-Turbo, Progressive KO], $1K Gtd | $5 | $1,000 |
| June 19 | 15:00 | 41 | Summer Stacks 41: $10 NLHE, $2.5K Gtd | $10 | $2,500 |
| June 19 | 17:00 | 42 | Summer Stacks 42: $20 NLHE [6-Max, Saturday Warm Up], $5K Gtd | $20 | $5,000 |
| June 19 | 19:30 | 43 | Summer Stacks 43: $50 NLHE [8-Max, Nightly Summer Stack], $10K Gtd | $50 | $10,000 |
| June 19 | 20:00 | 44 | Summer Stacks 44: $100 NLHE [8-Max, Progressive KO, Bigstack], $20K Gtd | $100 | $20,000 |
| June 19 | 20:00 | 45 | Summer Stacks 45: $30 NLHE [8-Max, Progressive KO, Bigstack], $10K Gtd | $30 | $10,000 |
| June 19 | 20:30 | 46 | Summer Stacks 46: $30 NLHE [6-Max, Summer Freeze], $4K Gtd | $30 | $4,000 |
| June 19 | 21:00 | 47 | Summer Stacks 47: $10 5-Card PLO [6-Max], $2K Gtd | $10 | $2,000 |
| June 20 | 15:00 | 48 | Summer Stacks 48: $50 HORSE [6-Max], $3.5K Gtd | $50 | $3,500 |
| June 20 | 17:00 | 49 | Summer Stacks 49: $10 NLHE [6-Max, Sunday Storm], $3K Gtd | $10 | $3,000 |
| June 20 | 18:00 | 50 | Summer Stacks 50: $100 NLHE [Sunday Special], $60K Gtd | $100 | $60,000 |
| June 20 | 18:00 | 51 | Summer Stacks 51: $30 NLHE [Sunday Special - Mid], $15K Gtd | $30 | $15,000 |
| June 20 | 18:00 | 52 | Summer Stacks 52: $5 NLHE [Sunday Special - Low], $3.5K Gtd | $5 | $3,500 |
| June 20 | 19:00 | 53 | Summer Stacks 53: $30 PLO [6-Max], $3.5K Gtd | $30 | $3,500 |
| June 20 | 19:30 | 54 | Summer Stacks 54: $50 NLHE [8-Max, Nightly Summer Stack], $8K Gtd | $50 | $8,000 |
| June 20 | 20:30 | 55 | Summer Stacks 55: $50 NLHE [Summer Freeze], $7.5K Gtd | $50 | $7,500 |
| June 21 | 18:00 | 56 | Summer Stacks 56: $5 NLHE [7-Max], $1K Gtd | $5 | $1,000 |
| June 21 | 19:30 | 57 | Summer Stacks 57: $50 NLHE [8-Max, Nightly Summer Stack], $10K Gtd | $50 | $10,000 |
| June 21 | 20:00 | 58 | Summer Stacks 58: $100 NLHE [6-Max, Progressive KO, Battle Royale], $20K Gtd | $100 | $20,000 |
| June 21 | 20:00 | 59 | Summer Stacks 59: $30 NLHE [6-Max, Progressive KO, Mini Battle Royale], $8K Gtd | $30 | $8,000 |
| June 21 | 20:30 | 60 | Summer Stacks 60: $15 NLHE, $2.5K Gtd | $15 | $2,500 |
| June 22 | 18:00 | 61 | Summer Stacks 61: $20 NLHE [Super Tuesday Early Edition], $6K Gtd | $20 | $6,000 |
| June 22 | 19:30 | 62 | Summer Stacks 62: $50 NLHE [8-Max, Nightly Summer Stack], $10K Gtd | $50 | $10,000 |
| June 22 | 20:00 | 63 | Summer Stacks 63: $75 NLHE [Mini Super Tuesday], $17.5K Gtd | $75 | $17,500 |
| June 22 | 20:30 | 64 | Summer Stacks 64: $100 NLHE [6-Max, Summer Freeze], $12.5K Gtd | $100 | $12,500 |
| June 22 | 21:00 | 65 | Summer Stacks 65: $30 NLHE [4-Max, Turbo], $4K Gtd | $30 | $4,000 |
| June 23 | 18:00 | 66 | Summer Stacks 66: $10 NLHE [6-Max, The Big $10 - 6-max Edition], $2.5K Gtd | $10 | $2,500 |
| June 23 | 19:30 | 67 | Summer Stacks 67: $50 NLHE [8-Max, Nightly Summer Stack], $10K Gtd | $50 | $10,000 |
| June 23 | 20:00 | 68 | Summer Stacks 68: $50 NLHE [6-Max], $10K Gtd | $50 | $10,000 |
| June 23 | 20:30 | 69 | Summer Stacks 69: $25 NLHE, $3.5K Gtd | $25 | $3,500 |
| June 23 | 21:00 | 70 | Summer Stacks 70: $20 NLHE [8-Max, Turbo, Progressive KO], $3K Gtd | $20 | $3,000 |
| June 24 | 18:00 | 71 | Summer Stacks 71: $20 NLHE [Progressive KO, Thursday Thrill Early Edition], $6K Gtd | $20 | $6,000 |
| June 24 | 19:30 | 72 | Summer Stacks 72: $50 NLHE [8-Max, Nightly Summer Stack], $10K Gtd | $50 | $10,000 |
| June 24 | 20:00 | 73 | Summer Stacks 73: $75 NLHE [Progressive KO, Mini Thursday Thrill], $17.5K Gtd | $75 | $17,500 |
| June 24 | 20:30 | 74 | Summer Stacks 74: $50 NLHE [Summer Freeze], $6K Gtd | $50 | $6,000 |
| June 24 | 21:00 | 75 | Summer Stacks 75: $5 NLHE [6-Max, Hyper-Turbo], $1K Gtd | $5 | $1,000 |
| June 25 | 18:00 | 76 | Summer Stacks 76: $20 NLHE [6-Max, Turbo, Fast Friday Early Edition], $3.5K Gtd | $20 | $3,500 |
| June 25 | 19:30 | 77 | Summer Stacks 77: $50 NLHE [8-Max, Nightly Summer Stack], $10K Gtd | $50 | $10,000 |
| June 25 | 20:00 | 78 | Summer Stacks 78: $100 NLHE [6-Max, Turbo, Fast Friday], $15K Gtd | $100 | $15,000 |
| June 25 | 20:30 | 79 | Summer Stacks 79: $100 NLHE, $12.5K Gtd | $100 | $12,500 |
| June 25 | 21:00 | 80 | Summer Stacks 80: $30 NLHE [Heads-Up, Turbo, Progressive Total KO, Heads-Up Zoom], $7.5K Gtd | $30 | $7,500 |
| June 26 | 15:00 | 81 | Summer Stacks 81: $30 NLHE [8-Max, Afternoon Bigstack], $6K Gtd | $30 | $6,000 |
| June 26 | 16:00 | 82 | Summer Stacks 82: $50 Stud [6-Max], $3.5K Gtd | $50 | $3,500 |
| June 26 | 19:30 | 83 | Summer Stacks 83: $50 NLHE [8-Max, Nightly Summer Stack], $10K Gtd | $50 | $10,000 |
| June 26 | 20:00 | 84 | Summer Stacks 84: $100 NLHE [8-Max, Bigstack], $25K Gtd | $100 | $25,000 |
| June 26 | 20:00 | 85 | Summer Stacks 85: $25 NLHE [8-Max, Bigstack], $7K Gtd | $25 | $7,000 |
| June 26 | 20:30 | 86 | Summer Stacks 86: $30 NLHE [Summer Freeze], $4K Gtd | $30 | $4,000 |
| June 26 | 21:00 | 87 | Summer Stacks 87: $100 NLHE [4-Max], $17.5K Gtd | $100 | $17,500 |
| June 27 | 15:00 | 88 | Summer Stacks 88: $30 NLHE [Sunday Drive], $7.5K Gtd | $30 | $7,500 |
| June 27 | 17:00 | 89 | Summer Stacks 89: $5 NLHE [6-Max, Half Price Sunday Storm], $2.5K Gtd | $5 | $2,500 |
| June 27 | 18:00 | 90 | Summer Stacks 90: $100 NLHE [Main Event], $100K Gtd | $100 | $100,000 |
| June 27 | 18:00 | 91 | Summer Stacks 91: $30 NLHE [Main Event - Mid], $25K Gtd | $30 | $25,000 |
| June 27 | 18:00 | 92 | Summer Stacks 92: $10 NLHE [Main Event - Low], $7.5K Gtd | $10 | $7,500 |
| June 27 | 19:30 | 93 | Summer Stacks 93: $50 NLHE [8-Max, Nightly Summer Stack], $8K Gtd | $50 | $8,000 |
| June 27 | 20:30 | 94 | Summer Stacks 94: $15 NLHE [Summer Freeze], $2.5K Gtd | $15 | $2,500 |
| June 27 | 22:00 | 95 | Summer Stacks 95: $50 NLHE [6-Max, Hyper-Turbo, Bigstack], $6K Gtd | $50 | $6,000 |
| June 28 | 18:00 | 96 | Summer Stacks 96: $5 NLHE [6-Max, Mega Stack], $1.5K Gtd | $5 | $1,500 |
| June 28 | 19:00 | 97 | Summer Stacks 97: $100 NLHE [Summer Stars], $25K Gtd | $100 | $25,000 |
| June 28 | 19:30 | 98 | Summer Stacks 98: $50 NLHE [8-Max, Nightly Summer Stack], $10K Gtd | $50 | $10,000 |
| June 28 | 20:00 | 99 | Summer Stacks 99: $30 NLHE [4-Max, Shootout], $7K Gtd | $30 | $7,000 |
| June 28 | 20:30 | 100 | Summer Stacks 100: $10 NLHE [Summer Freezeout - Last Call], $1.5K Gtd | $10 | $1,500 |
PokerStars New Jersey Summer Stacks Schedule
| Date | Time | Event # | Event | Buy-In | Guarantee |
| --- | --- | --- | --- | --- | --- |
| June 12 | 18:00 | 1 | Summer Stacks 01: $20 NLHE [Summer Stacks Warm Up: Stars-B-Que], $3.5K Gtd | $20 | $3,500 |
| June 12 | 19:00 | 2 | Summer Stacks 02: $100 NLHE [Summer Stacks Kick Off], $12K Gtd | $100 | $12,000 |
| June 12 | 19:00 | 3 | Summer Stacks 03: $30 NLHE [Mini Summer Stacks Kick Off], $6K Gtd | $30 | $6,000 |
| June 12 | 19:00 | 4 | Summer Stacks 04: $5 NLHE [6-Max], $1K Gtd | $5 | $1,000 |
| June 12 | 19:30 | 5 | Summer Stacks 05: $50 NLHE [8-Max, Nightly Summer Stack], $6.5K Gtd | $50 | $6,500 |
| June 12 | 20:30 | 6 | Summer Stacks 06: $20 PLO8 [6-Max], $1.5K Gtd | $20 | $1,500 |
| June 12 | 22:00 | 7 | Summer Stacks 07: $30 NLHE [8-Max, Turbo, Progressive KO], $3K Gtd | $30 | $3,000 |
| June 13 | 15:00 | 8 | Summer Stacks 08: $100 NLHE [Sunday Marathon], $6.5K Gtd | $100 | $6,500 |
| June 13 | 15:00 | 9 | Summer Stacks 09: $30 NLHE [Mini Sunday Marathon], $4.5K Gtd | $30 | $4,500 |
| June 13 | 17:00 | 10 | Summer Stacks 10: $10 NLHE [6-Max, Sunday Storm], $2.5K Gtd | $10 | $2,500 |
| June 13 | 18:00 | 11 | Summer Stacks 11: $100 NLHE [8-Max, Sunday Special - Summer Edition], $25K Gtd | $100 | $25,000 |
| June 13 | 18:00 | 12 | Summer Stacks 12: $25 NLHE [8-Max, Sunday Special - Mid], $6.5K Gtd | $25 | $6,500 |
| June 13 | 18:00 | 13 | Summer Stacks 13: $5 NLHE [8-Max, Sunday Special - Micro], $1.5K Gtd | $5 | $1,500 |
| June 13 | 19:30 | 14 | Summer Stacks 14: $50 NLHE [8-Max, Nightly Summer Stack], $4K Gtd | $50 | $4,000 |
| June 13 | 22:00 | 15 | Summer Stacks 15: $30 NLHE [6-Max, Hyper-Turbo, Progressive KO, Sunday Supersonic - Summer Edition], $2K Gtd | $30 | $2,000 |
| June 14 | 19:00 | 16 | Summer Stacks 16: $20 NLHE, $3.5K Gtd | $20 | $3,500 |
| June 14 | 19:30 | 17 | Summer Stacks 17: $50 NLHE [8-Max, Nightly Summer Stack], $5K Gtd | $50 | $5,000 |
| June 14 | 20:00 | 18 | Summer Stacks 18: $100 NLHE [6-Max, Progressive KO, Battle Royale], $9K Gtd | $100 | $9,000 |
| June 14 | 20:30 | 19 | Summer Stacks 19: $20 NLHE [6-Max, Progressive KO, Mini Battle Royale], $4K Gtd | $20 | $4,000 |
| June 14 | 21:30 | 20 | Summer Stacks 20: $10 NLHE [Turbo], $1K Gtd | $10 | $1,000 |
| June 15 | 19:00 | 21 | Summer Stacks 21: $5 NLHE, $2.5K Gtd | $5 | $2,500 |
| June 15 | 19:30 | 22 | Summer Stacks 22: $50 NLHE [8-Max, Nightly Summer Stack], $5K Gtd | $50 | $5,000 |
| June 15 | 20:00 | 23 | Summer Stacks 23: $100 NLHE [Super Tuesday - Summer Edition], $15K Gtd | $100 | $15,000 |
| June 15 | 20:30 | 24 | Summer Stacks 24: $20 NLHE [Mini Super Tuesday], $4K Gtd | $20 | $4,000 |
| June 15 | 21:00 | 25 | Summer Stacks 25: $30 NLHE [8-Max], $1K Gtd | $30 | $1,000 |
| June 16 | 19:00 | 26 | Summer Stacks 26: $20 NLHE, $2.5K Gtd | $20 | $2,500 |
| June 16 | 19:30 | 27 | Summer Stacks 27: $50 NLHE [8-Max, Nightly Summer Stack], $4.5K Gtd | $50 | $4,500 |
| June 16 | 20:00 | 28 | Summer Stacks 28: $100 NLHE [6-Max], $8K Gtd | $100 | $8,000 |
| June 16 | 20:30 | 29 | Summer Stacks 29: $20 NLHE [6-Max], $2.5K Gtd | $20 | $2,500 |
| June 16 | 21:30 | 30 | Summer Stacks 30: $30 NLHE [Turbo, Deepstack], $3K Gtd | $30 | $3,000 |
| June 17 | 19:00 | 31 | Summer Stacks 31: $5 NLHE, $1K Gtd | $5 | $1,000 |
| June 17 | 19:30 | 32 | Summer Stacks 32: $50 NLHE [8-Max, Nightly Summer Stack], $4.5K Gtd | $50 | $4,500 |
| June 17 | 20:00 | 33 | Summer Stacks 33: $100 NLHE [Progressive KO, Thursday Thrill - Summer Edition], $8K Gtd | $100 | $8,000 |
| June 17 | 20:30 | 34 | Summer Stacks 34: $20 NLHE [Progressive KO, Mini Thursday Thrill], $3.5K Gtd | $20 | $3,500 |
| June 17 | 21:30 | 35 | Summer Stacks 35: $30 NLHE [Heads-Up, Turbo, Progressive Total KO, Heads Up Zoom], $4K Gtd | $30 | $4,000 |
| June 18 | 19:00 | 36 | Summer Stacks 36: $100 NLHE [8-Max, Nightly Stars], $8K Gtd | $100 | $8,000 |
| June 18 | 19:00 | 37 | Summer Stacks 37: $25 NLHE [Mini Nightly Stars], $3.5K Gtd | $25 | $3,500 |
| June 18 | 19:30 | 38 | Summer Stacks 38: $50 NLHE [8-Max, Nightly Summer Stack], $4K Gtd | $50 | $4,000 |
| June 18 | 20:30 | 39 | Summer Stacks 39: $20 NLHE [4-Max, Progressive KO], $1.5K Gtd | $20 | $1,500 |
| June 18 | 21:00 | 40 | Summer Stacks 40: $5 NLHE [Turbo], $0.5K Gtd | $5 | $500 |
| June 19 | 16:00 | 41 | Summer Stacks 41: $10 NLHE [Progressive KO, Saturday Warm Up], $2K Gtd | $10 | $2,000 |
| June 19 | 18:00 | 42 | Summer Stacks 42: $20 NLHE, $2.5K Gtd | $20 | $2,500 |
| June 19 | 19:30 | 43 | Summer Stacks 43: $50 NLHE [8-Max, Nightly Summer Stack], $5K Gtd | $50 | $5,000 |
| June 19 | 20:00 | 44 | Summer Stacks 44: $100 NLHE [8-Max, Progressive KO], $12.5K Gtd | $100 | $12,500 |
| June 19 | 20:30 | 45 | Summer Stacks 45: $30 NLHE [8-Max, Progressive KO], $6.5K Gtd | $30 | $6,500 |
| June 19 | 20:30 | 46 | Summer Stacks 46: $10 NLHE [8-Max, Progressive KO], $2K Gtd | $10 | $2,000 |
| June 19 | 21:30 | 47 | Summer Stacks 47: $10 PLO [6-Max, Turbo], $0.5K Gtd | $10 | $500 |
| June 20 | 14:00 | 48 | Summer Stacks 48: $50 NLHE [Sunday Drive], $3.5K Gtd | $50 | $3,500 |
| June 20 | 14:00 | 49 | Summer Stacks 49: $10 NLHE, $1.5K Gtd | $10 | $1,500 |
| June 20 | 16:00 | 50 | Summer Stacks 50: $50 NLHE [Sunday Warm Up - Sunday Edition], $5K Gtd | $50 | $5,000 |
| June 20 | 18:00 | 51 | Summer Stacks 51: $100 NLHE [8-Max, Sunday Special - Summer Edition], $25K Gtd | $100 | $25,000 |
| June 20 | 18:00 | 52 | Summer Stacks 52: $30 NLHE [8-Max, Sunday Special - Mid], $7.5K Gtd | $30 | $7,500 |
| June 20 | 18:00 | 53 | Summer Stacks 53: $10 NLHE [8-Max, Sunday Special - Low], $3K Gtd | $10 | $3,000 |
| June 20 | 19:30 | 54 | Summer Stacks 54: $50 NLHE [8-Max, Nightly Summer Stack], $4K Gtd | $50 | $4,000 |
| June 20 | 22:00 | 55 | Summer Stacks 55: $20 NLHE [6-Max, Hyper-Turbo, Progressive KO, Sunday Supersonic - Summer Edition], $1.5K Gtd | $20 | $1,500 |
| June 21 | 19:00 | 56 | Summer Stacks 56: $20 NLHE [Progressive KO], $3K Gtd | $20 | $3,000 |
| June 21 | 19:30 | 57 | Summer Stacks 57: $50 NLHE [8-Max, Nightly Summer Stack], $4.5K Gtd | $50 | $4,500 |
| June 21 | 20:00 | 58 | Summer Stacks 58: $100 NLHE [6-Max, Progressive KO, Battle Royale], $7.5K Gtd | $100 | $7,500 |
| June 21 | 20:30 | 59 | Summer Stacks 59: $30 NLHE [6-Max, Progressive KO, Mini Battle Royale], $4.5K Gtd | $30 | $4,500 |
| June 21 | 21:30 | 60 | Summer Stacks 60: $10 NLHE [6-Max, Turbo, Progressive KO, Battle Royale, Late Night Edition], $0.5K Gtd | $10 | $500 |
| June 22 | 19:00 | 61 | Summer Stacks 61: $20 NLHE [6-Max, Progressive KO], $2.5K Gtd | $20 | $2,500 |
| June 22 | 19:30 | 62 | Summer Stacks 62: $50 NLHE [8-Max, Nightly Summer Stack], $5K Gtd | $50 | $5,000 |
| June 22 | 20:00 | 63 | Summer Stacks 63: $100 NLHE [Super Tuesday - Summer Edition], $12.5K Gtd | $100 | $12,500 |
| June 22 | 20:30 | 64 | Summer Stacks 64: $30 NLHE [Mini Super Tuesday], $7K Gtd | $30 | $7,000 |
| June 22 | 21:30 | 65 | Summer Stacks 65: $10 NLHE [Turbo, Super Tuesday, Late Night Edition], $1.5K Gtd | $10 | $1,500 |
| June 23 | 19:00 | 66 | Summer Stacks 66: $20 NLHE, $2.5K Gtd | $20 | $2,500 |
| June 23 | 19:30 | 67 | Summer Stacks 67: $50 NLHE [8-Max, Nightly Summer Stack], $4.5K Gtd | $50 | $4,500 |
| June 23 | 20:00 | 68 | Summer Stacks 68: $100 NLHE [6-Max], $8K Gtd | $100 | $8,000 |
| June 23 | 20:30 | 69 | Summer Stacks 69: $30 NLHE [6-Max], $2.5K Gtd | $30 | $2,500 |
| June 23 | 20:30 | 70 | Summer Stacks 70: $5 NLHE [6-Max], $1K Gtd | $5 | $1,000 |
| June 24 | 19:00 | 71 | Summer Stacks 71: $20 NLHE, $2.5K Gtd | $20 | $2,500 |
| June 24 | 19:30 | 72 | Summer Stacks 72: $50 NLHE [8-Max, Nightly Summer Stack], $4.5K Gtd | $50 | $4,500 |
| June 24 | 20:00 | 73 | Summer Stacks 73: $100 NLHE [Progressive KO, Thursday Thrill - Summer Edition], $7.5K Gtd | $100 | $7,500 |
| June 24 | 20:30 | 74 | Summer Stacks 74: $30 NLHE [Progressive KO, Mini Thursday Thrill], $4.5K Gtd | $30 | $4,500 |
| June 24 | 21:00 | 75 | Summer Stacks 75: $10 NLHE [6-Max, Progressive KO], $1.5K Gtd | $10 | $1,500 |
| June 25 | 19:00 | 76 | Summer Stacks 76: $20 NLHE, $2K Gtd | $20 | $2,000 |
| June 25 | 19:30 | 77 | Summer Stacks 77: $50 NLHE [8-Max, Nightly Summer Stack], $4K Gtd | $50 | $4,000 |
| June 25 | 20:00 | 78 | Summer Stacks 78: $100 NLHE [4-Max], $7.5K Gtd | $100 | $7,500 |
| June 25 | 20:30 | 79 | Summer Stacks 79: $30 NLHE [4-Max], $5K Gtd | $30 | $5,000 |
| June 25 | 21:30 | 80 | Summer Stacks 80: $10 NLHE [6-Max, Turbo, Win The Button], $1.5K Gtd | $10 | $1,500 |
| June 26 | 18:00 | 81 | Summer Stacks 81: $30 HORSE, $1K Gtd | $30 | $1,000 |
| June 26 | 19:00 | 82 | Summer Stacks 82: $20 NLHE [Progressive KO, The Big $20 - Bounty Builder Edition], $2.5K Gtd | $20 | $2,500 |
| June 26 | 19:30 | 83 | Summer Stacks 83: $50 NLHE [8-Max, Nightly Summer Stack], $5K Gtd | $50 | $5,000 |
| June 26 | 20:00 | 84 | Summer Stacks 84: $50 NLHE [8-Max], $3.5K Gtd | $50 | $3,500 |
| June 26 | 20:30 | 85 | Summer Stacks 85: $100 NLHE [8-Max, Bigstack], $12.5K Gtd | $100 | $12,500 |
| June 26 | 21:00 | 86 | Summer Stacks 86: $30 NLHE [6-Max, Bigstack], $6.5K Gtd | $30 | $6,500 |
| June 26 | 22:00 | 87 | Summer Stacks 87: $75 NLHE [Heads-Up, Turbo, Progressive Total KO, Heads Up Zoom], $8K Gtd | $75 | $8,000 |
| June 27 | 15:00 | 88 | Summer Stacks 88: $100 NLHE [Afternoon Bigstack], $8K Gtd | $100 | $8,000 |
| June 27 | 15:00 | 89 | Summer Stacks 89: $30 NLHE [Mini Afternoon Bigstack], $4.5K Gtd | $30 | $4,500 |
| June 27 | 18:00 | 90 | Summer Stacks 90: $100 NLHE [8-Max, Main Event], $50K Gtd | $100 | $50,000 |
| June 27 | 18:00 | 91 | Summer Stacks 91: $30 NLHE [8-Max, Main Event - Mid], $8.5K Gtd | $30 | $8,500 |
| June 27 | 18:00 | 92 | Summer Stacks 92: $10 NLHE [8-Max, Main Event - Low], $3K Gtd | $10 | $3,000 |
| June 27 | 19:30 | 93 | Summer Stacks 93: $50 NLHE [8-Max, Nightly Summer Stack], $4K Gtd | $50 | $4,000 |
| June 27 | 20:30 | 94 | Summer Stacks 94: $30 PLO [8-Max], $2K Gtd | $30 | $2,000 |
| June 27 | 21:30 | 95 | Summer Stacks 95: $75 NLHE [8-Max, Turbo, Last Chance], $5K Gtd | $75 | $5,000 |
| June 28 | 19:00 | 96 | Summer Stacks 96: $10 NLHE [8-Max, Dual Threat], $1.5K Gtd | $10 | $1,500 |
| June 28 | 19:00 | 97 | Summer Stacks 97: $10 NLHE [8-Max, Progressive KO, Dual Threat], $1.5K Gtd | $10 | $1,500 |
| June 28 | 19:00 | 98 | Summer Stacks 98: $100 NLHE [Summer Stars], $10K Gtd | $100 | $10,000 |
| June 28 | 19:30 | 99 | Summer Stacks 99: $50 NLHE [8-Max, Nightly Summer Stack], $5K Gtd | $50 | $5,000 |
| June 28 | 20:00 | 100 | Summer Stacks 100: $5 NLHE [6-Max, Turbo, Last Call], $1.5K Gtd | $5 | $1,500 |
Flutter PLC is a majority shareholder in PokerNews