Introducing FIVE New Members of the 888poker StreamTeam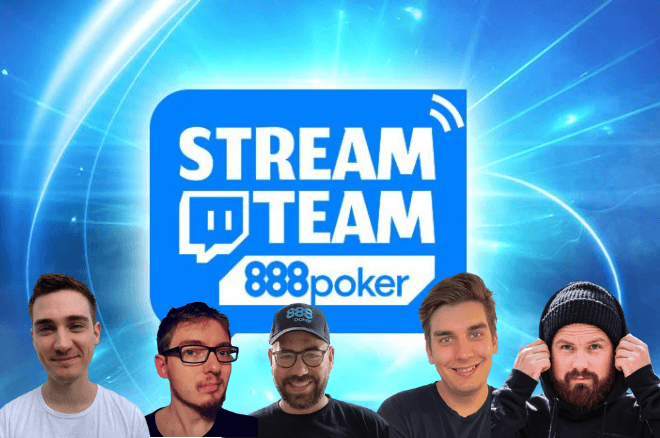 Get ready for hundreds of hours more streaming content over on the 888pokerTV Twitch channel, as 888poker launch their very own StreamTeam.
The team consists of five poker streamers who will stream on both the 888pokerTV and StreamTeam channels. 888poker say that they are planning special activities, giveaways, freerolls and much more to celebrate the launch.
Get to Know the 888poker StreamTeam
Here are the five StreamTeam members. Click on their names to find out more!
Nick "eastyyy22" Eastwood
Eastwood discovered poker while at university, and started out by playing sit and go's and MTTs. He eventually moved on and now plays 6-max cash games.
Since he first started playing 12 years ago, Eastwood has started making poker content. His YouTube channel focuses on providing free learning content for cash game players.
"I'm thrilled to have joined 888poker's StreamTeam!" said Eastwood. "I feel really optimistic about undertaking this journey with 888poker, and I can't wait to get going!
"I'm finally able to focus all my energy into all things poker and my content. I'm really excited to continue growing my channel with 888poker and, hopefully, I'll see some of you on stream soon!"
Twitch Channel: twitch.tv/eastyyy22
---
Read More: Freeroll Splash Party Gets Underway on 888poker
---
Ricardo "Mat3usPT" Mateus
"I think that together we will be able to do fantastic things"
Hailing from Portugal, Mateus made the switch from recreational player to poker streamer in 2018 by setting up his own Twitch channel.
Since then he's grown a small community from his streams, and has begun taking more time away from streaming to study and improve his game.
"I am extremely flattered and excited to represent a brand like 888poker. I think that together we will be able to do fantastic things and raise the game of poker in Portugal in a fun and responsible way."
Twitch Channel: twitch.tv/mat3uspt
David "New_Dave" Gibson
The youngest member of the 888poker StreamTeam, Gibson built up his bankroll playing micro stakes and hopes to inspire a new generation of poker players by playing on his Twitch channel. He first started playing poker in 2017, and is still working to improve his game and see how far poker can take him.
"I'm very excited to try and build up the 888poker StreamTeam on Twitch!" said Gibson. "I feel that the more different sites getting involved is great for not only Twitch but poker in general. I look forward to helping 888poker move forward and create exciting opportunities for poker players."
Twitch Channel: twitch.tv/new_dave
Josh "JoshManleyPoker" Manley
Manley has been playing poker since he was 18 years old, graduating from play money into real money cash games and tournaments.
He started out playing freerolls and built up his bankroll. Over the past ten years, he's improved his poker skills and is now making regular deep runs in the micro stakes for his viewers on Twitch.
"I am very happy to be joining 888poker to team up with one of the best sites out there is a dream come true for me. I am hoping to continue climbing stakes and having a great time on stream!"
Twitch Channel: twitch.tv/joshmanleypoker
888poker Ambassador Vivian Saliba's New Passion for Poker Streaming
Adam "Eklo" Tocholke
Known as "Eklo", Tocholke is the only 888poker StreamTeam member based outside of Europe. Located in Ontario, Canada, Tocholke is a successful music producer with over 50 million streams on Spotify.
However, his passion for content creation led him to Twitch in 2018 where he has been building up an online community and streaming online poker.
"I love that my favourite poker room is getting more and more into the live streaming space," said Tocholke. "Poker is so fun to watch live, and Twitch is the perfect platform to harbour that relationship between the player and the community."
Twitch Channel: twitch.tv/iameklo
---
Take Part in the 888poker Freeroll Splash Party
Get involved with the new 888poker StreamTeam and discover more about the Freeroll Splash Party running from now until September.
Don't have an 888poker account? Don't worry! It's super simple to sign up and take advantage of literally hundreds of freerolls, including the $500,000 guaranteed Kings Kamikaze Freeroll in September.
Click here to sign up for an 888poker account through PokerNews and receive special deposit bonuses and rewards!
Will Shillibier is based in the United Kingdom. He graduated from the University of Kent in 2017 with a B.A. in German, and then studied for a NCTJ Diploma in Sports Journalism at Sportsbeat in Manchester. He previously worked as a freelance live reporter, and video presenter for the World Poker Tour.