888poker Ambassador Vivian Saliba's Passion for Poker Streaming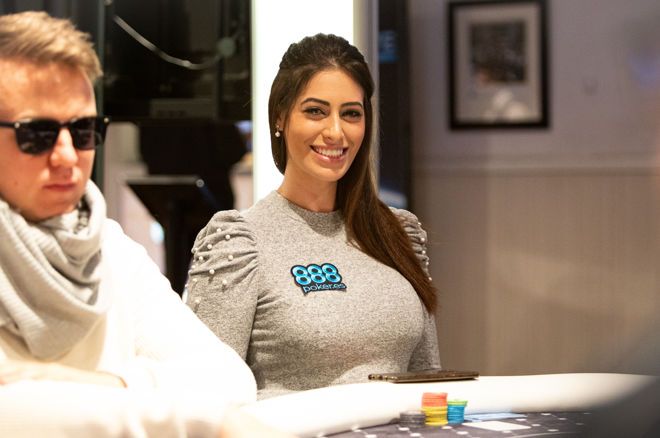 The last year has seen people take up new hobbies including running, baking or crochet. But 888poker Ambassador Vivian Saliba has used the time away from the live poker felt to embark on a new journey - streaming on Twitch.
With the new 888poker software and a revamped tournament schedule, Saliba is using her new base in Austria to stream her poker play live on Twitch - alongside her dog Napoleon.
Head to the NEW 888poker Hub
Want to stay up-to-date on all the latest 888poker news right here on PokerNews? Why not try out the new 888poker Hub!
Setting Up Base in Austria
In an exclusive video interview with PokerNews' Sarah Herring, Saliba explained how after searching for a place to call home in Europe, she settled on Austria where she now lives with her boyfriend.
"I had been living out of a suitcase for 2-3 years," explained Saliba. "My boyfriend is European, and I hold dual Italian/Brazilian citizenship, so moving to the EU made a lot of sense. Plus a lot of the 888Live stops are in Europe."
Having moved to Austria at the start of the coronavirus pandemic, Saliba admits she hasn't got the "proper Austrian experience" yet, but can't wait until the pandemic is over to enjoy it.
---
Related: "Bigger Fields and Better Value" in New 888poker Tournament Schedule says Moorman
---
From Live to Online Poker
In the meantime, the pandemic hasn't stopped Saliba from being able to enjoy her poker still. Having learned to play in Brazil, Saliba says that she didn't use to study that much. That was because the level of poker was, in her words, "horrible".
"Poker was so new, and the level of play was horrible – including myself! You could make a good amount of money playing pretty badly. But after I started to travel and play around the world, I realized I needed to brush up on a few things."
And now with online poker enjoying its time in the spotlight, Saliba has started to study more and more.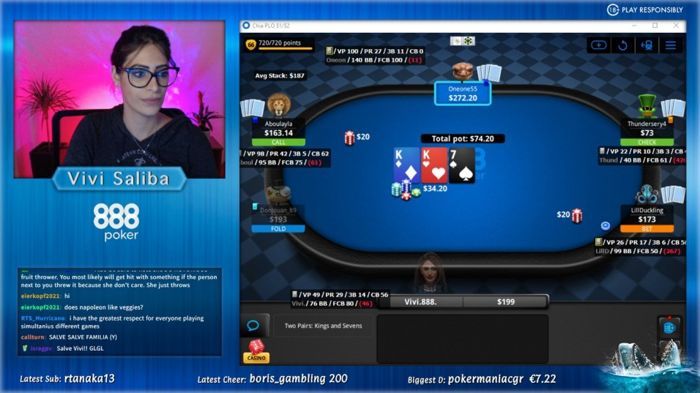 Saliba Starts to Stream
Saliba explains that this journey of study, in order to become a better online poker player, ignited a fire within her.
"I really wanted to improve and beat the online games. I know that once I play live again, things will be easier than they used to be. It's brought me a new passion."
Missing the social connection that so many players enjoy about poker, Saliba started to stream on Twitch.
"It's way more challenging than I thought it would be," said Saliba. "There are so many things to manage; it's not just play poker and have a camera! You have to interact with people, control the stream and play the whole time. And I'm not so good at multitasking!
"There are so many things to manage; it's not just play poker and have a camera!"
"I've lost track of the times I've timed out of tables because I've been trying to focus on so many things, but I've improved so much since I started. For sure I have a lot more things to improve on."
The community that she has created is already a strong one, bringing her love and support every time she streams. Saliba says that there are people there every day, just to chat, share their experiences and discuss strategies.
888poker New Tournament Schedule
Whilst also streaming popular games like Tetris and Geoguesr, Saliba's main focus is always on poker, especially Omaha cash games and MTTs. And with 888poker's rebranded tournament schedule, she says she's looking forward to diving into the client.
"It's super exciting. The new schedule, along with the new software and mobile app that came out a couple of months ago. Everyone thinks it's so easy to come out with a new product with everything figured out, but it's not. It's a lot of work, and it was a huge improvement.
"I'm super excited for the new tournament schedules! We have some higher buy-in events and better structures. I took a look at the schedules and they look amazing."
---
How to Download the 888poker Mobile App
The 888poker mobile app is available for free download on iPhone and Android devices. Follow the links below to get yours.
If you don't have an 888poker account you are eligible to a free bonus as soon as you register an account to play.
888Poker bonuses vary depending on your location and range from a free $88 bonus to a £20 UK poker bonus with no deposit needed.
Will Shillibier is based in the United Kingdom. He started working for PokerNews as a freelance live reporter in 2015 and joined the full-time staff in 2019. He graduated from the University of Kent in 2017 with a B.A. in German. He also holds an NCTJ Diploma in Sports Journalism.