Segebrecht leads Race For Super MILLION$ $267K Top Prize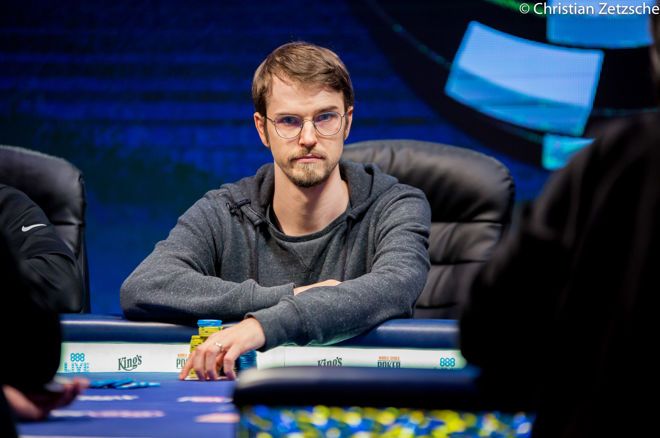 The latest GGPoker Super MILLION$ attracted 123 players, and only nine of those starters have chips in front of them right now. Those nine finalists have locked up $36,982 for their $10,300 buy-in, but one of them will walk away with an impressive $267,285 and the title of champion.
Super MILLION$ Season 2 Episode 5 Final Table
| Place | Player | Country | Chips | Big Blinds |
| --- | --- | --- | --- | --- |
| 1 | Claas Segebrecht | Austria | 2,541,935 | 84.7 |
| 2 | meow41 | Canada | 2,226,692 | 74.2 |
| 3 | Joakim Andersson | Malta | 2,213,345 | 73.8 |
| 4 | Ramiro Petrone | Uruguay | 1,544,865 | 51.5 |
| 5 | Simon Matsson | Norway | 1,235,798 | 41.2 |
| 6 | Chris Puetz | Austria | 964,684 | 32.2 |
| 7 | Bruno Volkmann | Brazil | 883,203 | 29.4 |
| 8 | Sergio Aido | Macau | 500,778 | 16.7 |
| 9 | Yuri Dzivielevski | Brazil | 188,700 | 6.3 |
Claas Segebrecht returns to the Super MILLION$ action today armed with a tournament-leading 2,541,935 stack and with a great chance of padding his bankroll with more than a quarter of a million dollars. The Austrian is in great shape, with 84.7 big blinds at the restart, after winning his seat in this tournament via a $1,000 satellite.
This is only the third time Segebrecht has cashed in the Super MILLION$ and the first time he has sat down at its final table. Finishing sixth or better doubles his lifetime Super MILLION$ winnings.
Canada's "meow41" is another finalist guaranteed a massive ROI after securing their $10,300 seat via a $1,000 satellite tournament. This is the first time meow41 has played in a Super MILLION$ event, and they find themselves second in chips at a final table. No wonder they look like the cat that has got the cream!
Watch This Star-Studded Final Table Unfold
Who will win this week's Super MILLION$? Watch the final table action here!
Season 1's Super MILLION$ MVP, Joakim Andersson, has reached this final table, the ninth time he has been present and correct at the business end of this massive tournament. Andersson has triumphed in the Super MILLION$ on two previous occasions, impressive results that helped him accumulate $3,837,770 in Super MILLION$ earnings during Season 1 alone! He returns third in chips but is probably the favorite going into this final table.
At least 11 GGPoker players will cheer on Ramiro Petrone when he takes his seat at the final table. Petrone sold 30% of his action at 1.05 markup to 11 investors via the in-built staking software. The Uruguayan is recording his first cash of Season 2 tonight. His previous final table appearances have both ended in third-place finishes. Will it be a case of third time's a charm for Petrone?
Simon Mattsson won the Super MILLION$ on July 4 and banked a cool $302,054. Now he has another shot at glory in online poker's biggest weekly tournament. Mattsson returns to the fray with 1,235,798 chips or 41.2 big blinds in old money.
Austria's Chris Puetz has been in a similar position to this before. Puetz has two prior Super MILLION$ final tables to his name, a seventh-place finish in March 2021 and a sixth-place exit in June. The latter was when the tournament was part of the High Rollers Week, so it came with a $266,187 payout. He needs to finish in first place on July 27 to beat that impressive sum.
GGPoker Announces Full 33-Bracelet WSOP Online 2021 Schedule
Down in seventh place, albeit with 29.4 big blinds at his disposal, is Brazilian superstar Bruno Volkmann. Volkmann has eon more than $4.9 million at GGPoker, with almost $2.2 million of that haul stemming from Super MILLION$ cashes. His pair of outright victories saw more than $880,000 added to his bankroll. He has his work cut out if he wants to complete a hattrick, but Volkmann is the man to turn things around if anyone is.
Sergio Aido is another man who will be cheered on by some railbirds when the final table commences at 6:00 p.m. BST on July 27. This is because he sold 25% of his action to seven stakers at 1.05 markup. Aido does not play many Super MILLION$ tournaments, which is one of the reasons this is his first-ever final table appearance. He sits down in eighth place with 13.8 big blinds in his arsenal.
Former Super MILLION$ champion Yuri Dzivielevski is the man bringing up the real when play resumes this evening. The March 23rd champion limped into the final table with 327,304 chips or 13.1 big blinds. Players have come back from this challenging position and gone on to bank six-figure sums. Will Dzivielevsky be one of those players we talk about for seasons to come?