Haralabos Voulgaris, Dallas Mavericks Part Ways; Luka Doncic at Fault?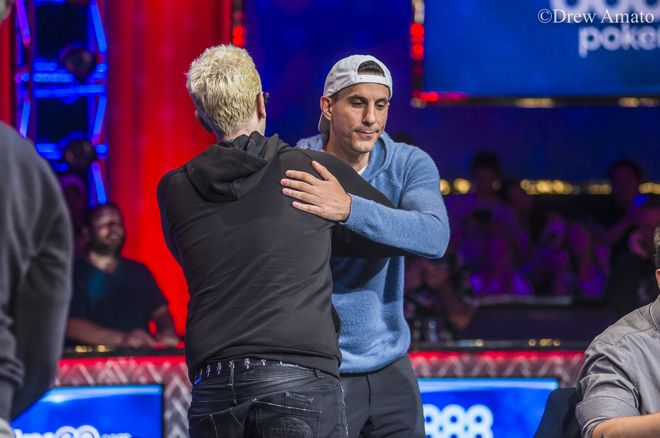 Table Of Contents
Earlier this year, Dallas Mavericks young superstar Luka Doncic and former poker pro Haralabos Voulgaris, who served as the team's director of quantitative research and development since 2018, were reportedly at odds.
On Thursday, "Haralabob" announced on Twitter he's no longer with the organization.
Grateful for the experience, learned a lot, and got the chance to work with some great people.

— Haralabos Voulgaris (@haralabob)
Whether Doncic had anything to do with the decision is unknown. Voulgaris hasn't commented further publicly, and billionaire team owner Mark Cuban hasn't either. But rumors spread over the summer that Voulgaris would soon be out due to the Doncic rift.
Doncic Played a Role?
According to The Athletic in June, the poker player served as sort of a "shadow GM," meaning he supposedly privately had a strong influence over the Mavericks decision making in terms of personnel. Doncic, reportedly, disapproved of "Haralabob's" role within the organization.
There are certain players in the NBA who more or less are untouchable, and thus, can snap a finger and force the organization to can non-player personnel. That includes superstars such as LeBron James, Kevin Durant, and Luka Doncic, who is one of the greatest under 25 basketball players in history, having averaged 25.7 points and 8.4 rebounds per game over three seasons before turning 23.
As mentioned, we aren't certain Doncic impacted Voulgaris' decision to step away from the organization, but many mainstream sports media outlets have speculated that played a role. Sports Illustrated writes: "The Mavs clearly wish to play nice here, but it's also clear that new general manager Nico Harrison realized quickly the controversy resulting from Voulgaris' presence."
Harrison was hired earlier this year to replace fired GM Donnie Nelson. Often times, an incoming GM prefers to shake up a staff and start anew. But Voulgaris claims he asked to be released from his contract and was denied by the organization, and instead let his contract expire.
More than a Basketball Exec
Voulgaris has over $3 million in live poker tournament cashes, but none since 2017 when he finished fourth in the $111,111 WSOP High Roller for One Drop for a career-best $1,158,883.
These days, especially now that the Mavericks gig is finished, he's more focused on cryptocurrency than poker. He's often active on social media giving his two cents on the latest crypto trends.
Prior to his poker and crypto days, Voulgaris was known as one of the top NBA bettors in the world. By the time he hit age 25, he was already placing $1 million bets on games. The former poker pro has a knack for exploiting game-management tendencies in certain coaches, which helped him acquire wealth through sports betting, and eventually land a gig in an NBA front office.