Use These 7 Patrik Antonius Poker Tips To Become a Pro
With over $12 million in live tournament earnings, a European Poker Tour title and the top spot in the Finnish all-time money list, Patrik Antonius may be one of the most recognizable European poker players in recent memory.
And earlier this year, he proved he still has what it takes after narrowly missing out to Phil Ivey in the WPT HU Poker Championship.
Now a new documentary released by Pokerisivut on YouTube goes in-depth into how Antonius rose through the ranks to become one of the biggest names in poker. Be sure to watch the video here, with English subtitles available by clicking the 'CC' icon at the bottom of the video.
The video itself is fascinating, with several interesting topics of conversation. In addition to this, Antonius has plenty of advice and guidance for how someone would look to follow in his footsteps and make it to the very highest stakes like he has.
Start Out Small
Every poker player dreams of running up their bankroll playing micro stakes poker, but that's exactly what Antonius did.
"I originally started playing poker for pennies with some friends when I was 10 or 11 years old," he said, explaining how they would play Five Card Stud and other similar variants.
"On a really good day I might have won five Finnish marks or something like that. That's how it all got started."
From there, Antonius moved to games with his fellow tennis players, gradually moving up the stakes until he had money to deposit online.
Pick the Right Games
Did you know that Juha Helppi helped Antonius with his first-ever online deposit? And that Antonius successfully turned that €200 into over €30,000 in just two months?
All of this came playing $1/$2 Pot-Limit Omaha, with Antonius playing aggressively and running over the table. Back then, high stakes online games didn't exist yet but Antonius still wanted to test himself.
"I stared at the cash game lobbies wondering how such huge games could even exist!"
"The biggest game online was $30/$60 fixed limit hold'em. I didn't understand anything about the game [...] but I started grinding it and managed to improve quickly.
"Suddenly I was grinding almost solely fixed limit hold'em against some of the top guys in the world."
Success naturally followed, with Antonius then moving on to no-limit hold'em, playing stakes of $50/$100 and $100/$200 online.
"I stared at the cash game lobbies wondering how such huge games could even exist!" said Antonius, who said he had no problem sometimes taking shots in $200/$400 games. "If I lost, I had no problem moving down in stakes. Playing against opponents who are better than you is how you really improve. "
---
Read More: Patrik Antonius Loses $500,000 Playing $6K/$12K Omaha Hi-Lo in Bellagio's Bobby's Room
---
Be Around the Best
Antonius spoke openly about the relationship he had with his countrymen back when he was starting out including Juha Helppi, Aki Pyysing, Jani Vilmunen and Jani Soimtula
"These guys and a few others were the core group I did my first poker trips with. It was really competitive between Finns," said Antonius, admitting that not everyone was rooting for each other's success.
"All in all, I have so many great memories from those trips."
Discover the First Land of Poker App
Don't Have an Ego
Antonius says that it's important to be aware of your own strengths, but to always be honest with yourself.
"It's absolutely key to know yourself and to be aware of your strengths and weaknesses." he said.
"Having an ego is something that's really bad for you, and a lot of money is lost at the tables when people think too much of themselves.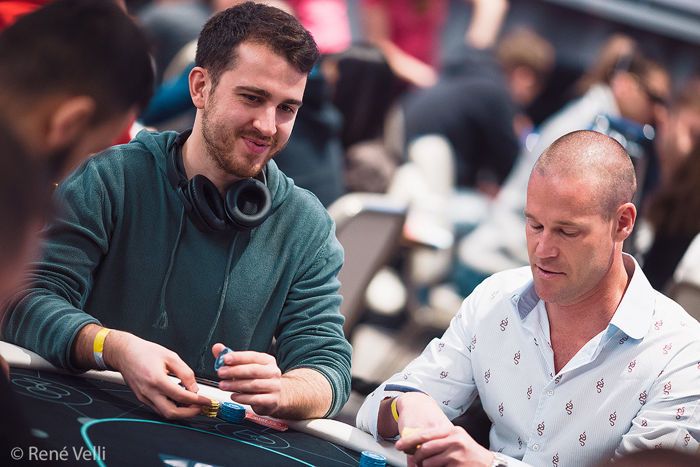 River Decisions Are Crucial
According to Antonius, poker is all about making the right decisions, but especially on the river.
"Calls, bluffs and using the right bet sizings on the turn is important, but especially on the river."
Whether the decision on the river is to fold, call or bet for value, Antonius says that he's always been good at making "all kinds of river decisions," a skill that has helped him get where he is today.
---
Read More: Patrik Antonius Discusses Surgery Recovery and Staying Fit
---
Don't Be a Slave to GTO
"GTO is really important, but it can also make your game go off the rails"
Back in 2017, Antonius told PokerNews that poker wasn't fun anymore due to the largely robotic way players were approaching High Roller tournaments.
In this latest video he says that he never bases any poker decision purely on math alone.
"As long as I'm close to the mathematically correct decision, that's good enough for me," he says. "GTO is really important, but it can also make your game go off the rails."
Always Observe Opponents
With many players at the live tables these days burying their heads in their mobile phones, Antonius says they sometimes miss out on valuable information from their opponents and end up making bad decisions against players who they don't know at all.
Antonius recommends observing opponents in the hand to gain as much information from them as possible. He aims to draw a basic general conclusion based on their dressing style and what type of things they're talking about at the table, all of which could potentially help him if they come up against one another in a hand.
Will Shillibier is based in the United Kingdom. He started working for PokerNews as a freelance live reporter in 2015 and joined the full-time staff in 2019. He graduated from the University of Kent in 2017 with a B.A. in German. He also holds an NCTJ Diploma in Sports Journalism.