Hands of the Week: Straight Flush Over Straight Flush at MSPT Sycuan Casino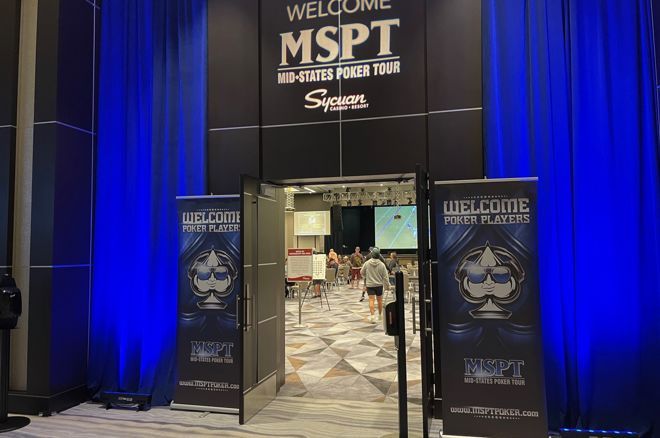 PokerNews is known throughout the world for our industry-leading live updates for both live and online events. In fact, right now we're offering various updates right here.
Over the years, we've captured memorable hands, many of which have become a part of poker history. In this column, we will bring you some of the biggest hands of the week as reported in the PokerNews Live Updates. Last week, the Mid-States Poker Tour (MSPT) was at Sycuan Casino in San Diego. It was there that Gianluca Pace topped a 460-entry field to win the title and $74,562 top prize. Below are five of the biggest and most interesting hands captured by the PokerNews Team.
Remember, if you're playing an event PokerNews is covering, you can get in the updates via the MyStack App. You can download the app for iPhone or Android now to get started. Then, create a new PokerNews account or update your current one to start updating your status immediately. Your followers can see all the live action that you're involved in.
Click here to download the My Stack app for iPhone, or click here to download the My Stack app for Android.
Huynh Doubles Through Fortuno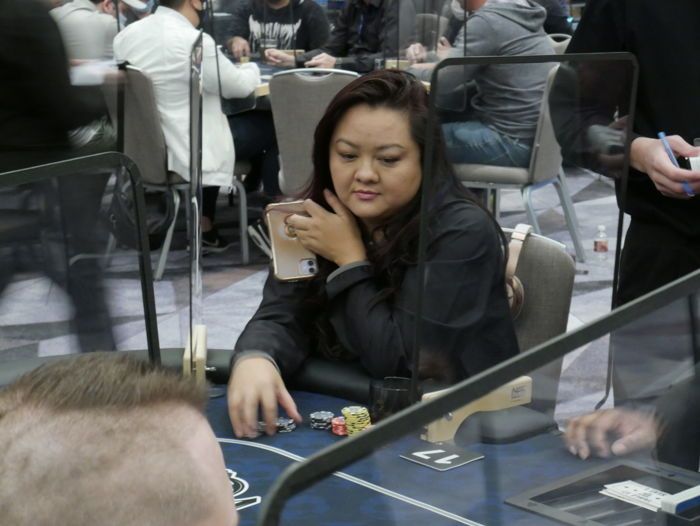 On Day 1a of the tournament it was Level 6 (300/600/600) when Dantram Huynh limped in from middle position Jason Hickey raised from the cutoff to 1,700. Robert Fortuno called from the next seat over while Matt Paten came along from the button and Huynh called.
The flop was 9♥2♥6♣ and Huynh bet 6,000. Hickey folded and Fortuno shoved with Huynh covered. Fortuno got out of the way and Huynh put the rest of her 22,000 chips in the middle.
Dantram Huynh: A♦9♦
Robert Fortuno: 8♥7♥
The turn was 7♦ and the river J♣ brought no help for Fortuno and Huynh secured the big pot with a pair of nines.
Nguyen Cracks Purpero's Aces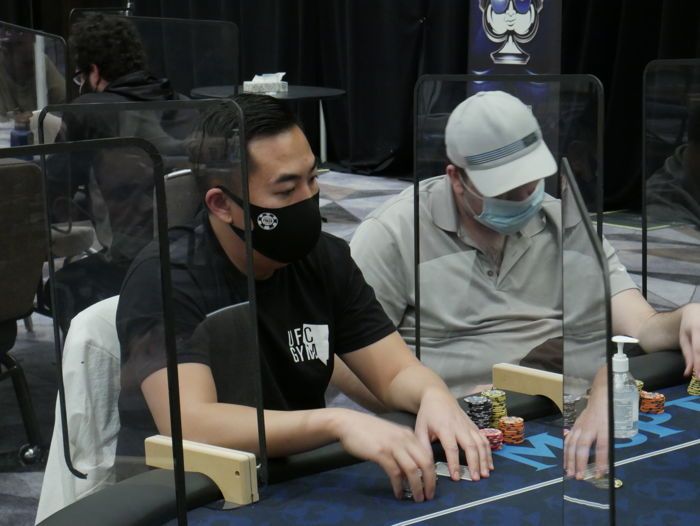 On Day 1a in Level 7 (400/800/800), Tai Purpero raised to 2,000 from the cutoff and Luke Nguyen three-bet to 10,000 from the button. Action folded around and Purpero shoved his last 18,700. Nguyen called.
Tai Purpero: A♣A♠
Luke Nguyen: 9♣9♠
The board ran out 8♦K♠6♥9♦2♥ and Nguyen made a set of nines on the turn to send Purpero to the rail on Day 1a.
Easy Come, Easy Go for Hammers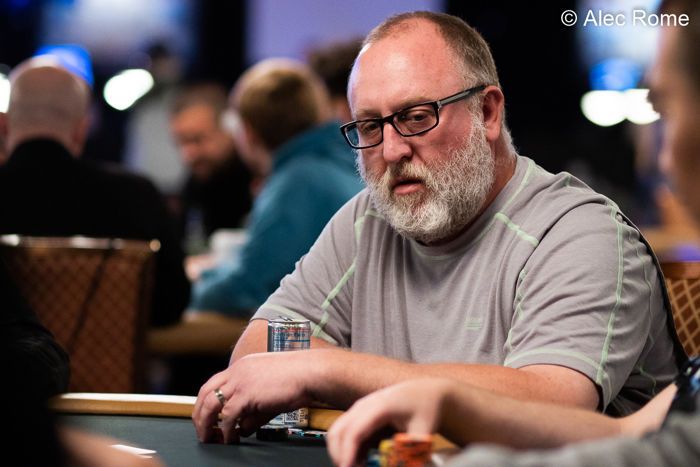 On Day 1c in Level 13 (2,000/3,000/3,000), Minnesota's Tom Hammers shoved his last 15,000 from early position and Paul Zgheib called from the next seat over. Action folded to Lena Evans for a call from the big blind.
Tom Hammers:A♥J♠
Paul Zgheib: K♠Q♦
Lena Evans: K♥8♥
The board ran out 8♣7♦A♦2♦9♣, with both remaining players checking down the action, and Hammers held on with a pair of aces to score the triple.
Unfortunately for him, his luck would run out the next level with the blinds at 2,000/4,000/4,000. Hammers limped from early position and Huy Nguyen raised to 10,000. Hammers shoved for nearly 200,000 and Nguyen called quickly.
Tom Hammers: 8♠8♦
Huy Nguyen: A♥A♠
The board ran out A♦2♥Q♥4♦5♥ and Nguyen made a set of aces to send Hammers to the rail in the last level of the evening.
Straight Flush Over Straight Flush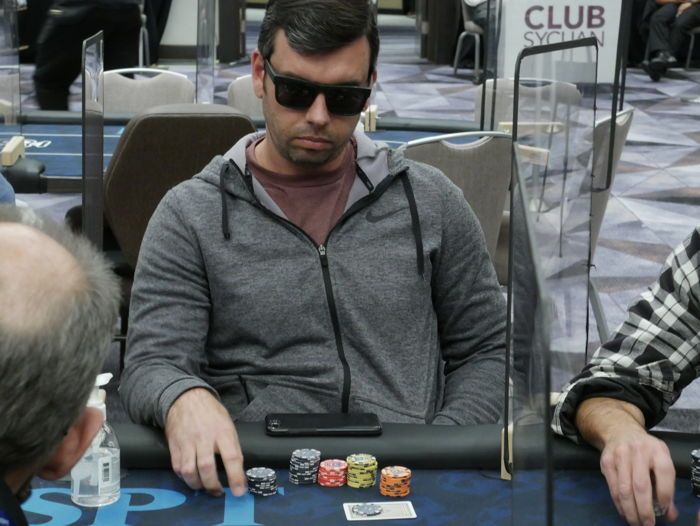 Earlier on Day 1c in Level 9 (600/1,200/1,200), Tai Purpero was seen getting the rest of his chips in the middle on the river for a grand total of around 35,000 and Matt Kirby was the lone caller.
The board had run out 2♠K♥3♠5♠4♠, and Kirby turned over A♠7♠ for the wheel and the flush. However, Purpero turned over 6♠6♣ to score a big double with a higher straight flush after hitting the runner-runner.
Nines No Good for Evans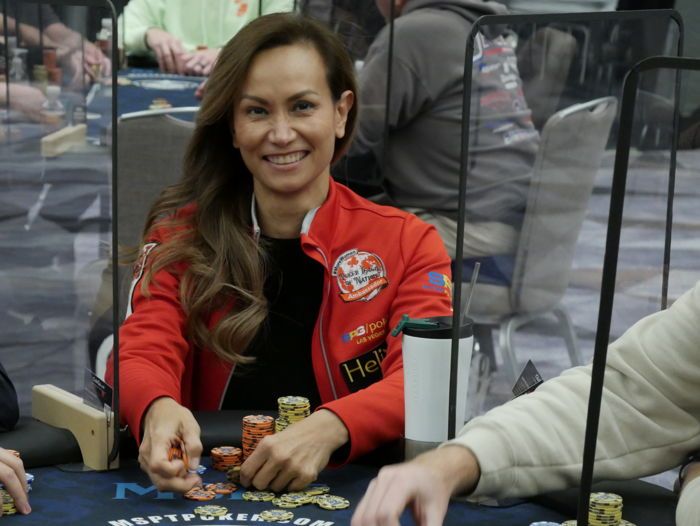 On Day 2 deep in the tournament at the final table, it was Level 25 (30,000/50,000/50,000), Lena Evans got it all in from under the gun and action folded around to DJ Buckley in the big blind for the lone call.
Lena Evans: 9♦9♠
DJ Buckley: 10♠10♥
The board ran out 10♦K♥3♣6♦Q♣ and the set of tens were good enough for Buckley to eliminate Evans in fifth place for $21,346.
Read About Lena Evans' lawsuit against PayPal here!
Las Vegas-based PokerNews Live Reporting Executive, originally from Chicago, IL
Executive Editor US, PokerNews Podcast co-host & 2013 WSOP Bracelet Winner.