How I Won an Online Satellite to RGPS San Diego While Playing from the United States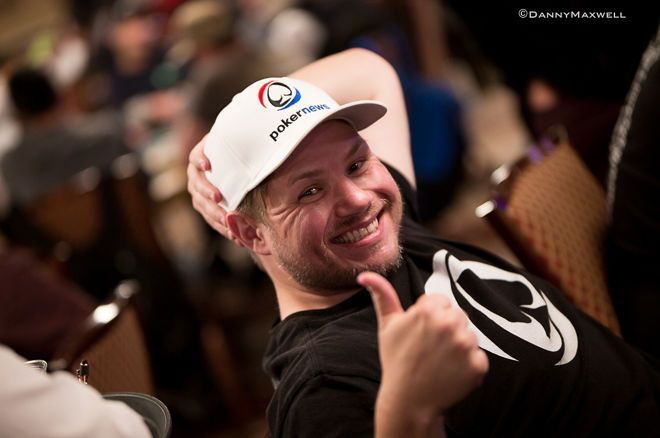 This weekend, I'll travel across the country from Wisconsin to San Diego to participate in the RunGood Poker Series (RGPS) Jamul Casino's $575 buy-in, $100K GTD Main Event. That's because this past Sunday I won a seat playing an online satellite.
You might be wondering; how can that be? Wisconsin isn't one of the five states in the USA offering legal and regulated online poker. That's true, but I assure you I won my seat by playing both safely and legally online on ClubGG.
Before I get into it, I am not being paid to promote ClubGG nor am I affiliated with them aside from the fact that they've advertised with PokerNews. In fact, that's how I first learned about what has become one of the few options for players in the United States to win their way into live poker events across the country.
Note: ClubGG is free to play across the planet.
Last year, I was there when Vasu Amarapu turned $50 into $470,000 by finishing 13th in the 2021 World Series of Poker (WSOP) Main Event after having qualified via ClubGG. Needless to say, I was intrigued and created an account – fortunately, my old online poker screen name "DISCO_CHAD" was available.
See the RGPS Jamul schedule here!
What is ClubGG?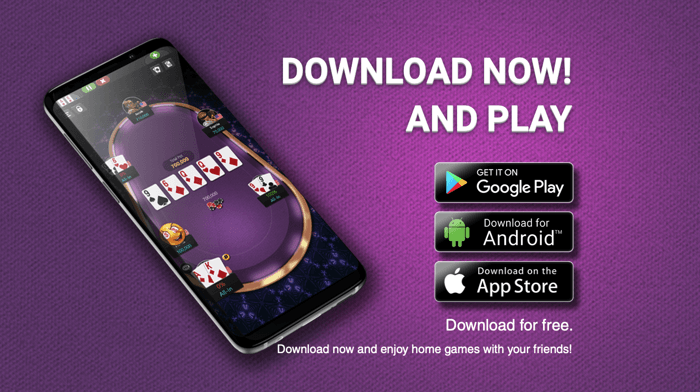 You've no doubt heard all the hubbub about GGPoker, which unfortunately isn't available in the United States (yet!). Even so, players in the US can get a taste of what it's all about as ClubGG is almost a carbon copy of the state-of-the-art GGPoker client, except it is completely free to play from anywhere around the world! If GGPoker is not available in your jurisdiction, ClubGG opens the door to you.
When I first signed up for ClubGG, I did so for free to putz around in the PokerNews Cup. It was fun to battle against my colleagues as well as fans of the site. Eventually, I decided to take it to the next level by subscribing.
You see, ClubGG comes with an in-built subscription model where you can upgrade to be a Platinum Member that costs an affordable $49.99 per month. Doing so opens a lot of doors as you can win massive prizes including seats to live poker events across the country.
In addition to awarding seats into the WSOP Main Event, ClubGG has worked with other tours including RGPS, the Mid-States Poker Tour (MSPT), and CardPlayer Cruises.
Anyway, I subscribed and it really didn't take me long to nab a seat.
---
How Does It Work?
On ClubGG all you have to do to win a seat to a live event is make it through a three-stage satellite process.
Stage 1 – Run either every 30 or 60 minutes; top 20% advance to Stage 2
Stage 2 - SNG format; one in nine players advance to Stage 3
Stage 3 – Finish in the top 10% to win a seat into a live event.
Getting tickets into Stage 2 is fairly easy. There are so many opportunities that a lot of players register and simply move all in trying to build a big stack (I'm one of them). I banked a bunch of tickets before trying my luck in Stage 2, which featured several different options.
Stage 2
This Sit n Go format will guarantee at least one ticket depending on what size SNG you play with 1 in 9 players winning tickets to the Final Stage.
| SNG | Tickets |
| --- | --- |
| 9-Max | 1 Ticket to Stage 3 |
| 18-Max | 2 Tickets |
| 27-Max | 3 Tickets |
| 36-Max | 4 Tickets |
| 45-Max | 5 Tickets |
| 90-Max | 10 Tickets |
| 180-Max | 20 Tickets |
I ended up playing a 9-max SNG, meaning I had to win the table to get a Stage 3 ticket. Someway, somehow I did that
---
Read More: 10 Tips for Sit & Go Success- SNG Pros and Cons
---
Stage 3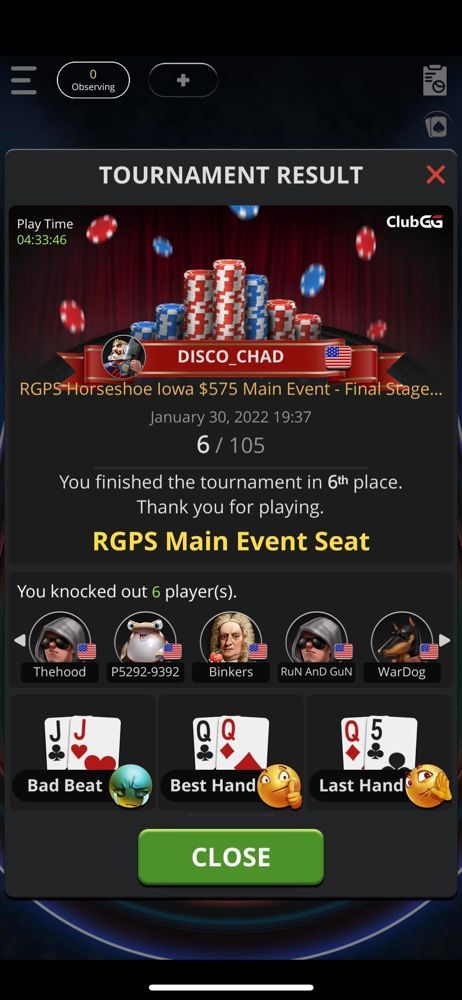 The final stage (Stage 3) runs every Sunday and they're a pretty big deal. It's not easy to get that far, so I found everyone took it quite seriously. In my Stage 3 tournament for the RGPS Jamul, 105 players entered and there were seats for the top 10 finishers.
The Stage 3 tournament took four and a half hours for the field to play down, and fortunately, I found myself among them. It was a challenge though as I was the short stack with 12 remaining. It looked as if I was going to bubble and leave empty-handed, but I hit a run of cards to rebuild a stack.
I wound up finishing in sixth place, but that was just a formality. It didn't matter how many chips I ended with, all I needed to do was make the top 10 to get a seat.
Will the Story Continue?
Only time will tell if I'm able to turn my small investment (I've been signed up to ClubGG for two months so I'm in for $100 and have already won a seat valued at $575) into a larger payday, but the good news is you'll be able to sweat my journey as the RGPS Jamul Main Event is going to be live reported by Pokernews all weekend long.
You can also follow me on Twitter at @ChadAHolloway where I'll be sure to tweet all the highlights and fun adventures from my upcoming trip.
Follow RGPS Jamul Live Updates here!
How to Download ClubGG
In this step-by-step guide, we will walk through how to download ClubGG and how to get involved with Club PokerNews. It just takes a couple of minutes and you will be set up for life.
Download the Software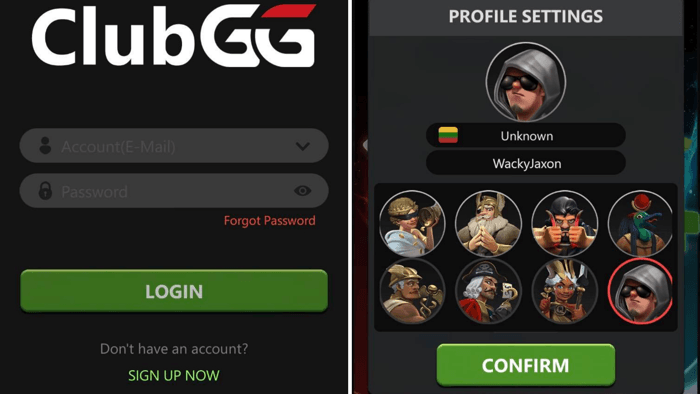 The ClubGG app is available on most Android and Apple mobile devices and takes under a minute to install by following the following simple steps.
Scroll down until you see the above image
Download via Google Play, Android, or the App Store
Setting Up Your Account
The next step is obviously to make yourself a unique account at ClubGG. This process is quick and seamless by following the steps below.
Open the ClubGG app on your mobile device
Click "SIGN UP NOW"
Enter your email address and click "GET CODE"
Check your email for the verification code and enter in the ClubGG App
Create and confirm your preferred password
Click "REGISTER" to receive your free ClubGG account
How to Join Club PokerNews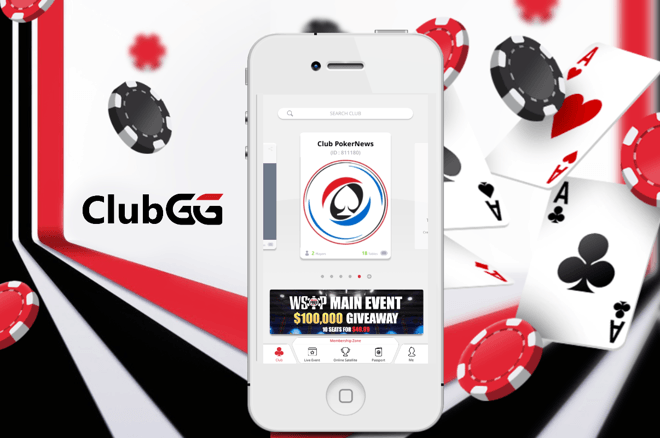 Joining Club PokerNews couldn't be any easier. Just follow this step-by-step guide or watch the video below to get started.
Learn How to Join Club PokerNews
You will be awarded 100,000 in chips just for signing up. Rest assured that if you run out of chips, the PokerNews team will refresh your balance to allow you to always enjoy the games with the PokerNews family.
Everything within Club PokerNews is absolutely free and it is the perfect place for you to test your skills while having fun with your friends and our community.
Executive Editor US, PokerNews Podcast co-host & 2013 WSOP Bracelet Winner.