8 WSOP Rules You Didn't Know Existed!

Plenty of poker players are getting ready for the 2022 World Series of Poker, including planning their WSOP schedule for the summer, brushing up on strategy, or getting ready for their trip to Las Vegas.
And although most poker players will know the rules of poker by now, here are some WSOP rules that you may not have even heard of!
2022 World Series of Poker Hub
Bookmark this page! All you need to know about the 2022 WSOP is here.
WSOP Events May Be Suspended Due to Bad Weather
Everyone will remember the craziness of 2019, when a 7.1 magnitude earthquake rocked the Rio during Day 1c of the WSOP Main Event.
But the WSOP rules make an allowance for more severe weather that might impact their tournaments!
According to the official tournament rules, if a tournament cannot run because of the weather, or other reasons such as computer virus, unauthorized intervention, technical failures or fraud, the tournament may be cancelled, terminated, modified or suspended.
---
Read More: With the Schedule Out, Here's What Will Be Different at the 2022 WSOP
---
There Are Five Different Sanctions the WSOP Can Impose on a Player
Most people know that if you break the rules at the WSOP you can get kicked out of the tournament, or even the casino itself.
But the WSOP rules actually lay out five specific sanctions that can be imposed on a player who compromises the "competitive integrity" of the WSOP.
Forfeiture of Chips
Forfeiture of Prize Money
Ejection from an Event or the entire WSOP tournament
Loss of privilege to participate in future WSOP Events
Exclusion from entering the premises of casino
Best Free to Play Slots
"Excessive Chatter" is a Punishable Offense
Sorry Will Kassouf.
---
A PokerNews Debate: Did William Kassouf Deserve A Penalty?
---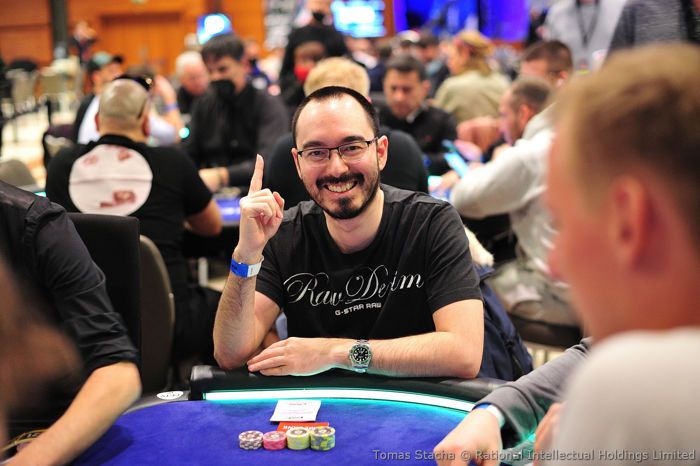 Crypto-Currency and Marijuana Company Patches Are Banned from TV Tables
It's every poker player's dream to make a feature table, or appear on a TV table broadcast to millions of poker fans around the world.
Many players wear patches at feature tables to advertise poker rooms, training tools or other companies. However, there are rules stating that the WSOP reserves the right to ban any apparel "deemed objectionable".
This includes, as stated in the WSOP rules, any apparel with images or logos associated with crypto-currency and marijuana products.
---
Read More: Pot-Limit? How New Vegas Marijuana Laws Might Affect WSOP
---
Betting the Pot in No-Limit Hold'em
Fans of Pot-Limit Omaha will already know that betting the pot means that you intend to bet the amount of money or chips that is already in the middle.
However, players who announce "pot" in No-Limit game such as No-Limit Hold'em means that they will have to make at least a minimum bet.
Stacking in 20s
Want to make it easier for PokerNews reporters to see how big your stack is? Wanna avoid being interrupted by players asking "How much are you playing?" every hand? Stacking in 20s is the easiest way for everyone — including yourself — to see how many chips you have.
However, according to the WSOP rules this isn't mandatory, only "recommended as standard".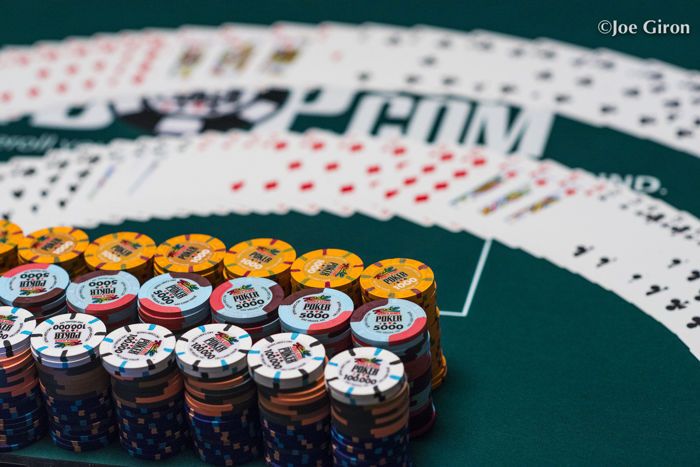 What Happens If You Find a Joker In Your Hand?
This may be unlikely to happen at the 2022 WSOP, considering there are no games on the WSOP schedule that involve a joker.
However, if you do act on a hand with a joker as a hole-card, your hand is declared dead. If you find one, tell the dealer.
When Table Talk is Allowed
And finally, table talk. A curious quirk of the WSOP rules actually mean that players are allowed to tell one another what they have. With no repercussions!
However, there are some specifics. The two playes need to be the final two in a heads-up tournament. According to the rules players "may speak freely regarding the contents of their hands."
Will Shillibier is based in the United Kingdom. He started working for PokerNews as a freelance live reporter in 2015 and joined the full-time staff in 2019. He graduated from the University of Kent in 2017 with a B.A. in German. He also holds an NCTJ Diploma in Sports Journalism.